Lisa DeSiro






Another Art



It was a special kind of losing that she mastered
as a woman who had cancer more than once.
There was a certain attitude she learned to foster.

Her mastectomy was really no disaster.
With the prosthesis, others couldn't tell a difference.
She told herself: You're a survivor now, a master

at battling all those silly things that test your
mettle. Be a stoic soul who shuns
pity. Hair loss, which at first flustered,

became a chance to get creative: as vesture,
she wore wigs or cloth hats. If chemo thins
you out, you can disguise it. So she mastered

both mascara application and the gesture
of penciled brows, with practice over time. Hence
her daily morning ritual became faster.

Even after hysterectomy--that vaster
loss--even during the recurrence
she stayed strong. She kept living, tried to master
fear of what would be lost last: her future.








Syllabics



The night sky--
a brush stroke.

The half moon--
a rice bowl.

My pen--wants
to be Zen.

My fingers--
want to be

chopsticks. I--
want myself

to be a
warrior

who knows how
and why and

what to do.
This poem--

wants to be
a haiku.



AUTHOR BIO
Lisa DeSiro earned her MFA in Creative Writing from Lesley University and a BA in Literature / Creative Writing from Binghamton University. She also earned degrees from Longy School of Music and The Boston Conservatory, and is an accomplished classical pianist. Her poems have appeared in The Comstock Review, Beacon Street Review, and Commonthought Magazine. Texts of hers have been set to music by several composers, and she is a poet-in-residence for the CMASH ensemble (www.cmashmusic.org). Lisa lives in Cambridge, MA, and is the Editorial & Production Assistant for C.P.E. Bach: The Complete Works.
POETRY CONTRIBUTORS

Catherine Chandler

Amy Conwell

Lisa DeSiro

Jehanne Dubrow

Katherine Hoerth

Julie Kane

Fayth Kelly

Siham Karami

Jean Kreiling

Luann Landon

Charlotte Mandel

Mary McCall

Susan McLean

Laura Sheahen

Marly Youmans


Marilyn Nelson and Sonia Sanchez participating in the women poets roll call, March 21, 2013
>Mezzo Cammin hosted the third anniversary of The Mezzo Cammin Women Poets Timeline Project on Thursday, March 21 at the Pennsylvania Academy of the Fine Arts, as part of its PAFA After Dark series and in affiliation with its exhibition The Female Gaze. Featured readers included Rachel Hadas, Marilyn Nelson, and Sonia Sanchez.
>Mezzo Cammin Awards Scholarship at West Chester Poetry Conference: Nausheen Eusuf.
>The Mezzo Cammin Women Poets Timeline Project Turns "40."
>The Mezzo Cammin Women Poets Timeline Project Panel at Celebrating African American Literature (CAAL) 2013, Penn State University, October 25-26.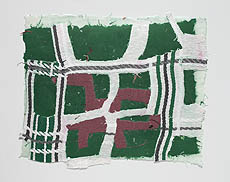 Elana Herzog: In all of my work curiosity and pleasure are driving forces. The materials I use are often cheap, discarded household items that challenge conventions of taste and beauty. They draw attention to how art and design migrate throughout culture, from high to low and back again. My imagery traverses the language of abstract art, and that of the domestic and industrial landscape. Increasingly the work reflects my desire to understand the relationship between Modernism and the legacy of industrial and technological progress that permeates contemporary culture.