Amy Conwell






Beach Haiku



Sand angels after
Psalms. Parents pray in Sunday
passion, Mercedes.

Soft serve steals piggy
bank coins; Smirnoff pours summer;
cold eats at my throat.

Crustacean tongues
lick my chest; spittle traces their
path; salt dries me hard.

Seagulls swoop-screaming
as Choco-Taco splatters
sizzle on cement.

My back crackles as
the pages of a favorite
beach read rise, recede.

Salt encrusted hair
drip-dries: stalactites marking
summer's slow passing.








Nebulae Lullaby



Because my father taught me how to pray,
Hands folded as I lay me down to sleep,
I never learned the ways of counting sheep.

Because Monsignor warned me not to weep,
I offered bedtime monsters up to God,
The lamia to He who loves the flawed,

In high school, I packed Rummy, went abroad,
And from the Parthenon to Peter's tomb
Dealt cards to friends, discussed the holy womb,

Our mothers, Ave and Maria, doom
If we grew bellies anytime too soon.
And sneaking out to dance beneath the moon,

Saw: heat, stark hydrogen, the heavens strewn
With soul-stuff blinking in a bright ballet,
The primal maker of the Milky Way.



AUTHOR BIO
Amy Conwell received her B.A. in Writing Seminars and Classics from the Johns Hopkins University. She then advanced her study of Latin and Ancient Greek through the University of Pennsylvania's Post-Baccalaureate Classical Studies Program. During her time at Penn, she won The William Carlos Williams Prize from The Academy of American Poets for the best poems by a graduate student. She is currently pursuing her M.A. in Medieval Studies at the University of Toronto.
POETRY CONTRIBUTORS

Catherine Chandler

Amy Conwell

Lisa DeSiro

Jehanne Dubrow

Katherine Hoerth

Julie Kane

Fayth Kelly

Siham Karami

Jean Kreiling

Luann Landon

Charlotte Mandel

Mary McCall

Susan McLean

Laura Sheahen

Marly Youmans


Marilyn Nelson and Sonia Sanchez participating in the women poets roll call, March 21, 2013
>Mezzo Cammin hosted the third anniversary of The Mezzo Cammin Women Poets Timeline Project on Thursday, March 21 at the Pennsylvania Academy of the Fine Arts, as part of its PAFA After Dark series and in affiliation with its exhibition The Female Gaze. Featured readers included Rachel Hadas, Marilyn Nelson, and Sonia Sanchez.
>Mezzo Cammin Awards Scholarship at West Chester Poetry Conference: Nausheen Eusuf.
>The Mezzo Cammin Women Poets Timeline Project Turns "40."
>The Mezzo Cammin Women Poets Timeline Project Panel at Celebrating African American Literature (CAAL) 2013, Penn State University, October 25-26.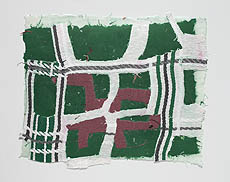 Elana Herzog: In all of my work curiosity and pleasure are driving forces. The materials I use are often cheap, discarded household items that challenge conventions of taste and beauty. They draw attention to how art and design migrate throughout culture, from high to low and back again. My imagery traverses the language of abstract art, and that of the domestic and industrial landscape. Increasingly the work reflects my desire to understand the relationship between Modernism and the legacy of industrial and technological progress that permeates contemporary culture.