Susan McLean






No Thanks



No one wants to be the damsel in
distress, the one in need of chivalry,
chained to a rock in nothing but her skin.
No! One wants to be

the one who skirts the trap and steals the key,
testing the rope bridge with a shaky grin.
Whoever longs for victims he can free

is not a hero, but the villain's twin.
So save yourself. Don't go expecting me
to play the clingy wimp, the might-have-been
no one wants to be.








Illicit



I needed to take a vacation from cake
so my diet would be more judicious.
But my plan was cut short by a chocolate fudge torte,
and the relapse was truly delicious.

Next it was cheese (such as triple-cream Bries
and Gruyères) that I vowed to avoid.
But I fell in the snare of a ripe Camembert.
It was bliss. My resolve was destroyed.

When the experts all said "To lose weight, give up bread,"
I thought that was a food I could shun.
I succumbed to the spell of the beckoning smell
of a freshly baked cinnamon bun.

I have found self-denial is not such a trial,
and it has unforeseen good effects.
True relish is hidden in all things forbidden.
Have I mentioned I'm giving up sex?



AUTHOR BIO
Susan McLean, an English professor at Southwest Minnesota State University, grew up in Oxon Hill, MD, and received a B.A. from Harvard University and a Ph.D. from Rutgers University, New Brunswick. Her poems have appeared recently in Able Muse, First Things, Light Quarterly, and Per Contra. Her first full-length poetry collection, The Best Disguise, won the 2009 Richard Wilbur Award. A book of her translations of the Latin poet Martial, Selected Epigrams, will be published by the University of Wisconsin Press.
POETRY CONTRIBUTORS

Catherine Chandler

Amy Conwell

Lisa DeSiro

Jehanne Dubrow

Katherine Hoerth

Julie Kane

Fayth Kelly

Siham Karami

Jean Kreiling

Luann Landon

Charlotte Mandel

Mary McCall

Susan McLean

Laura Sheahen

Marly Youmans


Marilyn Nelson and Sonia Sanchez participating in the women poets roll call, March 21, 2013
>Mezzo Cammin hosted the third anniversary of The Mezzo Cammin Women Poets Timeline Project on Thursday, March 21 at the Pennsylvania Academy of the Fine Arts, as part of its PAFA After Dark series and in affiliation with its exhibition The Female Gaze. Featured readers included Rachel Hadas, Marilyn Nelson, and Sonia Sanchez.
>Mezzo Cammin Awards Scholarship at West Chester Poetry Conference: Nausheen Eusuf.
>The Mezzo Cammin Women Poets Timeline Project Turns "40."
>The Mezzo Cammin Women Poets Timeline Project Panel at Celebrating African American Literature (CAAL) 2013, Penn State University, October 25-26.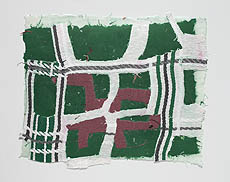 Elana Herzog: In all of my work curiosity and pleasure are driving forces. The materials I use are often cheap, discarded household items that challenge conventions of taste and beauty. They draw attention to how art and design migrate throughout culture, from high to low and back again. My imagery traverses the language of abstract art, and that of the domestic and industrial landscape. Increasingly the work reflects my desire to understand the relationship between Modernism and the legacy of industrial and technological progress that permeates contemporary culture.