Fayth Kelly






Clydesdales



Sometimes at night, I could hear the staunch Clydesdale
hooves turning the earth beside our house, hard candy
shelled from ripped bags hitting the street, or lemon
colored coaches charioting child jockeys thin as straw
clattering by to close the fair. Even though the sun
set at nine, I stayed up late to watch the Ferris wheel

light the dark. I would fluff my pillow as the Ferris wheel
lights jeweled the open window. Even the Clydesdale
horses looked more posh in the blue lights that shamed the sun
with such rifts of splendor. My sister would buy sugar candy
at the fair during the day, take it home in her summer straw
hat, and eat it late by the window, watching with me the lemon

haired older women walking with their horses by the lemon
stand. It stood outside our door, just beneath the Ferris wheel.
I often made lemonade with a lemon and a sugar straw
from the stand, though it tasted tart. The Clydesdale
horses thundered by nightly during fair week, cotton candy
scents wafting in the window. I once stayed up so late the sun,

in rising, turned the sky pink. I couldn't stop hearing the sun
god "Apollo"--the auctioneer--flaunting the happiness of lemon
lipped children playing all night, an amplified voice trying to candy
antiques and knit goods to make a sale. The Ferris wheel
cheers echoed into the clinking of ground litter, the Clydesdale
horses a mist of silence in the deadened night. The straw

sunhat my sister wore glimmered on my dresser. Alfafa straw
strewn on the streets from the stalls greeted me with the sun
when I walked out my front door. I saw the Clydesdale
show popcorn boxes painted with oils, too. I wanted a lemon
straw, first thing, still filled with excitement as the Ferris wheel
drifted with the wind outside my window. My sister's candy

at on the dresser in the hat. I took a handful of the candy
and walked downstairs to the front door. Quiet as straw,
I unlocked the door and slipped by flowers pots in a wheel
barrow. I knew most left the fair grounds when the sun
went down, but some owners kept their horses in stalls with lemon
roofs of sun-bleached planks. I knew where the Clydesdale

horses slept. Lemon stand empty, I'd have to wait. But the sun
pursed my lips equally. I took my candy to a stall. The Clydesdale
shook his straw mane. I fed him and smiled at the sleeping Ferris wheel.








A Well in God's Hand



We often played beside the weeping willow. On our hands we
would get sap burns from climbing on broken branches, which are
never far from knees if there's already a deep blue bruise living
on the surface of the skin. That summer I slept in a darkness without dreams--
one so solid through the nights that my sister thought I wouldn't wake for
how long it took her to rouse me. In the breaking morning, we two

liked to run out to the birdhouse to look for baby birds. Two
pastel eggs often awaited our fluttering lashes, but we
favored our return to the weeping willow and dwelled in that area for
large swaths of the day. The marshy lanes of grass under the bare
trunk sprouted up all sorts of wild berries that gave Grandpa dreams
about his childhood on the blueberry farm. His eyes, always diving

first into the green sea of grass and its budding berries, shone up at us living,
as we were, high in the swaddling limbs of the tree, swaying with the creak of two
open miles of windy sky poured over acres of forest, lake, and daydreams
about the tumult of summer weather. He often called up to us with a gleam as we
smiled among ourselves, "What are you tulips of the garden doing up there? I won't dare
to tell your nan where you are or she'll be tearing white shirts to make slings for

your broken bones." Some days the church minister's sallow hound sauntered by for
table scraps. Grandpa always gave him a welcome, "Well, hello there! Living
for more than just haunting that old boneyard? I bet we won't see another hare
under that wedding bush till your shadow's beat." When alone, we two
sisters didn't need any gaunt hound to tell whispery stories about. There we
sat on a branch, our legs dangling into the locusts' haze of sound. Dreams

of melting into the day's long hours of sun gave in to dusks of ending daydreams
still clasping the sparks of the day like lightning bugs arising from the garden for
one last radiant applause for all chants of "London Bridge" by the cooling hose. We
noticed one night the hound very close to the birdhouse. We were giving
great talks to each other, walking in from the willow, and when we were two
slippery shadows over the garden, we saw the feeble hound with its fare

for the day--not supper remains, but the soft-down baby bird, now bare
and cracked bones--by the cement grip of the old hound's jaw. Bad dreams
had brought us such images before, and had made us wince when we were two
younger children afraid of turning off lights. We, too, had seen the grim fox, for
food, pull up a dog buried by the minister on his grounds without any rock giving
protection to the shallow buried. We didn't weep then, but we wept for the baby bird we

saw open a fragile shell, one of two eggs--whose new feathers we caressed for
the waking of the morning. Tears are always absorbed by the skin, but in dreams
sadness comes out as much as full living. We wept on a day as dreamlike as were we.








A Doll's Mirror



I knew the other girl, Mildred, fought a lot with our red-haired doll.
She lugged her away from me, far away from where I put her to sleep
softly in an open drawer and ran with her downstairs to the threatening train
tracks that were the vinyl runner and the long hallway aside the ferryman
picture. That afternoon I knew I didn't want to play along, ride the head of a horse
down the steps to catch her because the afternoon was too filled with dust

swirling in shafts of sun that filtered through the curtains, and such sleepy dust
made my eyes bleary and tired, yearning more to nap than scour out the doll
from the house's exotic corners. But I heard Mildred awake and riding a horse
while our red-haired doll languished, tied up with quilting yarn, in deepest sleep
and unaware of the impending rattle that would surely dismantle the ferryman,
and sever her being from her beloved wooden shell. The imagination's train

was sometimes cumbersome Grandpa with his paper and cigar, pushing his train
of motion down the hallway with a deep grumble about the front page news dust
that always set off a crescendo of his internal editorials. Corniced ceiling, as the man
bellowed his bodyweight in thudding footsteps, would often crumble, our doll
just as well a mere crevice underfoot to be possibly jolted, jarred from sleep,
or worse. Sometimes Mildred, too, opened her mouth as wide as a sorrel horse

angrily wanting more sugar cubes, and let out beastly curses heard only when a horse
gets a whipping or when a bride tears her dress. I couldn't let any type of train
or thrusting of Mildred's most energetic yang against the yin of reconciliation make sleep
a hard thing to come across on a slumbering long summer afternoon. The spiraling dust
kissed my face in blinks of warm sun as I sank down the stairs to hold the doll
in my arms while casting off Mildred's racing glances. Beneath the wall's ferryman

I bent down to gently pick up the doll and said "You're loved, so pretty--no old man
beaten by time or bad nature. You're so pretty." Mildred knew it was true. Her horse
rode up beside us and I could see how pretty she was, too, as she professed to the doll
profoundest sorrow about her urgencies of ill temper. She'd rather I hold her than train
her to control herself and just for this resolution, I believe, she made her frenzied dust
of emotions the plume of disruption I so frequently tended on the days we tried to sleep

in naps for Grandmother, who couldn't work all the day keeping herself from sleep
and us from bad endeavors. Mildred and I sat under the old picture of the ferryman
quietly, both softly admiring the beautiful and peaceful red-haired doll that dust
never collected on--so frequently was she hugged and tossed about. Not even the horse
of the neighbor who nodded for our pats was so beloved as our victim of our train
whom we always rescued with fervent feeling. When we walked upstairs with the doll

and soothing voices, we wiped off the drawer's dust and set aside the rocking horse
to make room for a luxury of sleep that would satisfy any doll or otherworld ferryman
who finally stepped aboard his own last train, or remembered calling a woman "doll."








Helen Aisle



There was a little lane in the cemetery. I could read only by full light
of day those names of the wives and girl children that passed on. Bright
light of the sun helped me to make out the names faded by time and thunder
head's torrent. The letters weren't entrenched as they once had been. Older white
stones with the rounded tops had once stunning, clear lettering on them--pale
cement with fanciful, shaded calligraphic scrolling, which presented itself as holly

boughs on a Christmas tree, so elegant. The renderings curled fancifully in their holly
leaf way, and left the lingering impression the lives beneath were eminent, the light
of their age and ages to come. This one particular aisle, beyond the pale
of imagination, held an unusual number of deceased with the very bright
and alluring name of "Helen." They died by the century's turn, white
stone ghosts from long before I was born. I remember standing in thunder

while a black-blue sky broke up behind the distant trees, a thunder
and lightning storm toning down its fervor. I stood outside. My holly
colored hair thrashed about my neck. Grandpa was there: "The white
hot underbelly over there--when you see that kind of sky, turn the light
off in the house and run to the cellar, because the hail will pile bright
and heavy on the ground. But there, you see, it broke up. The solid pale

undertow didn't last, and now the storm will only blow over. You look pale."
I was shivering, but he told me, "Don't be frightened. When you know the thunder
and the sky well, you'll always know what to do. It won't lie to the bright
likes of you." So I stayed outside, peering at the sky far over the rail and the holly-
sprig sharpness of its rough wood. I decided to take a walk over there, by the sky alight
with powdery lightning every so often, but not the harsher branching white

that Grandpa had warned me about. I crawled through the fence, white-
faced from hearing the winds batter soldiers' flags and plastic windmills, pale
from the summer's rains. The wind brought alive the graveyard. Flowers that were light
blew across billows of soft grass. This often allured me into waking through thunder.
The flags blustered and windmills that small children left glittered and buzzed. Holly
and mistletoe around the holidays never caused such a frenzied onslaught of bright

and restless noise and motion, which spooked me in its coordination, it's bright
immediacy, a sudden and striking urgency as formidable as a midnight blue by white
sky. I shook off my chill and walked that aisle where I liked to search the holly-
leaf curls of calligraphy with my fingers and eyes, and unravel all the stories, pale
to those who skimmed through the valley without pause. When the thunder
lifted, I saw the minister in black walking by. I asked, "Have you seen here, in the light,

all the Helens, unrelated? It's strange." Holly red windmills chattered beside pale
concrete. He said, "Have you never heard of bright guides through dark valleys? White
beams from Heaven speak all the time, loud as thunder. 'Helen' means 'light.'"



AUTHOR BIO
Fayth Victoria Kelly is an M.F.A. Creative Writing student at Fairleigh Dickinson University in New Jersey, where she has been awarded an editorial assistantship at The Literary Review, an international journal of contemporary writing. She'll receive her M.A. in English in August 2013 from West Chester University of Pennsylvania. After several years as a patient service representative, Ms. Kelly had returned to graduate school to pursue her first love, writing. There she rediscovered the lure of formal poetry, which culminated in the creation of her book of sestinas "Helen Aisle." Kelly is currently working on another collection of formal poetry and a novel. She supports many nonprofit organizations that work for the welfare of animals. She currently resides in Pennsylvania where she enjoys music as a hobby.
POETRY CONTRIBUTORS

Catherine Chandler

Amy Conwell

Lisa DeSiro

Jehanne Dubrow

Katherine Hoerth

Julie Kane

Fayth Kelly

Siham Karami

Jean Kreiling

Luann Landon

Charlotte Mandel

Mary McCall

Susan McLean

Laura Sheahen

Marly Youmans


Marilyn Nelson and Sonia Sanchez participating in the women poets roll call, March 21, 2013
>Mezzo Cammin hosted the third anniversary of The Mezzo Cammin Women Poets Timeline Project on Thursday, March 21 at the Pennsylvania Academy of the Fine Arts, as part of its PAFA After Dark series and in affiliation with its exhibition The Female Gaze. Featured readers included Rachel Hadas, Marilyn Nelson, and Sonia Sanchez.
>Mezzo Cammin Awards Scholarship at West Chester Poetry Conference: Nausheen Eusuf.
>The Mezzo Cammin Women Poets Timeline Project Turns "40."
>The Mezzo Cammin Women Poets Timeline Project Panel at Celebrating African American Literature (CAAL) 2013, Penn State University, October 25-26.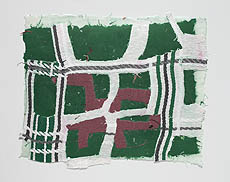 Elana Herzog: In all of my work curiosity and pleasure are driving forces. The materials I use are often cheap, discarded household items that challenge conventions of taste and beauty. They draw attention to how art and design migrate throughout culture, from high to low and back again. My imagery traverses the language of abstract art, and that of the domestic and industrial landscape. Increasingly the work reflects my desire to understand the relationship between Modernism and the legacy of industrial and technological progress that permeates contemporary culture.