Jean L. Kreiling






Ceiling Fans



I.
Fan blades, discreet as ladies wearing crisp
white gloves, reorganize the breathless heat
with prim, persistent gestures and a lisp
of whispered diligence doomed to defeat.
The potted palm below declines to bend
or sway--each long green finger still as stone--
as tiny tremors in the air descend
just inches from the path the blades have flown.
In woven wicker close beside the palm,
a woman sits and reads; she turns a page
and then looks up, inquisitive but calm,
with all the straight-spined patience of a sage.
She almost envies the insensate blade:
it doesn't recognize its own charade.

II.
At three a.m., he heard the ceiling fan--
its rhythm regular, uncomplicated,
and scolding. He was not much of a man,
or so the hissing blades insinuated.
He barely saw them in the thin light seeping
through heavy drapes, but their persistent thrum
kept worries whirling and kept him from sleeping,
as if they murmured of what he'd become.
The churning susurration chanted less!--
you're jobless, wifeless, almost homeless!--and
your fault, your fault, your fault! His wakefulness
gave shape and weight to airy reprimand.
His dreams would skew the scolding into rasping,
relentless threats, and he would wake up gasping.

III.
She woke up in the dark, and thought of wailing--
her crib was lonely, blanketless, and barred--
but first she looked toward the upper railing
where soft arms sometimes stretched over the hard
oak barrier to lift her into all
she needed: warmth, and singing, and the feeling
that she belonged, that she would never fall,
that milk was near. But something on the ceiling
distracted her. A movement caught her eye:
a steady spinning, shadows quickly turning
and shushing in a grayish game, too high
for her to join in, but she watched, soon learning
its placid patience--and her wide-eyed trance
spun into sleep beneath its faithful dance.








Reunion By the Numbers



(for Cam, Jane, Kate, Maureen, and Sally)

Instead of taking photos, we could paint
by numbers--some key data can be tracked:
six women, nineteen hugs, zero restraint,
five suitcases and four heartaches unpacked,
one afternoon beside the sea, one day
of shopping, twenty cups of dark French roast,
three lunches out, one bottle of Bombay,
nine secrets told, one sail along the coast.
Since high school graduation? Forty years.
Since we've been friends? Add on another eight.
The six-way bond we count on perseveres
as we count things we love and things we hate:
four pizzas shared, two crosswords done (in pen),
too many days before we meet again.








Ms. Poole and Mr. Poe



(with thanks to the former and apologies to the latter)

Once upon a morning dreary, eighth-grade English students stared
as Ms. Poole closed Venetian blinds and turned off lights. We weren't scared,
but as she lit a candle and blew out the match, we watched her closely;
our Ms. Poole was always cool--but on this day she frowned morosely.

Although our other classes often left us nodding, nearly napping,
here we stayed awake. As Ms. Poole crossed the room, her high heels tapping,
as if she were shrewdly rapping, rapping at our teenaged brains,
she discreetly but completely stirred the blood in sullen veins.

And the silken, sad, uncertain rustling of her mini-skirt
thrilled us, filled us with determination to remain alert.
She perched upon her desk, her pallid countenance composed and stern,
her raven hair pinned back severely. What were we about to learn?

While picking up and paging through a dusty, quaint, and curious book,
she squirmed and squinted, and I'm almost sure her red-nailed fingers shook.
Then she began to read, intoning, "Once upon a midnight dreary . . ."--
and no movie or TV show ever had seemed quite so eerie.

The story, while bizarre, was surely not the strangest one we'd heard,
but rhyme and rhythm brought to ghastly life the ghostly talking bird.
And our Ms. Poole--persuasive prophet--whispered, chanted, shouted, muttered;
heart rates rose, and shadows fell and fluttered as the candle guttered.

Much we marveled, caught up in the creepy tale that Ms. Poole read,
never wishing that we could have watched the DVD instead.
Her voice, her vague anxiety, and Poe's inventive verse had brought us
respite, respite from routine. We were so lucky that she taught us.

Decades later, there's a tingling in my brain when I remember
how Ms. Poole gave words their wings on that bleak morning in December.
She'd opened poetry's unlit, sometimes unyielding chamber door--
and we would never be the same indifferent readers. Nevermore.



AUTHOR BIO
Jean L. Kreiling's work has appeared widely in print and online journals, including 14 by 14, American Arts Quarterly, Angle, The Evansville Review, Measure, and Think, as well as in several anthologies. She was the winner of the 2011 Able Muse Write Prize for Poetry, and has been a finalist for the Dogwood Poetry Prize, the Frost Farm Prize, and the Howard Nemerov Sonnet Award.
POETRY CONTRIBUTORS

Catherine Chandler

Amy Conwell

Lisa DeSiro

Jehanne Dubrow

Katherine Hoerth

Julie Kane

Fayth Kelly

Siham Karami

Jean Kreiling

Luann Landon

Charlotte Mandel

Mary McCall

Susan McLean

Laura Sheahen

Marly Youmans


Marilyn Nelson and Sonia Sanchez participating in the women poets roll call, March 21, 2013
>Mezzo Cammin hosted the third anniversary of The Mezzo Cammin Women Poets Timeline Project on Thursday, March 21 at the Pennsylvania Academy of the Fine Arts, as part of its PAFA After Dark series and in affiliation with its exhibition The Female Gaze. Featured readers included Rachel Hadas, Marilyn Nelson, and Sonia Sanchez.
>Mezzo Cammin Awards Scholarship at West Chester Poetry Conference: Nausheen Eusuf.
>The Mezzo Cammin Women Poets Timeline Project Turns "40."
>The Mezzo Cammin Women Poets Timeline Project Panel at Celebrating African American Literature (CAAL) 2013, Penn State University, October 25-26.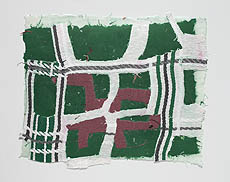 Elana Herzog: In all of my work curiosity and pleasure are driving forces. The materials I use are often cheap, discarded household items that challenge conventions of taste and beauty. They draw attention to how art and design migrate throughout culture, from high to low and back again. My imagery traverses the language of abstract art, and that of the domestic and industrial landscape. Increasingly the work reflects my desire to understand the relationship between Modernism and the legacy of industrial and technological progress that permeates contemporary culture.