Siham Karami






My Lowered Eyes



My lowered eyes, my softened tone,
my borders walled for you alone
(no friend or kin would dare intrude),
our twosome built on solitude,
a touch of silk, a love of stone.

But never was I Adam's clone,
a missing rib, an ancient loan
whose full repayment must include
my lowered eyes.

My heart turns to its wild unknown--
no soul can be another's throne.
Of turf and pride you stripped me nude,
my ego scorned, but not subdued.
With none beside me, I disown
my lowered eyes.








Aubade



Out of your woods and into mine
before the night is torn apart.
Ignore the owls' old flute of pain
when clouds erase our shining chart.

For words taste sweeter in the dark
accompanied by choral trees
whose contrabass of moss and bark
lulls the hives of sleeping bees,

until a whir of opening eyes,
tiny breaths and stretching feet,
antennae feathers, changing skies,
unrelenting, indiscreet

turn our forest inside out:
early chainsaws, raucous birds,
motorcycles, ringtone rout,
hurried hands and careless words.








From Threads of Dust



From threads of dust that wind adrift
on currents of magnetic shift,
a cloth takes shape on tenuous terms,
transforming static into worms
and worms to matrix, warp and weft.

When worlds and continents are cleft,
these filaments reclaim the rift.
We count ourselves among what forms
from threads of dust.

Now our legions strut their heft,
dominions gained by war and theft,
until inherited by germs
and gathered in slow-moving storms
where none can claim a self to sift
from threads of dust.



AUTHOR BIO
Siham Karami owns a technology recycling company in Northwest Florida and is a mother of five. Her work has been published in a number of venues, including String Poet, Innisfree Poetry Journal, Shot Glass Journal, The Lavender Review, 14 by 14, The Whirlwind Review, Sisters Magazine, The Road Not Taken, Snakeskin, and New Verse News.
POETRY CONTRIBUTORS

Catherine Chandler

Amy Conwell

Lisa DeSiro

Jehanne Dubrow

Katherine Hoerth

Julie Kane

Fayth Kelly

Siham Karami

Jean Kreiling

Luann Landon

Charlotte Mandel

Mary McCall

Susan McLean

Laura Sheahen

Marly Youmans


Marilyn Nelson and Sonia Sanchez participating in the women poets roll call, March 21, 2013
>Mezzo Cammin hosted the third anniversary of The Mezzo Cammin Women Poets Timeline Project on Thursday, March 21 at the Pennsylvania Academy of the Fine Arts, as part of its PAFA After Dark series and in affiliation with its exhibition The Female Gaze. Featured readers included Rachel Hadas, Marilyn Nelson, and Sonia Sanchez.
>Mezzo Cammin Awards Scholarship at West Chester Poetry Conference: Nausheen Eusuf.
>The Mezzo Cammin Women Poets Timeline Project Turns "40."
>The Mezzo Cammin Women Poets Timeline Project Panel at Celebrating African American Literature (CAAL) 2013, Penn State University, October 25-26.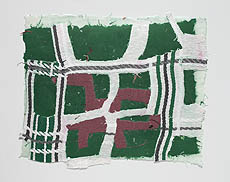 Elana Herzog: In all of my work curiosity and pleasure are driving forces. The materials I use are often cheap, discarded household items that challenge conventions of taste and beauty. They draw attention to how art and design migrate throughout culture, from high to low and back again. My imagery traverses the language of abstract art, and that of the domestic and industrial landscape. Increasingly the work reflects my desire to understand the relationship between Modernism and the legacy of industrial and technological progress that permeates contemporary culture.