Catherine Chandler






Ribbons



Mornings you would twist my curls
around your finger,
shaping a dozen chestnut whorls.
As if in anger,

in a final yank and stab at beauty
you'd tie a ribbon,
fierce from a sense of pride or duty,
untold, unwritten.

I'd fidget, heedless of your care,
or of the ragged shreds
of dreams that made you brush my hair
without those words

I ached to hear. Now time's become
untempered, raw,
I whisk the wisps of gossamer from
your furrowed brow

and wonder, on the fringes of
our sad alliance,
if we will give away our love
or keep our silence.

(Hospice of the Sacred Heart, July 2011)







White Night



Minutes. Hours. Darkness hissing
through the window. Not a breeze.
Freight trains at the level crossing
wail and goad my turning, tossing.
Lurid ciphers lengthen, glossing
over time's hypotheses.
Night attends my second-guessing
days we were not meant to seize.



AUTHOR BIO
Catherine Chandler is the author of Lines of Flight (Able Muse Press, 2011), This Sweet Order (White Violet Press, 2012) and two chapbooks. Her second full-length collection, Glad and Sorry Seasons (Biblioasis Press), is forthcoming in the fall of 2013. Winner of the 2010 Howard Nemerov Sonnet Award, her work has been widely published in print and online journals and anthologies, most recently in Measure, Quadrant, Comstock Review, The Raintown Review, Able Muse Journal, Lewis Turco's The Book of Forms: A Handbook of Poetics, Including Odd and Invented Forms (University Press of New England, 2011) and Theresa Welford's The Cento: A Collection of Collage Poems (Red Hen Press, 2011). A dual citizen of the United States and Canada, Catherine is a graduate of McGill University, where she lectured in the Department of Translation Studies for many years.
POETRY CONTRIBUTORS

Catherine Chandler

Amy Conwell

Lisa DeSiro

Jehanne Dubrow

Katherine Hoerth

Julie Kane

Fayth Kelly

Siham Karami

Jean Kreiling

Luann Landon

Charlotte Mandel

Mary McCall

Susan McLean

Laura Sheahen

Marly Youmans


Marilyn Nelson and Sonia Sanchez participating in the women poets roll call, March 21, 2013
>Mezzo Cammin hosted the third anniversary of The Mezzo Cammin Women Poets Timeline Project on Thursday, March 21 at the Pennsylvania Academy of the Fine Arts, as part of its PAFA After Dark series and in affiliation with its exhibition The Female Gaze. Featured readers included Rachel Hadas, Marilyn Nelson, and Sonia Sanchez.
>Mezzo Cammin Awards Scholarship at West Chester Poetry Conference: Nausheen Eusuf.
>The Mezzo Cammin Women Poets Timeline Project Turns "40."
>The Mezzo Cammin Women Poets Timeline Project Panel at Celebrating African American Literature (CAAL) 2013, Penn State University, October 25-26.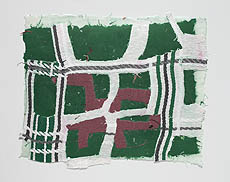 Elana Herzog: In all of my work curiosity and pleasure are driving forces. The materials I use are often cheap, discarded household items that challenge conventions of taste and beauty. They draw attention to how art and design migrate throughout culture, from high to low and back again. My imagery traverses the language of abstract art, and that of the domestic and industrial landscape. Increasingly the work reflects my desire to understand the relationship between Modernism and the legacy of industrial and technological progress that permeates contemporary culture.