Laura Sheahen






Sirens



The sirens practiced scales all through the morning;
Some Argonauts, or Odysseus, would float by
And they would throw their voices over ocean
Like a fine net that lets no fish escape.
Likely as not they'd haul their catch ashore
And fry him up and eat him. But one sister
(The most voracious) never towed the line in.
She wanted off that island, flayed of secrets.
She said she'd learn the stars that steer a boat.
She'd see a ship and fling herself in water.
Her sisters, twining seaweed, would point out
She couldn't swim, stingrays were fierce, and plus
It was their bounden duty to lure sailors.
She wouldn't hear. When sails skimmed the horizon
They had to tie her fast and check the knots.








I burned the needle white



I burned the needle white
I gathered all my will
I sewed your shield-cape strong
I wove protection well.

With stitches binding firm
With seams unrippable
And murmuring a charm
I wove the magic well.

No metal armor forged
No link unbreakable
Is safer than this robe
I wove your safety well.

The day came when you broke
Your word and faith in full
But could not tear this cloak

Though now I wish you ill

You will not ever die
--Who rose and then who fell--
In vain we beg an end
I wove the spell too well.



AUTHOR BIO
Laura Sheahen's poems have been published in The Dark Horse, The Interpreter's House, MiPOesias, and other magazines. She works in humanitarian aid and has lived in Italy, Cambodia and Egypt.
POETRY CONTRIBUTORS

Catherine Chandler

Amy Conwell

Lisa DeSiro

Jehanne Dubrow

Katherine Hoerth

Julie Kane

Fayth Kelly

Siham Karami

Jean Kreiling

Luann Landon

Charlotte Mandel

Mary McCall

Susan McLean

Laura Sheahen

Marly Youmans


Marilyn Nelson and Sonia Sanchez participating in the women poets roll call, March 21, 2013
>Mezzo Cammin hosted the third anniversary of The Mezzo Cammin Women Poets Timeline Project on Thursday, March 21 at the Pennsylvania Academy of the Fine Arts, as part of its PAFA After Dark series and in affiliation with its exhibition The Female Gaze. Featured readers included Rachel Hadas, Marilyn Nelson, and Sonia Sanchez.
>Mezzo Cammin Awards Scholarship at West Chester Poetry Conference: Nausheen Eusuf.
>The Mezzo Cammin Women Poets Timeline Project Turns "40."
>The Mezzo Cammin Women Poets Timeline Project Panel at Celebrating African American Literature (CAAL) 2013, Penn State University, October 25-26.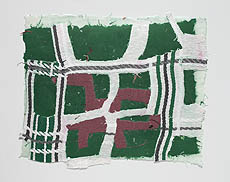 Elana Herzog: In all of my work curiosity and pleasure are driving forces. The materials I use are often cheap, discarded household items that challenge conventions of taste and beauty. They draw attention to how art and design migrate throughout culture, from high to low and back again. My imagery traverses the language of abstract art, and that of the domestic and industrial landscape. Increasingly the work reflects my desire to understand the relationship between Modernism and the legacy of industrial and technological progress that permeates contemporary culture.