Charlotte Mandel






The Pond



Follow the dance--a fountain sprays
upward, white waterfall that plays
concentric ripples. Surface sheen
reflects the grass and evergreens.
Shadowy fish pass under glaze.

I come to sit on this bench and gaze
across to the woods on clear days
as high-necked geese paddle and preen,
follow the dance.

A fish leaps up, gold in sun's rays--
unwary dragonfly has grazed
too close to the alluring screen.
Stands of cattails dip to the scene.
My notebook enters words of praise,
follows the dance.








Faiths



Her stroke had set off ambulance alarms.
Now, fuzzy pup in the crook of her arm,
double chin quivering, she can declare
rescue: "I believe in the power of prayer."

For reply, I say nothing, pet the dog,
why argue? No way to have dialogue
between two magnetic positives--
both unconditional and opposite:

love of a Being against love of being
alive in this world evolved from freeing
of atoms in magnificent explosion--
the dots connecting into sun, salt, ocean,

generating molten core, nuclear well--
the source of all we know of life itself,
plant, animal, mineral--the right to name
choice of the human brain. Ourselves to blame

alone, in a universe no one owns.
The poem prays me as I walk, solemn
yet joyful in my faith. My steps depend
on earth and air--words that begin and end.



AUTHOR BIO
Charlotte Mandel is winner of the 2012 New Jersey Poets Prize sponsored by Journal of New Jersey Poets. Her eighth book of poetry titled Life Work is forthcoming from David Robert Books in July 2013. Previous books include Rock Vein Sky from Midmarch Arts Press, and two poem-novellas of feminist biblical revision--The Life of Mary (foreword by Sandra M. Gilbert) and The Marriages of Jacob. Her verse play The Gardener's Wife is available with audio link on Verse Wisconsin. Among her critical essays, "The Cinematics of H.D.'s Poetry" is included in the volume Approaches to Teaching H.D.'s Poetry and Prose, published by Modern Language Association; and "Muriel Rukeyser: Her Rabbi Akiba Inheritance" featured on the Rukeyser website.
POETRY CONTRIBUTORS

Catherine Chandler

Amy Conwell

Lisa DeSiro

Jehanne Dubrow

Katherine Hoerth

Julie Kane

Fayth Kelly

Siham Karami

Jean Kreiling

Luann Landon

Charlotte Mandel

Mary McCall

Susan McLean

Laura Sheahen

Marly Youmans


Marilyn Nelson and Sonia Sanchez participating in the women poets roll call, March 21, 2013
>Mezzo Cammin hosted the third anniversary of The Mezzo Cammin Women Poets Timeline Project on Thursday, March 21 at the Pennsylvania Academy of the Fine Arts, as part of its PAFA After Dark series and in affiliation with its exhibition The Female Gaze. Featured readers included Rachel Hadas, Marilyn Nelson, and Sonia Sanchez.
>Mezzo Cammin Awards Scholarship at West Chester Poetry Conference: Nausheen Eusuf.
>The Mezzo Cammin Women Poets Timeline Project Turns "40."
>The Mezzo Cammin Women Poets Timeline Project Panel at Celebrating African American Literature (CAAL) 2013, Penn State University, October 25-26.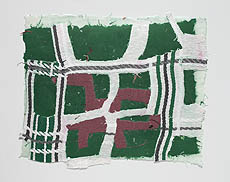 Elana Herzog: In all of my work curiosity and pleasure are driving forces. The materials I use are often cheap, discarded household items that challenge conventions of taste and beauty. They draw attention to how art and design migrate throughout culture, from high to low and back again. My imagery traverses the language of abstract art, and that of the domestic and industrial landscape. Increasingly the work reflects my desire to understand the relationship between Modernism and the legacy of industrial and technological progress that permeates contemporary culture.