Luann Landon






Fragments



Sappho, goddess composed of shards,
you are grown-up, full-blown, touching
only what pleases you; whatever you name
is real to you and real to us;
you change and let change,
you love to gather and hold, to strike;
your Lesbos a star dropped in the sea;
your people supple as Tanagran dancers,
eternal, carved in Parian marble, burning,
above all chances.
Investing in you their symmetry
later poets adapt your story.
Essential Sappho--you make us feel
we are not whole.








Talking With My Father



That April morning. I must now narrate:
I pass your room and know you're not alive,
your head and back too still. You abdicate

and close your youth. My mother, to placate
an angry girl instructed to be mild
(that April morning I must now narrate),

tells me the war had left you desolate,
and I will always be your wanted child.
Her words are not enough. You abdicate--

it's your unnatural leaving that I hate.
You close your youth and die at thirty-five
(that April morning I must now narrate).

Most men delay toward death but you can't wait.
Always I grieve: it is not you who live.
(Help me--teach me not to abdicate.)

Now I use a grief that won't abate
to make a language leaden but alive.
Your head and back are still. You abdicate
that April morning I can now narrate.



AUTHOR BIO
Luann Landon is writing both narrative and lyric now. She was a Finalist in the 2011 and the 2012 River Styx International Poetry Contest, and her poems have appeared in The Poetry Porch and Measure. Her memoir-cookbook, Dinner at Miss Lady's (Algonquin, 1999), has recently been published as a paperback.
POETRY CONTRIBUTORS

Catherine Chandler

Amy Conwell

Lisa DeSiro

Jehanne Dubrow

Katherine Hoerth

Julie Kane

Fayth Kelly

Siham Karami

Jean Kreiling

Luann Landon

Charlotte Mandel

Mary McCall

Susan McLean

Laura Sheahen

Marly Youmans


Marilyn Nelson and Sonia Sanchez participating in the women poets roll call, March 21, 2013
>Mezzo Cammin hosted the third anniversary of The Mezzo Cammin Women Poets Timeline Project on Thursday, March 21 at the Pennsylvania Academy of the Fine Arts, as part of its PAFA After Dark series and in affiliation with its exhibition The Female Gaze. Featured readers included Rachel Hadas, Marilyn Nelson, and Sonia Sanchez.
>Mezzo Cammin Awards Scholarship at West Chester Poetry Conference: Nausheen Eusuf.
>The Mezzo Cammin Women Poets Timeline Project Turns "40."
>The Mezzo Cammin Women Poets Timeline Project Panel at Celebrating African American Literature (CAAL) 2013, Penn State University, October 25-26.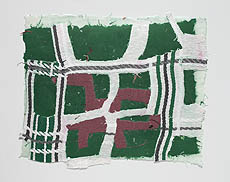 Elana Herzog: In all of my work curiosity and pleasure are driving forces. The materials I use are often cheap, discarded household items that challenge conventions of taste and beauty. They draw attention to how art and design migrate throughout culture, from high to low and back again. My imagery traverses the language of abstract art, and that of the domestic and industrial landscape. Increasingly the work reflects my desire to understand the relationship between Modernism and the legacy of industrial and technological progress that permeates contemporary culture.