Mary Meriam
Beginning with a Line by Robert Frost
They spoke to the fugitive in my heart as if it were leaf to leaf.
They spoke to me one windy day from the copse nearby my house.
Low in the night they rustled to thief and owl and addict and mouse.
Let me be deaf to the crash of trouble and the mighty underworld.
The pile of rotten branches and gold leaves lies there dead and swirled.
It would take every court in the countryside to count the fallen leaves.
The judges must number themselves among the dirt-thirsty thieves.
I live in a room of cold-toed winter glowing with no relief.
Wandering silent, muttered about, I move from grief to grief.





Wolf



Mother, a wolf is wolfing me
Down. I thought I had a mother
But now I'm being wolfed. See?
Mother, a wolf is wolfing me
Down, your baby one sweet pea
Bit by hot teeth. I want another
Mother. A wolf is wolfing me
Down. I thought I had a mother.


AUTHOR BIO

Mary Meriam's poems are published in Literary Imagination, The New York Times, The Gay & Lesbian Review, American Arts Quarterly, Poetry Northeast, American Life in Poetry, many other journals, and several anthologies. She is the author of two poetry chapbooks, The Countess of Flatbroke and The Poet's Zodiac; the editor of Lavender Review; and a blogger at Ms. Magazine. Earlier work in Mezzo Cammin: 2010.2 & 2010.1.
POETRY CONTRIBUTORS

Diann Blakely

Terese Coe

Enda Coyle-Greene

Erica Dawson (Featured Poet)


Nicole Caruso Garcia

Terry Godbey

Tracey Gratch

Athena Kildegaard

Diane Lockward

Mary McLean

Mary Meriam

Jennifer Reeser

Susan Spear

Myrna Stone

Doris Watts

Gail White

Marly Youmans

Mezzo Cammin
is proud to announce the third anniversary of The
Mezzo Cammin
Women Poets Timeline Project, which will be celebrated on Thursday, March 21, from 6:00-9:00 at the
Pennsylvania Academy of the Fine Arts
, as part of its PAFA After Dark series and in affiliation with its exhibition
The Female Gaze
. Featured readers will include Rachel Hadas, Marilyn Nelson, and Sonia Sanchez. Also performing will be singer Suzzette Ortiz and poets from the Philadelphia Youth Movement. The event is open to the public.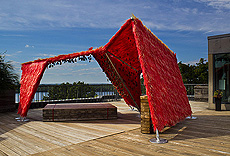 Jean Shin: Much of my work is site-specific, establishing a dialogue with not only architecture and outdoor spaces, but also the communities that inhabit and activate them. By reinserting used, familiar materials back into the public realm, I invite a large, diverse audience to bring their own histories to the work. Through these encounters each installation forms its own imagined community, revealing new associations and meanings for ephemera, and speaking to our shared experiences.