Mary McLean






The Chronophage



The Chronophage is eating time
on Corpus Christi's stately wall.
Eternal rhythm without rhyme
until the world or college falls.

On Corpus Christi's stately wall
a monstrous insect came to squat.
Until the world or college falls,
each second in his maw is caught.

A monstrous insect came to squat
outside a college meeting room.
Each second, in his maw is caught
a marker on the path to doom.

Outside a college meeting room
(eternal rhythm without rhyme)
a marker on the path to doom,
the Chronophage, is eating time.







Life in Sparta



A Spartan boy caught thieving would be whipped,
his friends perhaps whipped too. One stole a fox
and hid it in his tunic, where it ripped
his guts out with its teeth and scrabbling claws.
He died without a sound to save his friends.

Dad told this tale at dinner week by week,
trying to make us Spartan Supermen
(the girls included). Better die than speak
of pain and fear: one must maintain one's calm.
His pride was almost warm the time that I
endured Mom rooting splinters from my palm
with her blunt needle, and I didn't cry.

Now he is ill. I never show my hurt,
but I can feel the claws beneath my shirt.


AUTHOR BIO

Mary McLean grew up outside Washington, DC, and received her Bachelor's in biochemistry with a minor in English from Pennsylvania State University, where she won a Katey Lehman award for short fiction. Next came a Ph.D. in biochemistry from University of Cambridge, followed by several research posts around London. Since 2007 she has worked at the Cancer Research UK Cambridge Institute. After many failed attempts at writing novels, she recently turned to poetry, which has appeared in Lighten Up Online and on the short list for the 2012 Wergle Flomp competition. Visit her blog about poetry.
POETRY CONTRIBUTORS

Diann Blakely

Terese Coe

Enda Coyle-Greene

Erica Dawson (Featured Poet)


Nicole Caruso Garcia

Terry Godbey

Tracey Gratch

Athena Kildegaard

Diane Lockward

Mary McLean

Mary Meriam

Jennifer Reeser

Susan Spear

Myrna Stone

Doris Watts

Gail White

Marly Youmans

Mezzo Cammin
is proud to announce the third anniversary of The
Mezzo Cammin
Women Poets Timeline Project, which will be celebrated on Thursday, March 21, from 6:00-9:00 at the
Pennsylvania Academy of the Fine Arts
, as part of its PAFA After Dark series and in affiliation with its exhibition
The Female Gaze
. Featured readers will include Rachel Hadas, Marilyn Nelson, and Sonia Sanchez. Also performing will be singer Suzzette Ortiz and poets from the Philadelphia Youth Movement. The event is open to the public.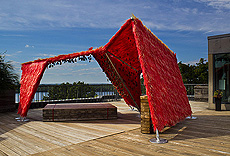 Jean Shin: Much of my work is site-specific, establishing a dialogue with not only architecture and outdoor spaces, but also the communities that inhabit and activate them. By reinserting used, familiar materials back into the public realm, I invite a large, diverse audience to bring their own histories to the work. Through these encounters each installation forms its own imagined community, revealing new associations and meanings for ephemera, and speaking to our shared experiences.