Myrna Stone






Down the Rabbit Hole



Three months pass, then four, and it's clear
that Pop has trouble knowing how to read
a calendar or a clock. Thus time, both near
and far, is now the foe to whom he cedes

the war, relying on notes we post about:
If the dial says 6:00 PM, it's night,
if 6:00 AM, it's day. Always look out-
side. If it's still dark, it's winter. If light,

it's summer--etc., etc., until each surface
seems to sprout its own warning or lecture.
A dresser drawer plainly states its purpose:
Clean briefs only, while beneath the fixture

lighting his sink the mirror exhorts: The who
you see in the glass is not a thief. It's you.







The Social Worker's Advice



That's it, bite your tongue, then praise his poor
scrambled view--however odd or obstinate--
with his relief in mind. Dredge up his stores
of nerve and wit. Be clever, be his advocate,

and resist, for God's sake, setting him straight,
for facts don't matter here, or fools, my friend.
If words seem ineffective, use some bait
instead: a nod, a laugh, a pat. He'll bend

if he's stubborn, warm if he's cold. . . . So fold
his hand in yours, for you're his flesh, pilgrim,
and he ought to feel it. And though you're old
and tired and taxed by your own set of whims

and ills, so what? So what if he forgets
like a child of five? There's love, and debts.







Imperfect



There was, our mother told us, from the first
a fire in his gut, if not for perfection,
then for its flashier cousin, success. Well-versed
as he in want, she understood his passion

for working evenings, weekends, and holidays
from which flowed jewels, indoor plumbing, boats,
new cars and houses, each a tidy survey
of his unstoppable drive. Allowed no votes,

brothers, you spent summers hosing down
his semis, greasing axles, and too often
washing, waxing, buffing his Ercoupe or Crown
Victoria. Yet, despite your raw caution,

you were faulted for our homelife's disarray:
forgotten keys, lost books, his own dismay.







He Cultivates a Friend



Within an hour of joining assisted living,
he's charming women at his dining table
and trading jokes with dairy farmer, Alvin,
who lives across the hall. Both men are able

to get about without the use of walkers
and soon, an aide quips, they begin to appear
everywhere at once. Fast movers and talkers,
they dazzle the staff, until Alvin's flair

for loitering in the parking lot earns him
a slot in the lock-down unit. Twice a week
I go upstairs with Pop to visit, until Alvin
no longer seems to know him. Time, I think,

to stop, Pop mutters, sounding sad and cross,
still the realist navigating one more loss.







My Brother and I Move Him to a Lock-Down Unit



While his belongings, bed and all, are moved
one floor up and to a room the image
of his, we take him out for brunch. Removed
from his routine, he's happy to engage,

as light and playful as we've seen him since
he joined assisted living. In Old Hammy's
he orders sourdough biscuits piled with quince
preserves, and sausage links, a mellow, homey

meal which pleases us, except for the fact
that we're finessing him. "It's for his good,"
the social worker was quick to say, "just act
normal when you bring him back. But should

he get indignant, say you thought he knew."
Our solace: 402 has a lakeside view.







The Last Time He Saw Me



I was leaving on a trip to Houston.
I was in a hurry, in and out the door,
brash, off the cuff, and sooner done
with him than I'd ever been before.

He didn't know me. I didn't worry.
I was leaving on a trip to Houston
with my husband. I was in a hurry
since Tom waited at the curb. Done

acting as Pop's son, foreman, aide,
sister, did I tell him I'd miss him?
Did I kiss him? My recall's frayed.
I was leaving on a trip to Houston

to see my daughter. I was in a hurry.
I could see no reason, then, to worry.


AUTHOR BIO

Myrna Stone is the author of four full-length books of poetry: In the Present Tense: Portraits of My Father, forthcoming in April from Kelsay Books; The Casanova Chronicles, which was a Finalist for the Ohioana Book Award in Poetry; How Else to Love the World; and The Art of Loss, for which she received the 2001 Ohio Poet of the Year Award. She is the recipient of two Ohio Arts Council Fellowships in Poetry, a Full Fellowship to Vermont Studio Center, and the 2002 Poetry Award from Weber--The Contemporary West. Her poems have been featured on both Poetry Daily and Verse Daily, and have appeared in such journals as Poetry, Ploughshares, Boston Review, TriQuarterly, The Massachusetts Review, Nimrod, and River Styx. Her work has also appeared in nine anthologies, including Flora Poetica: The Chatto Book of Botanical Verse; I Have My Own Song For It: Modern Poems of Ohio; and Beloved on the Earth: 150 Poems of Grief and Gratitude. Stone is a founding member of The Greenville Poets, based in Greenville, Ohio, where she lives with her husband in an 18th century Rhode Island farmhouse. Earlier work in Mezzo Cammin: 2011.2.
POETRY CONTRIBUTORS

Diann Blakely

Terese Coe

Enda Coyle-Greene

Erica Dawson (Featured Poet)


Nicole Caruso Garcia

Terry Godbey

Tracey Gratch

Athena Kildegaard

Diane Lockward

Mary McLean

Mary Meriam

Jennifer Reeser

Susan Spear

Myrna Stone

Doris Watts

Gail White

Marly Youmans

Mezzo Cammin
is proud to announce the third anniversary of The
Mezzo Cammin
Women Poets Timeline Project, which will be celebrated on Thursday, March 21, from 6:00-9:00 at the
Pennsylvania Academy of the Fine Arts
, as part of its PAFA After Dark series and in affiliation with its exhibition
The Female Gaze
. Featured readers will include Rachel Hadas, Marilyn Nelson, and Sonia Sanchez. Also performing will be singer Suzzette Ortiz and poets from the Philadelphia Youth Movement. The event is open to the public.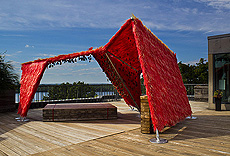 Jean Shin: Much of my work is site-specific, establishing a dialogue with not only architecture and outdoor spaces, but also the communities that inhabit and activate them. By reinserting used, familiar materials back into the public realm, I invite a large, diverse audience to bring their own histories to the work. Through these encounters each installation forms its own imagined community, revealing new associations and meanings for ephemera, and speaking to our shared experiences.