Athena Kildegaard






Song



My mother only owned one sturdy bra
at any given time. White rubber threads
escaped the cotton shell, the shoulder straps,
in a penny-pincher's version of lace, curled
in delicate scallops across her skin. She bowed
to settle her breasts into the cups.

Some winter days I would get home from school
to find her rolling crust or grating cheese
in the haloed light of the stove's low hood.
The cold and silent dusk led me in to
the quiet of the house. She learned from her
compulsive preacher father the virtue of thrift,
and how, when one is all alone, there is
so little to pleasure, so very little to joy.







Nocturne



We were alone on the glacial lake--
my husband and I--the whole world ours
at first, no birds, no leaping fish, and light
for hours, although it felt like dusk, as if
the day's door stood ajar. I'd tell you
this if you were here (and every day
there's something, mother): we paddled shadowing
the shore to where a fawn, brown and sleek
and new-hatched, followed a doe, the two
placid as moons. They tip-toed delicate,
a dusky pair, in shallow water and then
on pebbly mud, their hooves faint castanets,
until they came to reeds grown well above
their heads and thus we were alone again.







After Spring Rains



Prairie potholes spread like stars across
the landscape. Winter wore us down to need.
Between the fallow fields swim coots and geese,
mergansers, and two swans who dip past weeds,
through clouds, to tender reeds and stems that thrive
in muck. The birds send ripples curving out
in wavy constellations, then they dive--
are gone, bob up, take flight. And so we doubt
our own galactic path. A farmer steers
his chuffing green machine down plumb-line rows
that run right-angled to the road where we
are lollygagging like astronomers
who wait for dark. We orbit ourselves awhile,
then drive away, mile becoming mile.







Offering



A mare came up
let her muzzle
soft as nether
nestle in the
cup of my hands
steam of her breath
whisker tickle
infinite and
lit that moment
in damp paddock
the beggar bowl
behind my back.


AUTHOR BIO

Athena Kildegaard is the author of three books of poetry: Rare Momentum (2006), Bodies of Light (2011, a Minnesota book award finalist), and Cloves & Honey. Her poems have recently appeared or are forthcoming in Alaska Quarterly Review, Hawk & Handsaw, Tar River Poetry, Valparaiso Poetry Review, and elsewhere. She teaches at the University of Minnesota, Morris. Earlier work in Mezzo Cammin: 2010.1 & 2007.2.
POETRY CONTRIBUTORS

Diann Blakely

Terese Coe

Enda Coyle-Greene

Erica Dawson (Featured Poet)


Nicole Caruso Garcia

Terry Godbey

Tracey Gratch

Athena Kildegaard

Diane Lockward

Mary McLean

Mary Meriam

Jennifer Reeser

Susan Spear

Myrna Stone

Doris Watts

Gail White

Marly Youmans

Mezzo Cammin
is proud to announce the third anniversary of The
Mezzo Cammin
Women Poets Timeline Project, which will be celebrated on Thursday, March 21, from 6:00-9:00 at the
Pennsylvania Academy of the Fine Arts
, as part of its PAFA After Dark series and in affiliation with its exhibition
The Female Gaze
. Featured readers will include Rachel Hadas, Marilyn Nelson, and Sonia Sanchez. Also performing will be singer Suzzette Ortiz and poets from the Philadelphia Youth Movement. The event is open to the public.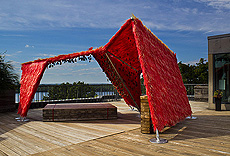 Jean Shin: Much of my work is site-specific, establishing a dialogue with not only architecture and outdoor spaces, but also the communities that inhabit and activate them. By reinserting used, familiar materials back into the public realm, I invite a large, diverse audience to bring their own histories to the work. Through these encounters each installation forms its own imagined community, revealing new associations and meanings for ephemera, and speaking to our shared experiences.