Diane Lockward






Apple Rondeau



Edible joy dangles from branches, pomaceous
fruit of the apple tree. Round and luscious,
crunchier than a pear, the apple
offers a multitude of delights to sample--
Fuji, Gala, bi-colored Braeburn, and Red Delicious,

so dark it's almost purple and slightly seditious,
green bite of the Granny Smith, tart and nutritious,
the sassy Honeycrisp, its taut flesh dappled.
Edible joy dangles,

a temptress in autumn, Winesap, Suncrisp, and McIntosh,
yellow, green, and red, outrageous
in cobbler, crumble, pandowdy, fritter, and strudel.
Macoun, Ginger Gold, Pearmain, polished and speckled,
Pink Lady, plump and elegant--overhead, all this gorgeous,
edible joy dangles.







In My Yard, the Bones of Trees



I want sturdy oak trees, elms, and hickories,
but not the fallen leaves,
raked into grave-like mounds of debris.

Trees have hearts and this is how they grieve--
by letting go of what's already gone,
baring their arms in quiet bereavement.

Like a marriage scraped to the bone
and stripped of tender flesh,
the color's leached, the hearts petrified to stone.

Arms and hearts flailed and thrashed,
cast off what had desiccated and grown cold,
changing what once was lovely into trash.

Trees take back what arms could not hold--
in spring, like love as new invention,
they retrieve what winter stole.

For us, no such chance at regeneration.
While our trees regain what they've lost,
we could not repair the final disintegration,

so wished each other luck and quietly divorced.
The morning of your leaving,
our arms fell empty, the two of us bereft.


AUTHOR BIO
Diane Lockward is the author of three poetry books, most recently Temptation by Water, and a forthcoming craft book, The Crafty Poet (Wind Publications, 2013). Her poems have been published in Harvard Review, Spoon River Poetry Review, and Prairie Schooner, and have been featured on Poetry Daily, Verse Daily, and The Writer's Almanac. Earlier work in Mezzo Cammin: 2008.2 & 2006.1.
POETRY CONTRIBUTORS

Diann Blakely

Terese Coe

Enda Coyle-Greene

Erica Dawson (Featured Poet)


Nicole Caruso Garcia

Terry Godbey

Tracey Gratch

Athena Kildegaard

Diane Lockward

Mary McLean

Mary Meriam

Jennifer Reeser

Susan Spear

Myrna Stone

Doris Watts

Gail White

Marly Youmans

Mezzo Cammin
is proud to announce the third anniversary of The
Mezzo Cammin
Women Poets Timeline Project, which will be celebrated on Thursday, March 21, from 6:00-9:00 at the
Pennsylvania Academy of the Fine Arts
, as part of its PAFA After Dark series and in affiliation with its exhibition
The Female Gaze
. Featured readers will include Rachel Hadas, Marilyn Nelson, and Sonia Sanchez. Also performing will be singer Suzzette Ortiz and poets from the Philadelphia Youth Movement. The event is open to the public.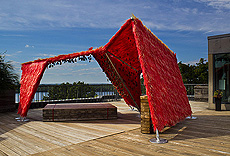 Jean Shin: Much of my work is site-specific, establishing a dialogue with not only architecture and outdoor spaces, but also the communities that inhabit and activate them. By reinserting used, familiar materials back into the public realm, I invite a large, diverse audience to bring their own histories to the work. Through these encounters each installation forms its own imagined community, revealing new associations and meanings for ephemera, and speaking to our shared experiences.