Terry Godbey






Blood Oranges



How much a day in February weighs.
We pick blood oranges from our spindly tree,
fill the bath and scrub the dirt away.

The wet fruit, pale now, spin as if to play.
Tart perfume pricks our noses. Now we see
how much a day in February weighs.

We make our tiny dime-store juicer sway
as twigs fall from our hair--insects, debris.
Fill the bath and scrub the dirt away.

The pulpy halves outlined in deep rosé
release a tonic to ease winter's ennui.
How much a day in February weighs.

Three pitchers glow with coral--our café
is open and we're sticky but it's free.
We'll fill the bath and scrub the dirt away.

An outdoor chore has turned into soirée.
And what comes next? Fallen leaves' debauchery.
How much a day in February weighs!
Fill the bath and scrub the dirt away.







Epilogue



for Gary Rigdon, screenwriter, 1955-1988

The parade of actors bearing gifts of wine,
sushi and tulips wanes on your last night.
Just us again. You tell about the time
you fetched the paper moments before daylight
and found a doe devouring your roses.
In Hollywood! So near you heard her breathe.
She bowed her tapered neck and so you chose
the same pose, deferential and discreet.
I see her cornered in your eyes until
you hand me scripts--your movie has just wrapped--
and send me to my hotel down the hill.
You cannot write your way out now--you're trapped.
At dawn word comes. I stand outside the gate
and pick for you the last white bud--too late.


AUTHOR BIO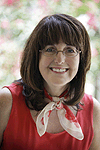 Terry Godbey's chapbook Flame was published in 2012, and her previous poetry collections are Beauty Lessons and Behind Every Door. Her poems have appeared in Rattle, Poet Lore, Harpur Palate, Pearl, Slipstream and The Café Review. She lives in Orlando, Florida, with her son and works as a freelance writer and editor. Her website is terrygodbey.com.
POETRY CONTRIBUTORS

Diann Blakely

Terese Coe

Enda Coyle-Greene

Erica Dawson (Featured Poet)


Nicole Caruso Garcia

Terry Godbey

Tracey Gratch

Athena Kildegaard

Diane Lockward

Mary McLean

Mary Meriam

Jennifer Reeser

Susan Spear

Myrna Stone

Doris Watts

Gail White

Marly Youmans

Mezzo Cammin
is proud to announce the third anniversary of The
Mezzo Cammin
Women Poets Timeline Project, which will be celebrated on Thursday, March 21, from 6:00-9:00 at the
Pennsylvania Academy of the Fine Arts
, as part of its PAFA After Dark series and in affiliation with its exhibition
The Female Gaze
. Featured readers will include Rachel Hadas, Marilyn Nelson, and Sonia Sanchez. Also performing will be singer Suzzette Ortiz and poets from the Philadelphia Youth Movement. The event is open to the public.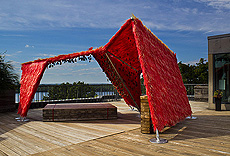 Jean Shin: Much of my work is site-specific, establishing a dialogue with not only architecture and outdoor spaces, but also the communities that inhabit and activate them. By reinserting used, familiar materials back into the public realm, I invite a large, diverse audience to bring their own histories to the work. Through these encounters each installation forms its own imagined community, revealing new associations and meanings for ephemera, and speaking to our shared experiences.