Nicole Caruso Garcia






Slide-Rule Cowboy



All nonchalant, Dad says he rode a bull
last week while down in San Antonio
or some such place. (I mean, mechanical
or not, you skip the where, head straight for why.)

And had I known that he was thus engaged,
I would have paused all things quotidian
in awe, let coupons flutter from my hands
like slo-mo petals of a peony.

Although he still can bench two twenty-five,
how wrongly I'd assumed that he was tucked
beside his briefcase in a safely beige
hotel, a nice one, guest points racking up.

He says, I watched the other guys awhile.
They kept their center of gravity too high.
I figured if I hunkered down, above
the center of rotation, I'd be fine.

A slide-rule cowboy, prone to seasickness,
he rode the bull the longest in the bar.
Imagine young guys staring at their shoes,
miscalculating more tequila shots.

His motto is, It takes a lot to kill
a person, and I welcome back the guy
who got my ears pierced at the mall (age five),
the last impulsive thing I'd seen him do.

Now, I'll forever see him on that bull.
I'll watch him in that joyous orbit, hair
just faintly silvered by the cosmic dust,
still waving overhead one callused hand.







Rorschachs



Once more, these monthly inkblots swaddled in the trash:
the prayers that rows of votives snicker into ash,
no help for hunger, just a mockingberry stain,
a crimson phone booth from which failure calls again.

Once more, the kiln door of the cosmos slamming shut,
the smear of rouge that pales the cheek and turns the gut,
defeat's dark wine, decanted by a nemesis.
a ruby crown demoting queen to baroness.

The still-warm stamp of exile in carnelian wax,
famed scarlet signature that sells a blank tableau,
luck's thousand paper cranes unfolding like a hoax,
the dregs on porcelain where tea leaves answer: No.

Once more, a cheap carnation's brown-edged sympathy,
a neon retina fluorescing VACANCY.


AUTHOR BIO

Nicole Caruso Garcia was born in New Jersey in 1972 and currently resides in Connecticut. She was educated at Fairfield University in English and Religious Studies, and after seven years in corporate industry, she left to earn her M.S. in Education from The University of Bridgeport. Her poetry has appeared in both in print and online in journals such as The HyperTexts, Willow Review, The Sow's Ear Poetry Review, Soundings East, The Ledge, Poetry Midwest, and Small Pond Magazine of Literature. She received the Spring 2010 Willow Review Award. She teaches Poetry and Creative Writing at Trumbull High School. Despite her penchant for formalism, her rapping alter ego, Capital G, often visits to bust a rhyme for her students. Her first video, "Plagiarism Rap," debuted on YouTube in 2012. Earlier work in Mezzo Cammin: 2011.2, 2011.1, & 2008.1.
POETRY CONTRIBUTORS

Diann Blakely

Terese Coe

Enda Coyle-Greene

Erica Dawson (Featured Poet)


Nicole Caruso Garcia

Terry Godbey

Tracey Gratch

Athena Kildegaard

Diane Lockward

Mary McLean

Mary Meriam

Jennifer Reeser

Susan Spear

Myrna Stone

Doris Watts

Gail White

Marly Youmans

Mezzo Cammin
is proud to announce the third anniversary of The
Mezzo Cammin
Women Poets Timeline Project, which will be celebrated on Thursday, March 21, from 6:00-9:00 at the
Pennsylvania Academy of the Fine Arts
, as part of its PAFA After Dark series and in affiliation with its exhibition
The Female Gaze
. Featured readers will include Rachel Hadas, Marilyn Nelson, and Sonia Sanchez. Also performing will be singer Suzzette Ortiz and poets from the Philadelphia Youth Movement. The event is open to the public.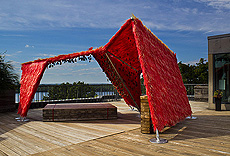 Jean Shin: Much of my work is site-specific, establishing a dialogue with not only architecture and outdoor spaces, but also the communities that inhabit and activate them. By reinserting used, familiar materials back into the public realm, I invite a large, diverse audience to bring their own histories to the work. Through these encounters each installation forms its own imagined community, revealing new associations and meanings for ephemera, and speaking to our shared experiences.