Terese Coe






Minetta Creek



A poem for children

For the Greenwich Village creek driven underground in the late 19th Century.

Time was, there was a waterfall
beneath the children's playground,
whose banks were thick with berries
and apple blossom crowned.

She tumbled in a torrent,
she frittered all her fame,
she gave to drink both bobolink
and rife Manhatta game.

She chanted in a singsong
and sprang up as she ran;
her bed was home to Demeter
and misty marjoram.

And when the snows were heavy
and winter froze her face
she lingered in the underground,
her sleepy, stony place.

Minetta from We-Know-Not-Where
is in her native bower
and he who would deter her
is taken by her power.





On Reading Fraser's Mary, Queen of Scots

One fortress after another till the day,
sealed in an island prison by her kin
and stripped of her royal trappings, she ran again.
Sick, with child, in rags.
At Fotheringhay
the axeman stood. Her ladies took the gown
of pearl and black. She knelt, lay down her head,
martyr crowned in an underdress of red.
The axe came down three times before she died.
Three times, before she died, the axe came down.
They lied and lied and lied and lied and lied.


AUTHOR BIO

Terese Coe's poems and translations have appeared in The Times Literary Supplement, Ploughshares, Threepenny Review, The Cincinnati Review, New American Writing, Alaska Quarterly Review, Poetry, Smartish Pace, Tar River Poetry, Measure, Agenda and Poetry Review (UK), and The Stinging Fly and Crannog (Ireland), among many others. Copies of one of her poems were helicopter-dropped over London by Poetry Parnassus, part of the London Olympics special events in summer 2012. Earlier work in Mezzo Cammin: 2008.1.
POETRY CONTRIBUTORS

Diann Blakely

Terese Coe

Enda Coyle-Greene

Erica Dawson (Featured Poet)


Nicole Caruso Garcia

Terry Godbey

Tracey Gratch

Athena Kildegaard

Diane Lockward

Mary McLean

Mary Meriam

Jennifer Reeser

Susan Spear

Myrna Stone

Doris Watts

Gail White

Marly Youmans

Mezzo Cammin
is proud to announce the third anniversary of The
Mezzo Cammin
Women Poets Timeline Project, which will be celebrated on Thursday, March 21, from 6:00-9:00 at the
Pennsylvania Academy of the Fine Arts
, as part of its PAFA After Dark series and in affiliation with its exhibition
The Female Gaze
. Featured readers will include Rachel Hadas, Marilyn Nelson, and Sonia Sanchez. Also performing will be singer Suzzette Ortiz and poets from the Philadelphia Youth Movement. The event is open to the public.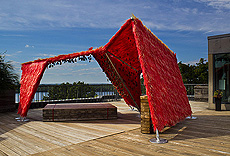 Jean Shin: Much of my work is site-specific, establishing a dialogue with not only architecture and outdoor spaces, but also the communities that inhabit and activate them. By reinserting used, familiar materials back into the public realm, I invite a large, diverse audience to bring their own histories to the work. Through these encounters each installation forms its own imagined community, revealing new associations and meanings for ephemera, and speaking to our shared experiences.