Enda Coyle-Greene






The Weather on the Streets



I deluded myself I wouldn't get wet
as the sky flew, slack with rain-seed;
a busker sang of love, love and yet
more love, being all a body needs

as the sky flew, slack with rain-seed.
I went to buy a tidy black umbrella
(more love being all a body needs)
the singer singing a cappella

I went to buy a tidy black umbrella,
lying in my head with the refrain
(the singer sang it a cappella).
I stumbled in my heels in drains.

Lying in my head with the refrain
through hailstones melting, big as hearts,
I stumbled in my heels in drains;
I told myself it couldn't start.

Through hailstones melting big as hearts
a busker sang of love, love. And yet
I told myself it couldn't start.
I deluded myself. I wouldn't get wet.







Full Moon over Palmerston Road



Through all the time since then I see him there,
as cool as when he didn't judge the anguished
state of me, of other friends long vanished.
Terry with the Jesus eyes, the wavy hair
of painted saints, still walks as if on air
or water to the girl that banished
other girls--the pretty one who vanquished
talk of rights and wrongs with money, care.
But how were we to know if drifting on
in our unguided lives we'd ever trace
our reasoning that night? We watched the sky
hold up a moon transfigured. While it shone
above the roofs its gentle, wise man's face
was only that--the almost-oldest lie.


AUTHOR BIO

Enda Coyle-Greene was born in Dublin where she still lives. Her work has been published widely in Ireland and elsewhere and broadcast on RTE Radio 1 and Lyric FM. Bursaries and awards include a Hennessy Literary Awards nomination. Her first collection, Snow Negatives, won the Patrick Kavanagh Award in 2006 and was published by the Dedalus Press in 2007. She holds an MA (Dist.) in English, Creative Writing, from the Seamus Heaney Centre for Poetry at Queen's University, Belfast. A new collection is forthcoming from the Dedalus Press in 2013.
POETRY CONTRIBUTORS

Diann Blakely

Terese Coe

Enda Coyle-Greene

Erica Dawson (Featured Poet)


Nicole Caruso Garcia

Terry Godbey

Tracey Gratch

Athena Kildegaard

Diane Lockward

Mary McLean

Mary Meriam

Jennifer Reeser

Susan Spear

Myrna Stone

Doris Watts

Gail White

Marly Youmans

Mezzo Cammin
is proud to announce the third anniversary of The
Mezzo Cammin
Women Poets Timeline Project, which will be celebrated on Thursday, March 21, from 6:00-9:00 at the
Pennsylvania Academy of the Fine Arts
, as part of its PAFA After Dark series and in affiliation with its exhibition
The Female Gaze
. Featured readers will include Rachel Hadas, Marilyn Nelson, and Sonia Sanchez. Also performing will be singer Suzzette Ortiz and poets from the Philadelphia Youth Movement. The event is open to the public.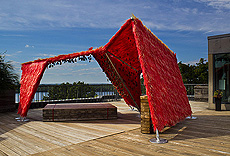 Jean Shin: Much of my work is site-specific, establishing a dialogue with not only architecture and outdoor spaces, but also the communities that inhabit and activate them. By reinserting used, familiar materials back into the public realm, I invite a large, diverse audience to bring their own histories to the work. Through these encounters each installation forms its own imagined community, revealing new associations and meanings for ephemera, and speaking to our shared experiences.