Karrie Waarala






The Sword Swallower Meets the Tattooed Lady



Foolish girl, all shell and paint and wind.
Whirling through this show just yesterday,
dragging dust-ups with her, but oh, they'll pay
to howl at the bedlam of her skin.
Her shellacked bravado is so thin,
her shoulders growl but the fingers betray
desperation's twitch. We should evade
this chaos nest, this ten-in-one of sins.

But freak belongs to freak and now she's ours.
We'll puzzle piece around this bird disguised
as beast, her wounds assembled as bizarre
collage. She's raw, but still I recognize
a smoldered artist brandishing her scars.
I see it there. It's something in the eyes.




Pierce & Brand: A Sideshow Diptych
I.

The pain is where I pray. Inside the burn,
throb of needles whispering to skin,
metallic snap and hum of stark machine,
vicious scrimshaw coaxing blood to run.
Ink and incense, smoke and soap, thick smells
that tangle with the musk of pain and make
adrenaline wind tighter with each stroke,
push past the body's weaknesses until
that sweet plateau. Slow satisfaction, eyes
lead-lidded, prickle of now distant cheeks.
Taut muscles soak up haloed lights, relax
in languid prayer, ecstatic haze.
This ten-in-one of ache is where I'm whole:
the stab, the crucible of skin and steel.

II.

The stab, the crucible of skin and steel,
exquisite moment when my throat turns forge--
there's nothing else. You ask what fuels this urge,
this crazed display of gravity and will?
It's not mere showmanship, no spectacle
is impetus enough for hunger like
the fire in my gut. I don't just choke
down props at random for the carnival,
I live my art. I daily dedicate
myself to death defied by swallowing
it whole. These other carny hacks? Don't think
like me they chase perfection every night.
I embrace steel sharp enough to kill.
I carve myself. I'm dangerous. It's skill.

III.

I'll carve myself more dangerous until
there's no mistaking me for simple mark.
Adding to this bold collage is work,
a scrapbook etched in painstaking detail
of every rendezvous across the map.
You think it's sick to document each man
from far away first love to one-night stands?
Then tell me: what mementos do you keep
of intersecting lives you've left behind,
time-softened letters, locks of hair you need
to hide away so that your spouse won't see?
I've got the guts to advertise on skin
the lust we all feel. But unlike you norms,
I'll earn the title freak for which I was born.

IV.

I've earned the title freak. Yes, I was born
to ivied money, banker's youngest son,
magnificent embarrassment, the one
whose absence no one back in Concord mourns.
Mother...no. I cannot wonder how
she fares now she's an island in that stream
of pragmatism. She never dared to dream
out loud before; she must be drowning now
that I am gone, the easy target for
the hate disguised as masculinity
that fills that wretched house. Family?
I have no need. My sole kin now are swords
and midway lights--these cause my blood to rise.
I thrive here in their bald euphoric blaze.

V.

I thrive here in the bald euphoric blaze
of color that is carnival. The tops,
the banner line, the carousel, the snap
of vibrant pennants challenging the skies,
my skin. Only in the carny world
can I shed layers meant to camouflage
my plumage--wouldn't want to sabotage
the act by townies seeing me unfurled
for free. But even hidden, I can feel
the Technicolor spectrum of my hide
aching for the bally platform, high
above the crowd, the brilliant big reveal.
The greys of Indiana can't compare
with midway lights and all those hungry stares.

VI.

These midway lights, these hollow hungry stares,
they grind me down at times, I must confess.
True, summer night shows always are the best,
the shouts of neon drowning out the stars,
the midway's energy a palpable
frisson that ripples through the crowd, a wave
of thrill that breaks upon the sideshow stage.
Those nights I truly love the carnival,
that grand charade. But matinees are quite
another beast. The Texas swelter shoves
aside all joy, the sweaty masses crave
disaster, secretly they hope I'll meet
a bloody fate they dread. I loathe those boors,
disdainful marks who pay to find their fear.

VII.

Disdainful marks who pay then find they fear
me once they get up close just crack me up.
It's usually the wives, the ones who've stopped
imagining, have given in to sheer
monotony, sold their dusty souls
for picket fences now in need of paint.
The murky shadows in the sideshow tent
demand they step right up to see the whole
display of me. They cringe away, won't meet
my stare, which always helps me figure which
emboldened men, later, in the hush
of night, their trusty wives asleep, will be
remembering, with stifled moans and sighs,
my otherness, my lust-pocked skin, my eyes.

VIII.

Our otherness? It's something in the eyes.
Yes, there of course are signs more obvious,
the Tall Man's stature, Bearded Lady's fuzz,
but with it, for it types, we recognize
a kindred spirit even when their gifts
are more demure, a talent tucked away.
A fire eater's pupils always blaze,
a wirewalker's glance can't help but drift
upward when their feet are forced to ground.
I always know a swallower; they stare
a slitted challenge, daggered eyes a dare
their throats will never win. No matter how
we try to dim our freakish fire, we spark.
Our hunger for these dangers leaves us scarred.

IX.

My hunger for these strangers left me scarred.
I should have known these appetites would lead
me to a monster hungrier than me.
I tried to focus on the slice of stars
above the alley, impartial voyeurs
winking at the claws around my throat.
Funny, huh, the one time I say no
I'm up against the kind of beast who hears
invitation crammed in that small word.
I made my shaking way to Theo's shop
once I came to, knew just one way to stop
the flinching: ink on bruises to record--
to steal--that night. How could you understand
this need to pierce my flesh, to bear this brand?

X.

This need to pierce my flesh, to hear my brands
sigh contentment in my ribboned throat
has pushed me into isolation. Most
other swallowers don't comprehend
unorthodox obsession like my own
and so they cast me out. How like the rubes
who bristle with suspicion when our troupes
dare to leave the lot and come to town
on errands innocent as buying milk.
There's consequence for flaunting otherness,
yes, even in the microcosm of circus.
Headliners be damned. I'll claim as ilk
those more compassionate by far: the shunned.
Freak belongs to freak. I know my kind.

XI.

Sure, freak belongs to freak but some, I find,
are less than thrilled to count me in their ranks.
There's hierarchy, even among freaks,
and I've seen how some born to this are fond
of looking down their furred or scaled nose
at my illuminated manuscript of skin.
I've made myself, inch by painful inch.
This wasn't some mistake of birth, I chose
this life. Maybe that's what makes them tense--
what depravity would drive someone
to throw away a life as norm? But one
working act gets it though. I sense
that swallower's the pain is holy sort,
and prayer's the same by needle or by sword.

XII.

The prayer's the same by needle or by sword?
I hardly think that mottled lot would know
the purity of craft, devotion to
a higher calling like my own, the hard
won opportunity to, under guise
of sideshow act, make a living by
experiencing rapture on display.
What art is there in striking up a pose
to show off scratchings done by someone else?
And yet...there's more to this girl than her ink.
Obsession rings her haunted eyes. I think
beneath her pigment beats an artist's pulse.
I recognize the heat with which she burns
to find elusive peace within the hurt.

XIII.

I find elusive peace here in the hurt,
the brutal grind of needles into skin.
Life shovels out so many breeds of pain
that we can't do a goddamn thing about--
it's freeing to give in to wounds I choose.
Determining the what and where, the brace
of muscles just before the skin's abuse,
it's all the agency I've got. I use
the gun as much as it does me
and in that fierce submission find control.
There's stillness hidden in the buzz of cruel
machinery that sings until I bleed.
I crave this beauty taking me apart,
the razor-sharp surrender into art.

XIV.

The razor-sharp surrender to my art
has cost me family and name, a price
I'd gladly pay tenfold to grant the use
of my body's faulty instincts against hurt
to the twisted muse of swallowed blades.
The gate of my throat sports a broken latch,
hence I was born to draw the marks to watch.
I hear the whispers, know most think I'm crazed
for pushing past the easy flourish my
freakishness allows. But they don't hear
the holy whisper of the blades: More.
There's sanctity in splitting myself wide
enough to offer blood. I assure
you: pain is where I pray, I thrive, I burn.

XV.

The pain is where we pray. Inside the burn
and stab, the crucible of skin and steel,
we carve ourselves more dangerous until
we earn the title freak for which we're born.
We thrive here in the bald euphoric blaze
of midway lights and hollow, hungry stares,
disdainful marks who pay then find they fear
our otherness. It's something in the eyes.
Our hunger for these dangers leaves us scarred,
this need to pierce our flesh or bear our brand,
but freak belongs to freak and now we find
the prayer's the same by needle or by sword.
We find elusive peace here in the hurt,
the razor-sharp surrender into art.






Unraveling



When time plucks at the fragile bonds we weave
and tender warp and weft begin to fray,
sometimes there's nothing left to do but leave

the loom, give us room for some reprieve
from snapping nerves and threads that go astray.
When time plucks at the fragile bonds we weave

and pulls apart the careful patterns we've
convinced ourselves were strong enough to stay,
sometimes there's nothing left to do but leave

off muddling through, reluctant to believe
inevitability would wind us to a day
when time plucks at the fragile bonds we weave

so strongly that we finally perceive
the inner truths we've managed to betray.
Sometimes there's nothing left to do but leave

well enough alone but it's naïve
to keep pretending we'll survive that way.
When time plucks at the fragile bonds we weave,
sometimes there's nothing left to do but leave.



AUTHOR BIO
Karrie Waarala's work has appeared in journals such as Iron Horse Literary Review, Pank, The Collagist, Vinyl, and Southern Indiana Review. She holds an MFA from the Stonecoast Program at University of Southern Maine and is the poetry editor for the museum of americana. Recipient of the 2012 Pocataligo Poetry Prize and a multiple Pushcart nominee, Waarala has received critical acclaim for her one-woman show, LONG GONE: A Poetry Sideshow, which is based on her collection of circus poems. She really wishes she could tame tigers and swallow swords.
POETRY CONTRIBUTORS

Liz Ahl

Shaune Bornholdt

Rebecca Guess Cantor

Joanna Cattonar

Claudia Gary

Carrie Jerrell (Featured Poet)

Ann Kolakowski

Jenna Le

Diane Lockward

Barbara Loots

Kathleen McClung

Susan McLean

Angela O'Donnell

Jessica Piazza

Rosemarie Rowley

Maxine Silverman

Katherine Smith

Linda Stern

Karrie Waarala

Marly Youmans

>Mezzo Cammin featured on the blog of The Best American Poetry
>The Mezzo Cammin Women Poets Timeline Project Turns 50--with Emily Dickinson
>The Mezzo Cammin Women Poets Timeline Project at Lincoln Center, Friday, April 11th, 7-9 PM. Rhina Espaillat, Angela O'Donnell, Erica Dawson, Maryann Corbett, and others.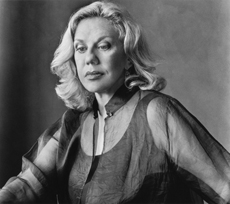 Author Erica Jong
Marion Ettlinger: I was raised in Queens, New York, the daughter of German-Jewish immigrants. I was educated at The High School of Music & Art and The Cooper Union, both in Manhattan. Shortly after graduation, I moved to Northern Vermont, where I lived for seventeen years. Although I have been practicing portraiture since the Sixties, it was in the early Eighties that I found my true vocation in photographing poets and writers, who as subjects remain compelling and irresistible to me still. Using only natural light and black and white film, I continue this work based in Manhattan.