Maxine Silverman






Palimpsestina: The Day Room



Not intimate while she was our Mother--
when she became our Child, Affection came.
Her gaze, when her wandering eyes find me,
grows spacious and warm, even luminous.
My own eyes brim but still I do not reach
for her, soft and pink, fearing a sudden

return to speech. She might regret her sudden
welcome and rake me with hot words. Mother,
helpless not harmless, her fathomless reach
sends me sprawling again where no help came.
From the far corners light draws in. Luminous
island, day room table she shares with me.

The other patients, blurring, fade, and me--
a fawn stunned in her headlights. A sudden
clang, ward doors burst open, voluminous
smells from aluminum cart. "Lunch, Mother."
Applesauce, broth, pureed meat: how she came
to this sodden mess resembling phlegm and reach

could be traced easily enough. I reach
for her spoon. She smiles, her gaze disarms me.
Wordless thoughtless helpless love overcame
all fear, and now my hands, in their sudden
rise. Why not when love could matter, Mother,
why now, this room? while time, this loom in us,

weaves, unravels and weaves the luminous
shroud? binds and unbinds the swaddling reach
of memory? Not she, but I the mother,
not she--my infant son, nursing, holds me
in his deep blue gaze, draws me in. Sudden
warmth, milk letting down, oh there there love came.

Momma. Now, her eyes dimming, she became
my child. Merciful words, illumine us
who speak in half light and glare of sudden
knowing. Broth dribbles from her lips. I reach
for soft napkins, as many before me,
to blot the names, my daughter, my mother.

Where she and I came my son and I'll reach,
my blue eyes luminous when he feeds me.
A man suddenly with child to mother.







Guest Room



(Amherst, March 2009)

If I could not lie so, clasped to your chest,
there would be no rest for me, and your arms
criss-crossing on my breast. If your body
did not limn mine, I might not feel the day's
grasp easing, releasing, nor the rough breath
leaving your throat with the burrrr a saw makes,
or a rasp. There would be no rest for you.

Outside, dark winds snap icy limbs, slamming
the neighbor's rusty shed. Drowsy, I lie
recalling Quincy-our disappointment,
the church closed, tours resuming April 10th.
The steward locking her car unlocked all
doors once we explained our errand: Adams,
Abigail, John, Louisa, John Quincy.

Side by side, side by side, their granite crypts
become them, plain, native America,
"Adams" the only adornment needed
in the dim alcove. So when we entered
the guestroom of our friends' home, saw twin beds
aligned, you and I agreed. Time enough
for that side by side. For us, now, heaven

would be two in a narrow bed all night,
laughing our friends would think us (already
past sixty) new lovers, honeymooners.
If we could not lie so, you limning me
limning you, there could be no rest for us.

The wind at our back, you are my shelter
and when the wind shifts, I will be your shield.






AUTHOR BIO
Maxine Silverman's poetry and essays have been published in journals, anthologies, and Enskyment: Online Archive of American Poetry. A Pushcart Prize nominee, she is the author of four chapbooks, including Transport of the Air, poems about Emily Dickinson and Celia Thaxter. In addition to poetry, she creates collage, bricolage, and visual midrash. Her website is maxinegsilverman.com.

Photo credit: Howard Andrews
POETRY CONTRIBUTORS

Liz Ahl

Shaune Bornholdt

Rebecca Guess Cantor

Joanna Cattonar

Claudia Gary

Carrie Jerrell (Featured Poet)

Ann Kolakowski

Jenna Le

Diane Lockward

Barbara Loots

Kathleen McClung

Susan McLean

Angela O'Donnell

Jessica Piazza

Rosemarie Rowley

Maxine Silverman

Katherine Smith

Linda Stern

Karrie Waarala

Marly Youmans

>Mezzo Cammin featured on the blog of The Best American Poetry
>The Mezzo Cammin Women Poets Timeline Project Turns 50--with Emily Dickinson
>The Mezzo Cammin Women Poets Timeline Project at Lincoln Center, Friday, April 11th, 7-9 PM. Rhina Espaillat, Angela O'Donnell, Erica Dawson, Maryann Corbett, and others.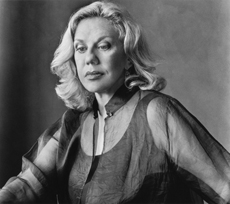 Author Erica Jong
Marion Ettlinger: I was raised in Queens, New York, the daughter of German-Jewish immigrants. I was educated at The High School of Music & Art and The Cooper Union, both in Manhattan. Shortly after graduation, I moved to Northern Vermont, where I lived for seventeen years. Although I have been practicing portraiture since the Sixties, it was in the early Eighties that I found my true vocation in photographing poets and writers, who as subjects remain compelling and irresistible to me still. Using only natural light and black and white film, I continue this work based in Manhattan.