Katherine Smith






Evening Class



The endless sound of dark November rain
ticks along the window pane. The student reads. I cringe.
Michelle says "This is another poem about shame."

Another student reads about the hours of video games
he turned up loud to cover his sister's pain,
the endless sound of dark November rain.

A neighborly neighbor touched his sister, watching porn.
I suggest he remove neighborly, add, and rearrange
the active verbs in his poem about shame.

I too remember, 1971, the same
scenario--with my own sister, my own tv--how it singed
our lives--and the endless sound of dark November rain.

Tonight gives us the courage to remain,
to outlive childhood powerlessness, the bitter twinge
of fury at our smallness in our poems about shame.

It's neither you nor I but names
themselves that grow wiser on our tongues, fringed
in shadows and the endless sound of November rain,
that soothes the endless past in the poem of shame.








A Newlywed



Now I'm newlywed I walk the mountain to stop
myself believing there's a difference
between what I have said and what I have thought.
Now I owe my mind to my husband. Hence-

forth he will do with my words what he will,
my voice like pretty bits of glass and shredded flowers,
in the kaleidoscope that sits on the window sill,
the toy we got for a wedding gift he turns for hours.

The price I pay for safety and a home is to be numb.
My husband says he believes in free will
but when I asked to visit my sister in Richmond
a second time he knocked my head against a stone wall

and called me a name; and, since, the closest I've come
to free will is to keep my body busy, my throat dumb.








A Widow



I always yearned to ask my husband who could talk
why women's words made him want to kill,
they hurt him so. My whisper made that man balk
and double over. Though I never wished him ill

when he died I was glad to have no choice
but to live, to wander stairwells now empty
of any creature who needed to hear a voice
without power, without meaning.

This evening sunlight keeps me company,
visiting through the windowpane in dust
motes. I love the progress of my own thought
as I move through the shadows, sifting just

from unjust, the bitter from sweet and pain from peace.
Words rise in my mind like dough in the oven.
I make meaning as I make my bread, on Wednesdays,
through effort of kneading and the yeast of silence.



AUTHOR BIO
Katherine Smith's work has been published, or is forthcoming, in a number of journals and reviews, among them Measure, Unsplendid, The Road Not Taken, Ploughshares, The Journal of the Motherhood Initiative, Poetry, Shenandoah, The Southern Review, Atlanta Review, Appalachian Heritage, and The Laurel Review. Her first book, Argument by Design (Washington Writers' Publishing House), appeared in 2003.
POETRY CONTRIBUTORS

Liz Ahl

Shaune Bornholdt

Rebecca Guess Cantor

Joanna Cattonar

Claudia Gary

Carrie Jerrell (Featured Poet)

Ann Kolakowski

Jenna Le

Diane Lockward

Barbara Loots

Kathleen McClung

Susan McLean

Angela O'Donnell

Jessica Piazza

Rosemarie Rowley

Maxine Silverman

Katherine Smith

Linda Stern

Karrie Waarala

Marly Youmans

>Mezzo Cammin featured on the blog of The Best American Poetry
>The Mezzo Cammin Women Poets Timeline Project Turns 50--with Emily Dickinson
>The Mezzo Cammin Women Poets Timeline Project at Lincoln Center, Friday, April 11th, 7-9 PM. Rhina Espaillat, Angela O'Donnell, Erica Dawson, Maryann Corbett, and others.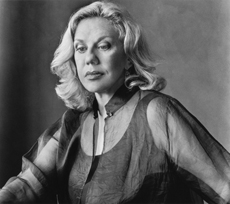 Author Erica Jong
Marion Ettlinger: I was raised in Queens, New York, the daughter of German-Jewish immigrants. I was educated at The High School of Music & Art and The Cooper Union, both in Manhattan. Shortly after graduation, I moved to Northern Vermont, where I lived for seventeen years. Although I have been practicing portraiture since the Sixties, it was in the early Eighties that I found my true vocation in photographing poets and writers, who as subjects remain compelling and irresistible to me still. Using only natural light and black and white film, I continue this work based in Manhattan.