Joanna Cattonar






She Never Forgets



she never forgets the wound
she never forgets the fleeing

the blister of her mind raw
with someone's screaming

at times she's good as a stone
at times she's one hell of a liar

but none of it really works

she never stops seeing them
turn as they finish with her

so sometimes she simply waits
till it all falls away and fades

sometimes she feels pretty human
sometimes she feels almost saved

under the spell of forgetting
beneath that cold secret veil

one thing the raped child knows
what counts is living to tell








Two



So long, good-bye to all the rest,
now that I have you where
your heart against my breast

keeps me awake. Caressed
to sleep, lost in my arms, you bear
your heart against my breast,

your lips pressed
breathing softly in my hair.
So long, good-bye to all the rest

I never asked for, the loneliest
nights and days before you, the fear
your heart against my breast

was far too much to yearn for or express.
Now this. This sweet. This dear.
So long to all the rest

who cannot know how blessed
we are, who'd never guess.
Two simple girls. Two kids. Won't last.
Good-bye for good to all the rest.


AUTHOR BIO
Joanna Cattonar is an Italian American native New Yorker whose attendance at PS 93, JHS 123, and Walton HS in the Bronx prepared her well for life as a scholarship student at Vassar College where she graduated fifty years ago. Her poetry has been published widely since then in diverse journals past and present, including The Beloit Poetry Journal, Puerto del Sol, Gallimaufry, The Southern Poetry Review, The Burning Bush, Epoch, The San Marcos Review, and Poetry Northwest.
POETRY CONTRIBUTORS

Liz Ahl

Shaune Bornholdt

Rebecca Guess Cantor

Joanna Cattonar

Claudia Gary

Carrie Jerrell (Featured Poet)

Ann Kolakowski

Jenna Le

Diane Lockward

Barbara Loots

Kathleen McClung

Susan McLean

Angela O'Donnell

Jessica Piazza

Rosemarie Rowley

Maxine Silverman

Katherine Smith

Linda Stern

Karrie Waarala

Marly Youmans

>Mezzo Cammin featured on the blog of The Best American Poetry
>The Mezzo Cammin Women Poets Timeline Project Turns 50--with Emily Dickinson
>The Mezzo Cammin Women Poets Timeline Project at Lincoln Center, Friday, April 11th, 7-9 PM. Rhina Espaillat, Angela O'Donnell, Erica Dawson, Maryann Corbett, and others.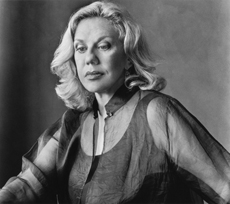 Author Erica Jong
Marion Ettlinger: I was raised in Queens, New York, the daughter of German-Jewish immigrants. I was educated at The High School of Music & Art and The Cooper Union, both in Manhattan. Shortly after graduation, I moved to Northern Vermont, where I lived for seventeen years. Although I have been practicing portraiture since the Sixties, it was in the early Eighties that I found my true vocation in photographing poets and writers, who as subjects remain compelling and irresistible to me still. Using only natural light and black and white film, I continue this work based in Manhattan.