Liz Ahl is the author of the chapbooks Talking About the Weather (Seven Kitchens Press, 2012), Luck (Pecan Grove Press, 2010), and A Thirst That's Partly Mine, which won the 2008 Slapering Hol Press chapbook contest. Her work has appeared or is forthcoming in Measure, Blast Furnace, Crab Orchard Review, and Conclave. Luck was the recipient of the 2012 New Hampshire Literary Awards "Reader's Choice" award in poetry. Ahl has been awarded residencies at Jentel, the Kimmel Harding Nelson Center for the Arts, and the Vermont Studio Center. She lives in Holderness, New Hampshire, and is a professor of English at Plymouth State University. Read or hear more of her work at lizahl.wordpress.com





Shaune Bornholdt is a psychologist who has recently completed an MFA at the Stonecoast Program in Creative Writing at the University of Southern Maine. Her work has appeared in print and online journals including American Arts Quarterly, Hanging Loose, Per Contra, The Poetry Porch, Umbrella: A Journal of Poetry and Kindred Prose, and Schuylkill Valley Journal, and is forthcoming in Measure. She was a finalist in the 2012 Morton Marr Formal Poetry Contest. She and her husband have lived for many years in New York City, but often camp on land they share with other families in the Catskills. Her website may be found at www.bornholdt.com.





Rebecca Guess Cantor writes about names and naming, Mark Twain and American Literature, women's issues and women in the Bible, among other subjects. She received her Ph.D. from Claremont Graduate University in 2011 and enjoys teaching literature and writing to undergraduates. Rebecca lives with Ryan (Vice President of the local library) and their two children John and Norah (lovers of libraries) in Fullerton, California.





Joanna Cattonar is an Italian American native New Yorker whose attendance at PS 93, JHS 123, and Walton HS in the Bronx prepared her well for life as a scholarship student at Vassar College where she graduated fifty years ago. Her poetry has been published widely since then in diverse journals past and present, including The Beloit Poetry Journal, Puerto del Sol, Gallimaufry, The Southern Poetry Review, The Burning Bush, Epoch, The San Marcos Review, and Poetry Northwest.





Marion Ettlinger graduated from the High School of Music and Art and The Cooper Union in New York City. She has been photographing writers since 1983. Her book Author Photo, containing more than 200 black-and-white portraits shot exclusively in natural light, was published by Simon & Schuster in 2003.













Claudia Gary writes, edits, and composes (tonally) near Washington, D.C. Her first full-length poetry collection, Humor Me, was published in 2006 by David Robert Books; a second is in progress. Her 2013 chapbook is Bikini Buyer's Remorse. Gary's poems recently have been, or soon will be, published in First Things, American Arts Quarterly, Amsterdam Quarterly, String Poet, Trinacria, Lucid Rhythms, Light Magazine, Poet Lore, and elsewhere; her articles on health appear in The VVA Veteran and other magazines. See www.claudiagary.com.





Carrie Jerrell (featured poet) is the author of the poetry collection After the Revival, 2008 winner of the Anthony Hecht Poetry Prize and published by Waywiser Press. Her poems have appeared in Image, Subtropics, The Sewanee Theological Review, and Passages North, among other journals. Current work can be seen or is forthcoming in Unsplendid, Birmingham Poetry Review, Zone 3, and Poem Memoir Story. Jerrell received her M.A. from the Writing Seminars at Johns Hopkins University, and her Ph.D. in English from Texas Tech University, where she was honored as a Chancellor's Fellow. She is an assistant professor at Murray State University in Murray, Kentucky, where she also serves as associate director of the low-residency MFA program and coordinator of undergraduate creative writing.





Ann Eichler Kolakowski received her Master of Arts in Writing from the Johns Hopkins University. Her poetry has appeared in publications that include Rattle, The New Formalist, String Poet, Slipstream, Passager, Little Patuxent Review, 3QR: The Three Quarter Review, Baltimore Fishbowl, and The Madison Review. Her first book, Persistence: Poems of Warren, Maryland, will be published by David Robert Books in 2014. From 1997 to 2000, she served as assistant director of Gemini Ink, a literary center in San Antonio, Texas. A former editor and recovering Girl Scout leader, she lives in Timonium, Maryland, and works as a fundraiser.





Jenna Le is a physician, poet, literary translator, and the author of Six Rivers (NYQ Books, 2011), which was a Small Press Poetry Bestseller. Her writing has appeared in AGNI Online, Barrow Street, Bellevue Literary Review, Gargoyle, Massachusetts Review, New York Quarterly, Post Road, RHINO, Salamander, 32 Poems, The Millions, The Rumpus, and other literary journals. Her honors include the Minnetonka Review Editor's Prize, first prize in the Pharos Poetry Competition, a Pushcart Prize nomination, and a PEN Emerging Writers Award nomination. She was born in Minneapolis and now lives in New York City. Her website is nyqpoets.net/poet/jennale





Diane Lockward is the author of three poetry books, most recently Temptation by Water, and a craft book, The Crafty Poet (Wind Publications, 2013). Her poems have been published in Harvard Review, Spoon River Poetry Review, and Prairie Schooner, and have been featured on Poetry Daily, Verse Daily, and The Writer's Almanac.





The poems of Barbara Loots have appeared during the past 40 years in The Lyric, The Formalist, Measure, and Light Quarterly, to name a few, and in a collection titled Landscapes With Women, with Gail White, Rhina Espaillat, and Martha Bosworth. Most likely you've read at least a handful of the thousands of verses she wrote as one of the anonymous professionals at Hallmark Cards. Now retired, she writes when she can spare the time from leading tours at the Nelson-Atkins Museum of Art.





Kathleen McClung is the author of Almost the Rowboat (Finishing Line Press, 2013), and her work appears in Unsplendid, Bloodroot, Ekphrasis, The Healing Muse, PMS: poemmemoirstory, A Bird Black as the Sun: California Poets on Crows and Ravens, and elsewhere. Winner of the 2012 Rita Dove Poetry Prize, her work was also selected by Naomi Shihab Nye as the national winner of the 2012 poetry contest sponsored by the Cultural Center of Cape Cod. She has been a finalist for the Morton Marr Poetry Prize and the Robert Frost Award. She serves as the sonnet sponsor/judge for the Soul-Making Keats Literary Competition and is a reviewer for the William Saroyan International Prize for Writing sponsored by the Stanford University Libraries. She teaches at Skyline College and the Writing Salon and lives in San Francisco. www.kathleenmcclung.com





Susan McLean, an English professor at Southwest Minnesota State University, grew up in Oxon Hill, MD, and received a B.A. from Harvard University and a Ph.D. from Rutgers University, New Brunswick. Her poems have appeared recently in Able Muse, First Things, Light Quarterly, and Per Contra. Her first full-length poetry collection, The Best Disguise, won the 2009 Richard Wilbur Award. A book of her translations of the Latin poet Martial, Selected Epigrams, will be published by the University of Wisconsin Press. She won the 2014 Donald Justice Poetry Prize.





Angela Alaimo O'Donnell teaches English & Creative Writing at Fordham University in New York City and serves as Associate Director of Fordham's Curran Center for American Catholic Studies. Her publications include three collections of poems, Saint Sinatra (2011), Moving House (2009), and, most recently, a book of elegies entitled Waking My Mother (2013). She has also published two chapbooks, Mine (2007) and Waiting for Ecstasy (2009). Her work has appeared in many journals, including America, Comstock Review, First Things, Hawaii Pacific Review, Mezzo Cammin, Potomac Review, Runes, String Poetry, Verse Wisconsin, and Valparaiso Poetry Review, among others, and has been nominated for the Pushcart Prize, the Best of the Web Award, and the Arlin G. Meyer Prize in Imaginative Writing. O'Donnell also writes essays on contemporary poetry and is a regular Books & Culture columnist at AMERICA magazine. Readers may visit her website at angelaalaimoodonnell.com/.





Jessica Piazza is the author of two poetry collections: Interrobang (Red Hen Press, 2013) and the chapbook This is not a sky (Black Lawrence Press, 2014). Born and raised in Brooklyn, NY, she's currently a Ph.D. candidate in English Literature and Creative Writing at the University of Southern California. She is a co-founder of Bat City Review and Gold Line Press, and a contributing editor at The Offending Adam. Learn more at www.jessicapiazza.com.





Rosemarie Rowley has degrees in Irish and English Literature, and philosophy from Trinity College Dublin, an M.Litt on the nature poet Patrick Kavanagh, and a diploma in psychology from NUI. She has written extensively in form: Flight into Reality (1989) is the longest original work in terza rima in English, reprinted in 2010 and now available on CD. She has four times won the Epic award in the Scottish International Open Poetry Competition. Her books in print are The Sea of Affliction (1987, one of the first works in ecofeminism, reprinted 2010), and Hot Cinquefoil Star (2002). Her most recent book is In Memory of Her.





Jane Satterfield's most recent book is Her Familiars (Elixir, 2013). She is the author of two previous poetry collections: Assignation at Vanishing Point, and Shepherdess with an Automatic, as well as Daughters of Empire: A Memoir of a Year in Britain and Beyond. Her awards include a National Endowment for the Arts Fellowship in poetry, the William Faulkner Society's Gold Medal for the Essay, the Florida Review Editors' Prize in nonfiction, and the Mslexia women's poetry prize. In 2013, she was awarded the 49th Parallel Poetry Prize from The Bellingham Review for her poem "Elegy with Trench Art and Asanas." Satterfield lives in Baltimore and teaches at Loyola University Maryland.





Maxine Silverman's poetry and essays have been published in journals, anthologies, and Enskyment: Online Archive of American Poetry. A Pushcart Prize nominee, she is the author of four chapbooks, including Transport of the Air, poems about Emily Dickinson and Celia Thaxter. In addition to poetry, she creates collage, bricolage, and visual midrash. Her website is maxinegsilverman.com.

Photo credit: Howard Andrews





Katherine Smith's work has been published, or is forthcoming, in a number of journals and reviews, among them Measure, Unsplendid, The Road Not Taken, Ploughshares, The Journal of the Motherhood Initiative, Poetry, Shenandoah, The Southern Review, Atlanta Review, Appalachian Heritage, and The Laurel Review. Her first book, Argument by Design (Washington Writers' Publishing House), appeared in 2003.





Linda Stern's poems have appeared in The New Criterion, Promethean, Balaam's Ass, The Raintown Review, and BigCityLit, among other publications. Stern organized the Sweet Singers reading series, which featured readings by Samuel Menashe and other notable writers. With her husband, the poet David M. Katz, she co-published the poetry magazine Endymion, and more recently, she was associate editor of the online poetry journal Umbrella. Stern lives in New York City and works as an editor.





Karrie Waarala's work has appeared in journals such as Iron Horse Literary Review, Pank, The Collagist, Vinyl, and Southern Indiana Review. She holds an MFA from the Stonecoast Program at University of Southern Maine and is the poetry editor for the museum of americana. Recipient of the 2012 Pocataligo Poetry Prize and a multiple Pushcart nominee, Waarala has received critical acclaim for her one-woman show, LONG GONE: A Poetry Sideshow, which is based on her collection of circus poems. She really wishes she could tame tigers and swallow swords.





Recent books by Marly Youmans are: an adventure in blank verse, Thaliad (Montreal: Phoenicia Publishing, 2012); several collections of poems, The Foliate Head (UK: Stanza Press, 2012) and The Throne of Psyche (Mercer University Press, 2011); and a novel, A Death at the White Camellia Orphanage (Mercer, 2012 / The Ferrol Sams Award + Silver Award, ForeWord BOTYA.) Forthcoming novels include: Glimmerglass and a reprint of Catherwood in 2014 and Maze of Blood in 2015 (Mercer).

Photo credit: Rebecca Beatrice Miller, 8/2013






>Mezzo Cammin featured on the blog of The Best American Poetry
>The Mezzo Cammin Women Poets Timeline Project Turns 50--with Emily Dickinson
>The Mezzo Cammin Women Poets Timeline Project at Lincoln Center, Friday, April 11th, 7-9 PM. Rhina Espaillat, Angela O'Donnell, Erica Dawson, Maryann Corbett, and others.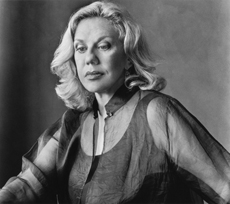 Author Erica Jong
Marion Ettlinger: I was raised in Queens, New York, the daughter of German-Jewish immigrants. I was educated at The High School of Music & Art and The Cooper Union, both in Manhattan. Shortly after graduation, I moved to Northern Vermont, where I lived for seventeen years. Although I have been practicing portraiture since the Sixties, it was in the early Eighties that I found my true vocation in photographing poets and writers, who as subjects remain compelling and irresistible to me still. Using only natural light and black and white film, I continue this work based in Manhattan.