Ann Kolakowski






Silk



John Sharpley

Each spring they send a few of us up Herring
Hill, to place the Bombyx mori larvae
in the mulberry trees. That name's about as fancy
as the cloth we'll later weave. For sixty days
we shoo the birds away and watch the silkworms
fatten on the branches, moving them from tree
to tree as they reduce the leaves to lace.

I like the mystery, the way the silkworms
wrap their bodies, then wait in darkness till
it's time to be reborn. The pastor says
it brings to mind the Resurrection, except
no moth emerges.

I like that mystery
as well--whose hand first plucked a fleecy bundle
from its branch, then plunged it in a boiling
pot to kill the worm, unspool the single
strand? Imagine his amazement when
he found it stretched a mile or more in length!








Bess and Dick



Robert E. Lee Bosley

Of course I know it looked ridiculous,
to be the huntsman of the club and keep
a pair of foxes as my pets. Why did
they follow me that day I left the dogs
behind and walked beside the silent mill?
And didn't they detect the warning stink
of death upon my outstretched hand? (We all
ignored the contract God had forged between
the hunter and the prey.)
They made a den
inside the stable, and came when called by name.
Stella said I'd lost my common sense;
she talked of how they'd decorate the humble
collar of her winter coat, forever
biting one another's tails. She made
a point: the hounds need exercise, and foxes
are in short supply.
I offered up
the vixen for a ride across Dulaney's
Valley. Bess ran fast--but the dogs were faster.
Now only one fox thinks that I'm his master.








Making Rounds



Doc Ensor

In February, when the river freezes,
workers stand along the bridge at lunch
to think and smoke their cigarettes, then flick
the burning stubs upon the ice and watch
the mill boys elbow for them. The river takes
its time to thaw, but water's always moving
underneath. The boys don't seem to think
about the danger; neither do the men.
I pass them on my rounds and wonder when
I'll get the call that somebody's gone through.

There's not much I can do to cure the human
urge to seek the thing that's bound to kill
--the rusted nail, the feral cat. Or ice.
(It's true that I once drove my Model T
right up the frozen Gunpowder to save
a life when snows clogged Warren's unpaved roads.)
But everyone expects a miracle!
My bag can only hold so much. I never
asked for fame; I only want to be
respected, as the spool is by the thread.








Payday, 1878



Charlie Howard

Today I held a beauty for the first
time, nearly weightless in my hands. I lost
myself--the word, I think, is mesmerized.

Her hair flowed like the river; she wore a feather
crown. Her lips were full--so bright they almost
burned. I pressed her deep into the leather

of my palm until my father laughed
and clapped me on the shoulder. Charlie's got
the look of someone drunk, he said. Give 'er

here; the rent is due. He uncurled his fist
and held it out and, quick as it had come,
I handed off my golden coin. Cheer up,

he said, your money's mine, but you are free
to keep the candy! Soon I'll be a grown-up.
Till then, no choice except to mind my father.



AUTHOR BIO
Ann Eichler Kolakowski received her Master of Arts in Writing from the Johns Hopkins University. Her poetry has appeared in publications that include Rattle, The New Formalist, String Poet, Slipstream, Passager, Little Patuxent Review, 3QR: The Three Quarter Review, Baltimore Fishbowl, and The Madison Review. Her first book, Persistence: Poems of Warren, Maryland, will be published by David Robert Books in 2014. From 1997 to 2000, she served as assistant director of Gemini Ink, a literary center in San Antonio, Texas. A former editor and recovering Girl Scout leader, she lives in Timonium, Maryland, and works as a fundraiser.
POETRY CONTRIBUTORS

Liz Ahl

Shaune Bornholdt

Rebecca Guess Cantor

Joanna Cattonar

Claudia Gary

Carrie Jerrell (Featured Poet)

Ann Kolakowski

Jenna Le

Diane Lockward

Barbara Loots

Kathleen McClung

Susan McLean

Angela O'Donnell

Jessica Piazza

Rosemarie Rowley

Maxine Silverman

Katherine Smith

Linda Stern

Karrie Waarala

Marly Youmans

>Mezzo Cammin featured on the blog of The Best American Poetry
>The Mezzo Cammin Women Poets Timeline Project Turns 50--with Emily Dickinson
>The Mezzo Cammin Women Poets Timeline Project at Lincoln Center, Friday, April 11th, 7-9 PM. Rhina Espaillat, Angela O'Donnell, Erica Dawson, Maryann Corbett, and others.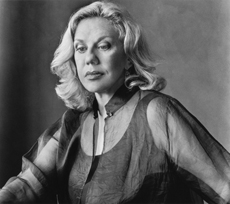 Author Erica Jong
Marion Ettlinger: I was raised in Queens, New York, the daughter of German-Jewish immigrants. I was educated at The High School of Music & Art and The Cooper Union, both in Manhattan. Shortly after graduation, I moved to Northern Vermont, where I lived for seventeen years. Although I have been practicing portraiture since the Sixties, it was in the early Eighties that I found my true vocation in photographing poets and writers, who as subjects remain compelling and irresistible to me still. Using only natural light and black and white film, I continue this work based in Manhattan.