Angela Alaimo O'Donnell






Anniversary Poem



Three years gone and each return
I feel you far from me.
Lying flat in your boat
you drift and float
beyond where eye can see.

When will I ever learn
keeping you company
in my childish heart
with my childish art
won't bring you back to me?

The seasons tack and turn.
The snow beats and the sun burns.
And I, your reckless daughter,
watch you, who feared all water,
sail bravely out to sea.







Home



Squat and square, her pea-green shingle
made her strange on our straight street
lined by woodwhite houses,
their faces bland and neat.

We'd raise the window sashes.
We'd slam the screen doors.
We'd act our family drama.
They always wanted more,

the neighbors who distained us,
who knew we didn't fit
inside their woodwhite world,
who didn't give a shit

when one of us was dying,
when all of us were poor,
absorbed in their not-watching.
We don't live there anymore.







Mindfulness



"Our minds are like crows. They pick up everything that glitters."
Thomas Merton


She flits like the dark bird she is
darting from treetop to hedge,
strutting the stone window ledge,
stalking the light's bright pieces.
The sliver of tin in the tall grass,
the penny under the overpass,
the shiny shard of broken glass
are treasures to her species.

She gathers every bit of life
her narrow beak can hold.
Her cluttered nest is rife
with gaud that gleams like gold.
Each flitting brings another find.
She claims it hers and makes it mine.







Homing



Baltimore Harbor

The places where you put in time
become homes you must return to.
The way bits of yourself stud
the pink brick, the white drift of sky.
The way the wave of the place traces
the curve of your young spine.
The way it winds itself around
The lashings of your rocky heart.

And still you return, like gulls that cry
and lap the harbor, announcing the spot.
Here to define the horizon of your life,
sweet arena of your stump and stage.
Church spire, Ship's mast, Key Bridge, smokestack.
How it wounds you each time you come back.


AUTHOR BIO
Angela Alaimo O'Donnell teaches English & Creative Writing at Fordham University in New York City and serves as Associate Director of Fordham's Curran Center for American Catholic Studies. Her publications include three collections of poems, Saint Sinatra (2011), Moving House (2009), and, most recently, a book of elegies entitled Waking My Mother (2013). She has also published two chapbooks, Mine (2007) and Waiting for Ecstasy (2009). Her work has appeared in many journals, including America, Comstock Review, First Things, Hawaii Pacific Review, Mezzo Cammin, Potomac Review, Runes, String Poetry, Verse Wisconsin, and Valparaiso Poetry Review, among others, and has been nominated for the Pushcart Prize, the Best of the Web Award, and the Arlin G. Meyer Prize in Imaginative Writing. O'Donnell also writes essays on contemporary poetry and is a regular Books & Culture columnist at AMERICA magazine. Readers may visit her website at angelaalaimoodonnell.com/.
POETRY CONTRIBUTORS

Liz Ahl

Shaune Bornholdt

Rebecca Guess Cantor

Joanna Cattonar

Claudia Gary

Carrie Jerrell (Featured Poet)

Ann Kolakowski

Jenna Le

Diane Lockward

Barbara Loots

Kathleen McClung

Susan McLean

Angela O'Donnell

Jessica Piazza

Rosemarie Rowley

Maxine Silverman

Katherine Smith

Linda Stern

Karrie Waarala

Marly Youmans

>Mezzo Cammin featured on the blog of The Best American Poetry
>The Mezzo Cammin Women Poets Timeline Project Turns 50--with Emily Dickinson
>The Mezzo Cammin Women Poets Timeline Project at Lincoln Center, Friday, April 11th, 7-9 PM. Rhina Espaillat, Angela O'Donnell, Erica Dawson, Maryann Corbett, and others.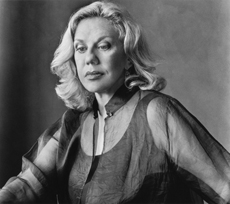 Author Erica Jong
Marion Ettlinger: I was raised in Queens, New York, the daughter of German-Jewish immigrants. I was educated at The High School of Music & Art and The Cooper Union, both in Manhattan. Shortly after graduation, I moved to Northern Vermont, where I lived for seventeen years. Although I have been practicing portraiture since the Sixties, it was in the early Eighties that I found my true vocation in photographing poets and writers, who as subjects remain compelling and irresistible to me still. Using only natural light and black and white film, I continue this work based in Manhattan.