Diane Lockward




My Arty Ars Poetica: A Cento

...poets pretend they don't know anything
about their own writing processes and get
arty and mysterious when asked about it...
--Kenny Williams, Rattle

I was raised in Abilene. More chickens than humans
down there. Worked construction, captured moments,

created stories. It was solitary work. Below the Blue
Ridge Mountains loved a man with a gnarly beard.

I'm pathologically nice. My brother has perfect pitch.
I write to one-up him. I use an assumed voice, am

learning the names of things, and can't stop--I have
obsessive-compulsive disorder. Once threatened

in a beer joint in Arkansas. Spent hours among tall bolts
of fabric, tins of loose buttons, and leftover notions. My

words are knotted twine. Call it a reinvention. Walked
a peach orchard alone at night and saw the Milky Way,

felt freighted with a sense of mortality. Sleep sounds
like a pleasant dream. Cut my musical teeth in the jungle.

This is my singing, my attempt to insulate the violence,
to euphemize the shooting. Misery is universal. The only

math I know is balance. This is my way of preserving
memory. I make beautiful the moments of terror.








In My Bones



Through
my nose,
downstream
into my throat,
a salmon swims
in my bones.
She navigates
the damaged
ecosystem of my
body, slips inside
porous bones.
Like an engineer
fixing a faulty dam,
she lays her eggs
in the holes, the
hollow reds.
All night I feel her
undulations, the
arching and
reaching of back
and belly. I move
with the flapping
of her tail. Her
voice bubbles up
to the surface.
My ears swoosh
with water and
syllables. I hear her
calling her unborn
as once I called
my own. Pink with
the oily ooze of
salmon, her feathery
flesh, and wild with
desire for fresh water,
I swim upstream,
against the current,
through rapids
and estuaries,
as after long
absence,
I push for
home.



AUTHOR BIO
Diane Lockward is the author of three poetry books, most recently Temptation by Water, and a craft book, The Crafty Poet (Wind Publications, 2013). Her poems have been published in Harvard Review, Spoon River Poetry Review, and Prairie Schooner, and have been featured on Poetry Daily, Verse Daily, and The Writer's Almanac.
POETRY CONTRIBUTORS

Liz Ahl

Shaune Bornholdt

Rebecca Guess Cantor

Joanna Cattonar

Claudia Gary

Carrie Jerrell (Featured Poet)

Ann Kolakowski

Jenna Le

Diane Lockward

Barbara Loots

Kathleen McClung

Susan McLean

Angela O'Donnell

Jessica Piazza

Rosemarie Rowley

Maxine Silverman

Katherine Smith

Linda Stern

Karrie Waarala

Marly Youmans

>Mezzo Cammin featured on the blog of The Best American Poetry
>The Mezzo Cammin Women Poets Timeline Project Turns 50--with Emily Dickinson
>The Mezzo Cammin Women Poets Timeline Project at Lincoln Center, Friday, April 11th, 7-9 PM. Rhina Espaillat, Angela O'Donnell, Erica Dawson, Maryann Corbett, and others.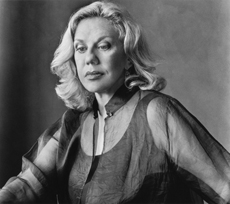 Author Erica Jong
Marion Ettlinger: I was raised in Queens, New York, the daughter of German-Jewish immigrants. I was educated at The High School of Music & Art and The Cooper Union, both in Manhattan. Shortly after graduation, I moved to Northern Vermont, where I lived for seventeen years. Although I have been practicing portraiture since the Sixties, it was in the early Eighties that I found my true vocation in photographing poets and writers, who as subjects remain compelling and irresistible to me still. Using only natural light and black and white film, I continue this work based in Manhattan.