Jenna Le






Baltimore



You and I were married young. Lint clung
to our blue denim legs, our flannel sleeves,
limp weeds that not so long ago had swum
inside the womb of a malodor-grieved
clothes-washer in an ivied college dorm.
We played at keeping house, stork-necked, naive,
ignorant of how to cook a ham or wax a floor.
At dinnertime, we'd squat on the soaked maple leaves
that carpeted our row-house porch, and gnaw
on jelly beans, or sip on dime-store sodas,
our arms wrapped round each other's goose-bumped shoulders.
How fiercely we resisted getting older.








The Cat Burglar



When I heard your sandaled tread
on the stairs, I lost my head.
Trembling like thistledown,
I hid beneath the bed.

You plopped your knapsack down
on the red wicker chair.
I watched your ankles, bare
and lined with sleek brown hair.

You crossed the room apace,
fluffed the pillow, and lay down
above my hiding place.
Dust showered on my face.

I should have felt distressed.
I felt like a tusked beast
was being lifted off my chest,
which once had pinned me down.



AUTHOR BIO
Jenna Le is a physician, poet, literary translator, and the author of Six Rivers (NYQ Books, 2011), which was a Small Press Poetry Bestseller. Her writing has appeared in AGNI Online, Barrow Street, Bellevue Literary Review, Gargoyle, Massachusetts Review, New York Quarterly, Post Road, RHINO, Salamander, 32 Poems, The Millions, The Rumpus, and other literary journals. Her honors include the Minnetonka Review Editor's Prize, first prize in the Pharos Poetry Competition, a Pushcart Prize nomination, and a PEN Emerging Writers Award nomination. She was born in Minneapolis and now lives in New York City. Her website is nyqpoets.net/poet/jennale
POETRY CONTRIBUTORS

Liz Ahl

Shaune Bornholdt

Rebecca Guess Cantor

Joanna Cattonar

Claudia Gary

Carrie Jerrell (Featured Poet)

Ann Kolakowski

Jenna Le

Diane Lockward

Barbara Loots

Kathleen McClung

Susan McLean

Angela O'Donnell

Jessica Piazza

Rosemarie Rowley

Maxine Silverman

Katherine Smith

Linda Stern

Karrie Waarala

Marly Youmans

>Mezzo Cammin featured on the blog of The Best American Poetry
>The Mezzo Cammin Women Poets Timeline Project Turns 50--with Emily Dickinson
>The Mezzo Cammin Women Poets Timeline Project at Lincoln Center, Friday, April 11th, 7-9 PM. Rhina Espaillat, Angela O'Donnell, Erica Dawson, Maryann Corbett, and others.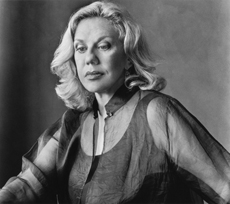 Author Erica Jong
Marion Ettlinger: I was raised in Queens, New York, the daughter of German-Jewish immigrants. I was educated at The High School of Music & Art and The Cooper Union, both in Manhattan. Shortly after graduation, I moved to Northern Vermont, where I lived for seventeen years. Although I have been practicing portraiture since the Sixties, it was in the early Eighties that I found my true vocation in photographing poets and writers, who as subjects remain compelling and irresistible to me still. Using only natural light and black and white film, I continue this work based in Manhattan.