Susan McLean






Abandonment Issues



I thought I knew the flashpoints and the blues of you.
Now I'm a heap of shards. What lit the fuse of you?

Speaking after the tone, I hear the ocean
in dead space, troll the Internet for clues of you.

A heart on a chain, first gift to a first friend.
A link is missing. What more can I lose of you?

Ex-counselor, you used your caring voice.
Its ersatz sweetness lingers like the bruise of you.

My guilt-edged bonds are junked. Too late to seek
a debt repayment plan for tardy dues of you.

I drop each message into a dark well.
No echo, no response, no end, no news of you.

Trust is a plant that loves the shade; exposure
to full light kills. My sorrow makes a muse of you.

You say this isn't what you're like? So sue me.
You left. I'm salvaging what I can use of you.







Cul-de-Sac



The man who had a perfect lawn
forced his three kids to toil outside
till every dandelion was gone.

His wife, gentle and put-upon,
dusted the trophies of his pride
(for tennis, not his perfect lawn).

The son, advancing like a pawn
to keep his father satisfied,
chose, when his girl and job were gone,

to hit a bridge (or gun) head-on.
The neighbors whispered "suicide"
while walking past that perfect lawn.

The youngest, timid and withdrawn,
lived with her parents till she died
of cancer, but the oldest, gone

for decades, had skipped town at dawn.
When she died too, her parents lied
that she was fine. Their perfect lawn
remains. But all the kids are gone.


AUTHOR BIO
Susan McLean, an English professor at Southwest Minnesota State University, grew up in Oxon Hill, MD, and received a B.A. from Harvard University and a Ph.D. from Rutgers University, New Brunswick. Her poems have appeared recently in Able Muse, First Things, Light Quarterly, and Per Contra. Her first full-length poetry collection, The Best Disguise, won the 2009 Richard Wilbur Award. A book of her translations of the Latin poet Martial, Selected Epigrams, will be published by the University of Wisconsin Press. She won the 2014 Donald Justice Poetry Prize.
POETRY CONTRIBUTORS

Liz Ahl

Shaune Bornholdt

Rebecca Guess Cantor

Joanna Cattonar

Claudia Gary

Carrie Jerrell (Featured Poet)

Ann Kolakowski

Jenna Le

Diane Lockward

Barbara Loots

Kathleen McClung

Susan McLean

Angela O'Donnell

Jessica Piazza

Rosemarie Rowley

Maxine Silverman

Katherine Smith

Linda Stern

Karrie Waarala

Marly Youmans

>Mezzo Cammin featured on the blog of The Best American Poetry
>The Mezzo Cammin Women Poets Timeline Project Turns 50--with Emily Dickinson
>The Mezzo Cammin Women Poets Timeline Project at Lincoln Center, Friday, April 11th, 7-9 PM. Rhina Espaillat, Angela O'Donnell, Erica Dawson, Maryann Corbett, and others.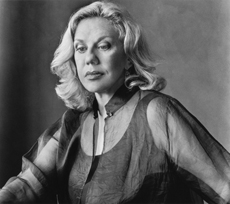 Author Erica Jong
Marion Ettlinger: I was raised in Queens, New York, the daughter of German-Jewish immigrants. I was educated at The High School of Music & Art and The Cooper Union, both in Manhattan. Shortly after graduation, I moved to Northern Vermont, where I lived for seventeen years. Although I have been practicing portraiture since the Sixties, it was in the early Eighties that I found my true vocation in photographing poets and writers, who as subjects remain compelling and irresistible to me still. Using only natural light and black and white film, I continue this work based in Manhattan.