Shaune Bornholdt






Milestones: A Father's Story



Yes, I thought you'd like these. I've been sorting through things.
They were in the hall closet. Both studies, I think.
Oil sketches. She didn't paint these two full-size.
Now you're out on your own, she'd have wanted you to--
No, you keep them. The scenes, not exact, but that's art,
And your mother could capture that color. I'm fine.
Just remembering that day. This one here brings it back--

Halloween, and that glorious maple! Bright red,
The sky brilliant blue, the clouds wind-tossed and white.
Some sights stop your breath. We stared and touched hands,
On our way to your doctor's, your mother and I.
You were slumped in your stroller. She smoothed down your dress,
And I straightened my tie. How old? To the day:
Three years and nine months. Such a beautiful girl.

In the waiting room, some children bit at their hands,
Or spun 'round till they dropped. And your mother--remember
How fierce she could be?--sat there rigid: "She's not
Like those kids!" See, the old theories then gave no hope.
We could prove you were smart. You could sort out your blocks,
You could tell by the pendulum's swing on the clock
When the chimes would be coming. You'd watch by the hour.

"Does she point?" asked the doctor. "Or look in your eyes?
Or show you things?" On down the list. We said, "No.
No, not that. No. No words. Did you say--at ten months--?
She'll lead us to what she wants. What? Isn't that--"
Your mother was hiding her fear with her rage:
"Just look at her patting the rug with her hand!
And you say that's not pointing?" The doctor just smiled.

Then he tallied the list. He closed up the chart,
And he told us the label. The name. Then repeated,
Because I couldn't hear it. My mind had gone blank.
The doctor's mouth moving, your mother's, and yours,
When she scooped you up hard, grabbed your coat, pulled my arm,
And then wheeled you out fast-through the lobby--outside--
"Look. We'll have to go back there." "I know. But not yet."

The sun was still shining, the sky even brighter,
And that tree, still a flaming, bright fire against blue,
And I knew it was awesome, but couldn't feel awe,
Or anything. What? No. I wish you had, too!
But you learned to point later. Oh, years, years of work.
No, it's just that the tree--I was baffled, I guess--
It seems as if something so there should have meaning.

You were feeling the hem of your dress, and your mother
Was crying, so that could be why, on my own,
I just couldn't make anything of it, right then.
But maybe I did. That red tree comes up, burning,
When I think of that day. How we stared. Then it's part
Of each place where I think of it. Maybe that's how
It got back some beauty, some thanks for its being.

Thirty years since then, soon. Yes, I know you love trees.
I remember your mother--You'd pick up a leaf
To start twirling around, and she'd pick up another
To twirl it, then stop. Then she'd match it to yours,
Lobe to lobe, and she'd spread out your fingers, one each
To a lobe; then she'd match her own hand up to yours,
And palm against leaves against palm, she'd say, "Leaf."

Oh, hundreds of times. Different things, different ways.
She was really amazing. I'd watch and feel--lonely--
No, but sometimes left out, and--Oh, thanks! Hugs are great.
And your room, how you've set it up, that looks great, too.
If your mother could see you, she would have been proud.
Well. The staff here is good. Your roommate--the two
Of you getting along now OK? Is she working?

Ah, just part time. Like you. Maybe one class, next term,
At Community. One's not enough? It's a start.
Well, it's time to go meet with your counselor now.
But--is this what you want? You can still change your mind
And come home. No, I'm fine. You know--that's a good view
Of the park from this window. The leaves are just turning.
Next time when I visit let's walk through those trees.





On Reading the Tractatus Out Loud

Whereof one cannot speak, thereof one must be silent.
--Ludwig Wittgenstein, Tractatus Logico-Philosophicus

I.

The world is everything that is the case.
Should mere assurance let me love this muse?--
deft definition, cryptic, lovely waste,

incomprehensible to me. Yet I'm seduced
by entering this language that reclaims
the inexpressible that was reduced

to propositions, tabled truths. Now, frames
of mind dissolve, then frames, then walls,
then nothing's left to stand upon; yet flames

of voice--not understanding--rise, enthrall,
flickering with meaning. When in need,
at times when some might pray, why seek for awe

in this cold logic? But gnomic words I read
refresh the soil they're sown on like fresh seed.


II.

Perhaps it's an illusion. Still, but try
these passages alone aloud, there's grace
in speech. Though words may never signify

the waxing, waning world, they make a place
sub specie aeterni where we may
intuit riddles outside time and space;

and holiness of mundane interplay
resides in the performance, not the task--
the very act of being, not the way

affairs are pictured; nor can language grasp
will as the subject of the ethical;
though we enact it daily, it is masked.

There is indeed the inexpressible.
This shows itself; it is the mystical.


III.

The best beginning is a quiet voice.
Start with the will as subject; set the clef
at comfort's range. Forego the conscious choice

of emphasis; inspire the syntax--breath
may linger, leap; speech pause, caress,
responsive to the themes of doubt and death,

without intention. Save for this: confess
conviction--faith's ladder made "as if"--
and argument will flow as living Yes,

Whereof one cannot speak as body's gift,
entongued, as words enact a gesture's care:
Thereof one must be silent yet may lift

aloft a joy, as whereof's question "Where?"
makes manifest the "Here" of thereof's there.


AUTHOR BIO
Shaune Bornholdt is a psychologist who has recently completed an MFA at the Stonecoast Program in Creative Writing at the University of Southern Maine. Her work has appeared in print and online journals including American Arts Quarterly, Hanging Loose, Per Contra, The Poetry Porch, Umbrella: A Journal of Poetry and Kindred Prose, and Schuylkill Valley Journal, and is forthcoming in Measure. She was a finalist in the 2012 Morton Marr Formal Poetry Contest. She and her husband have lived for many years in New York City, but often camp on land they share with other families in the Catskills. Her website may be found at www.bornholdt.com.
POETRY CONTRIBUTORS

Liz Ahl

Shaune Bornholdt

Rebecca Guess Cantor

Joanna Cattonar

Claudia Gary

Carrie Jerrell (Featured Poet)

Ann Kolakowski

Jenna Le

Diane Lockward

Barbara Loots

Kathleen McClung

Susan McLean

Angela O'Donnell

Jessica Piazza

Rosemarie Rowley

Maxine Silverman

Katherine Smith

Linda Stern

Karrie Waarala

Marly Youmans

>Mezzo Cammin featured on the blog of The Best American Poetry
>The Mezzo Cammin Women Poets Timeline Project Turns 50--with Emily Dickinson
>The Mezzo Cammin Women Poets Timeline Project at Lincoln Center, Friday, April 11th, 7-9 PM. Rhina Espaillat, Angela O'Donnell, Erica Dawson, Maryann Corbett, and others.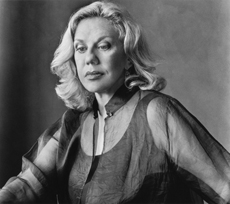 Author Erica Jong
Marion Ettlinger: I was raised in Queens, New York, the daughter of German-Jewish immigrants. I was educated at The High School of Music & Art and The Cooper Union, both in Manhattan. Shortly after graduation, I moved to Northern Vermont, where I lived for seventeen years. Although I have been practicing portraiture since the Sixties, it was in the early Eighties that I found my true vocation in photographing poets and writers, who as subjects remain compelling and irresistible to me still. Using only natural light and black and white film, I continue this work based in Manhattan.