Barbara Crooker
Fenestration
an anagram
Where should we place the windows? I don't know where to start.
All I know is, I need light, like the spike of an avocado rising from stone.
Then there's the space the surgeon creates in the bony inner ear
to restore hearing, let a person hear tones
that've been muffled for years. Or the pore, the tear
in a membrane that lets gases pass, restores
equilibrium. The dark spaces in the soul, lost in the forest
of grief. Even there, light filters through the leaves, faster
than the eye can glimpse. Relentless, it strafes
the shadows, hits the duff. Doesn't leave it up to fate
or luck. Without intent, it shines on everyone.


Stone Fruit (A Sevenling)
Now they come in, all at once:
peaches, nectarines, plums; thin skins
that can barely hold the fruit, the juice.

But what I'm hungry for is cold soup:
cucumber with dill and yogurt, fiery gazpacho,
velvet avocado, with a curl of shrimp on top.

And at the heart of all flesh, a pit.


AUTHOR BIO
Barbara Crooker has new work appearing in The Valparaiso Poetry Review, Persimmon Tree, Christianity & Literature, Crannóg (Ireland), and The Tampa Poetry Review. She is the recipient of the 2007 Pen and Brush Poetry Award. Radiance, her first full-length book, won the 2005 Word Press First Book competition and was a finalist for the 2006 Paterson Poetry Prize; her new book, Line Dance is out from Word Press. Garrison Keillor has read 14 of her poems on The Writer's Almanac. Visit her website. Earlier work in Mezzo Cammin: 2007.2 & 2007.1
POETRY CONTRIBUTORS

Sarah Busse

Barbara Crooker

Jehanne Dubrow

Annie Finch

Ann Fisher-Wirth

Dolores Hayden

Melanie Houle

Michele Leavitt

Diane Lockward

Charlotte Mandel

Ann Michael

Tatyana Mishel

Jennifer Reeser

Wendy Sloan

Diane Arnson Svarlien

Marilyn Taylor

Kathrine Varnes

Terri Witek

Marly Youmans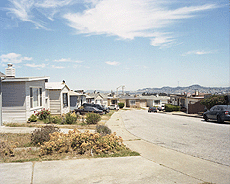 Marion Belanger
: My current project,
Continental Drift: Iceland/California
, is structured around the geologic boundary that forms the edge of the North Atlantic Continental Plate. I was particularly interested in the fact that this geological boundary has no political allegiance, was not determined by wars, by financial interest, or national demarcation. It is a boundary that cannot be controlled or contained by human intervention.