Jehanne Dubrow






Penelope Considers a New 'Do'



The magazines declare don't ever cut
your hair just after breaking up. So what
if he's been absent nearly twenty years?
Fact is: each day the loss feels new, the sheers

still biting as the first time they'd been honed.
Looks like he's never coming back. You've moaned
for two decades about the shroud of bangs
which veils your face, the way your ponytail hangs

down your back like a ragged piece of rope.
Your follicles have given up all hope
of hair that moves, of Farrah Fawcett's flip,
Meg Ryan's shag, or anything so hip

as the pixie, the asymmetric bob.
Go see the stylist-to-the-stars and sob
your story out (that endless Trojan war,
those gods). André has heard it all before.

He'll trim away dead ends so razor-fast--
chop chop snip snip--you'll wonder why the past
cannot be sliced so easily away
or died a golden shade to hide the gray.








In Penelope's Bedroom



A bottle of cologne still waits
and waits for his return, evaporates
to leave the passage of its scent
behind. She wonders where the fragrance went.

Look how the pillow lays (just so)
exactly how he left it years ago,
marked with the hollow of his cheek
like earth that holds the memory a creek.

The right side of the bed must stay
his side. She slips into her negligee,
as if she's dressing still for him.
Perhaps her body cannot learn its grim

topography. She knows this life
has dried her up. How terrible to be a wife
made widow and yet still remain
married--what inaccessible terrain.

Whole regions that he used to kiss
are now abandoned land. What does she miss
the most? Without Odysseus
even her skin becomes extraneous,

a wrinkled, dusty map with few
directions home. But long ago, trees grew
in her, an orchard of perfume
that filled the farthest corners of the room.







Penelope, On a Diet



She's tried them all before
and always failed, the war
against her waistline more
than she can win alone,
eating dinner on her own:
some broth, a chicken bone
clad in a scrap of meat,
a lettuce leaf replete
with vinegar. Defeat
is just a Hershey bar
away, the gallon jar
of peanut butter not far
enough beyond her reach.
Some dieters beseech
the gods for help. South Beach
and Atkins are divine,
two deities thin as twine.
Some women choose to dine
on nothing but the breeze,
or no white foods, or freeze-
dried milk and raspberries.
Some women pick protein
instead of carbs, caffeine
instead of lunch. They've seen
the opposite of fat
is never thin--it's that
solitude she can't combat,
no matter what she eats.
She's still alone, still cheating
on a fast she can't complete.
Another diet. And soon
she'll try again, when the moon
is fattened full of prunes,
walnuts, and apricots,
when the clouds are shaped like pots
of jam, when all her thoughts
melt into sweets. There will
be no way then to fill
her stomach up, no pill
to kill the appetite.
Alone, she will recite
a prayer for each bite
of food. How good to digest
cardboard, how very blessed
that thirst can be suppressed.


AUTHOR BIO
Jehanne Dubrow received her Ph.D. in English from the University of Nebraska-Lincoln. Her work has appeared in Poetry, The Hudson Review, The New England Review, Shenandoah, and Gulf Coast. She is the author of a chapbook, The Promised Bride (Finishing Line Press). Her full-length collection won the 2007 Three Candles Press First Book Prize and was published in 2008. Earlier work in Mezzo Cammin: 2006.2.
POETRY CONTRIBUTORS

Sarah Busse

Barbara Crooker

Jehanne Dubrow

Annie Finch

Ann Fisher-Wirth

Dolores Hayden

Melanie Houle

Michele Leavitt

Diane Lockward

Charlotte Mandel

Ann Michael

Tatyana Mishel

Jennifer Reeser

Wendy Sloan

Diane Arnson Svarlien

Marilyn Taylor

Kathrine Varnes

Terri Witek

Marly Youmans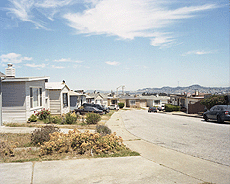 Marion Belanger
: My current project,
Continental Drift: Iceland/California
, is structured around the geologic boundary that forms the edge of the North Atlantic Continental Plate. I was particularly interested in the fact that this geological boundary has no political allegiance, was not determined by wars, by financial interest, or national demarcation. It is a boundary that cannot be controlled or contained by human intervention.