Lynn Hoggard






As You Read These Lines



For Denise

As you read these lines,

three young mice dash through snow
after gnawing into the garage,
where the birdseed was.

As you read these lines,

a man sits downstairs,
folded hands trembling,
hosting a visit by Parkinson's.

As you read these lines,

workers across the street
replace a door wide open to the sky,
left since the Christmas fire.




Fencing with a Neighbor



We counted him a neighbor till he built
the tallest fence of all around his house
and then insisted that the neighbors' group
build a locking gate and hire a guard
to keep the riffraff out. When we refused,
he withdrew from our association,
reclaimed the plaque he gave, the scholarship
he said that he would offer in our name.

Money gave him power and the right
to make the rules? No Love thy neighbor here.
What's in a neighbor? each of us now asks.
Someone who has to have his way, or else?

Or would it be the one who listens hard
and works a little harder than expected
to help each of his neighbors live and thrive?
Aren't we like a group of lesser countries,
with borders on our topsoil, clear and sharp,
but underneath with cables, pipes, and roots
that join into a network, woven through
with the deep bloodlines of neighboring?





AUTHOR BIO
Lynn Hoggard has published translations, a memoir, a biography, and poetry. In 2003, the Texas Institute of Letters awarded her the Soeurette Diehl Fraser prize for best translation. Her poem "Love in the Desert" was nominated for a 2017 Pushcart Prize by Word Fountain, and her latest book, Bushwhacking Home (TCU Press, 2017), has won the 2018 Press Women of Texas award for best book of poetry. Her poetry has appeared in Atlanta Review, The MacGuffin, and New Ohio Review, among other places.
POETRY CONTRIBUTORS

Michelle Blake

Jane Blanchard

Barbara Lydecker Crane

Lee Ann Dalton

Susan de Sola

Michele Leavitt

Lynn Levin

Marjorie Maddox

Carolyn Martin

Bernadette McBride

Susan McLean

Kamilah Aisha Moon (Featured Poet)

Sally Nacker

Patrice Nolan

Katy Rawdon

Leslie Schultz

Myrna Stone

Gail Thomas

Nell Wilson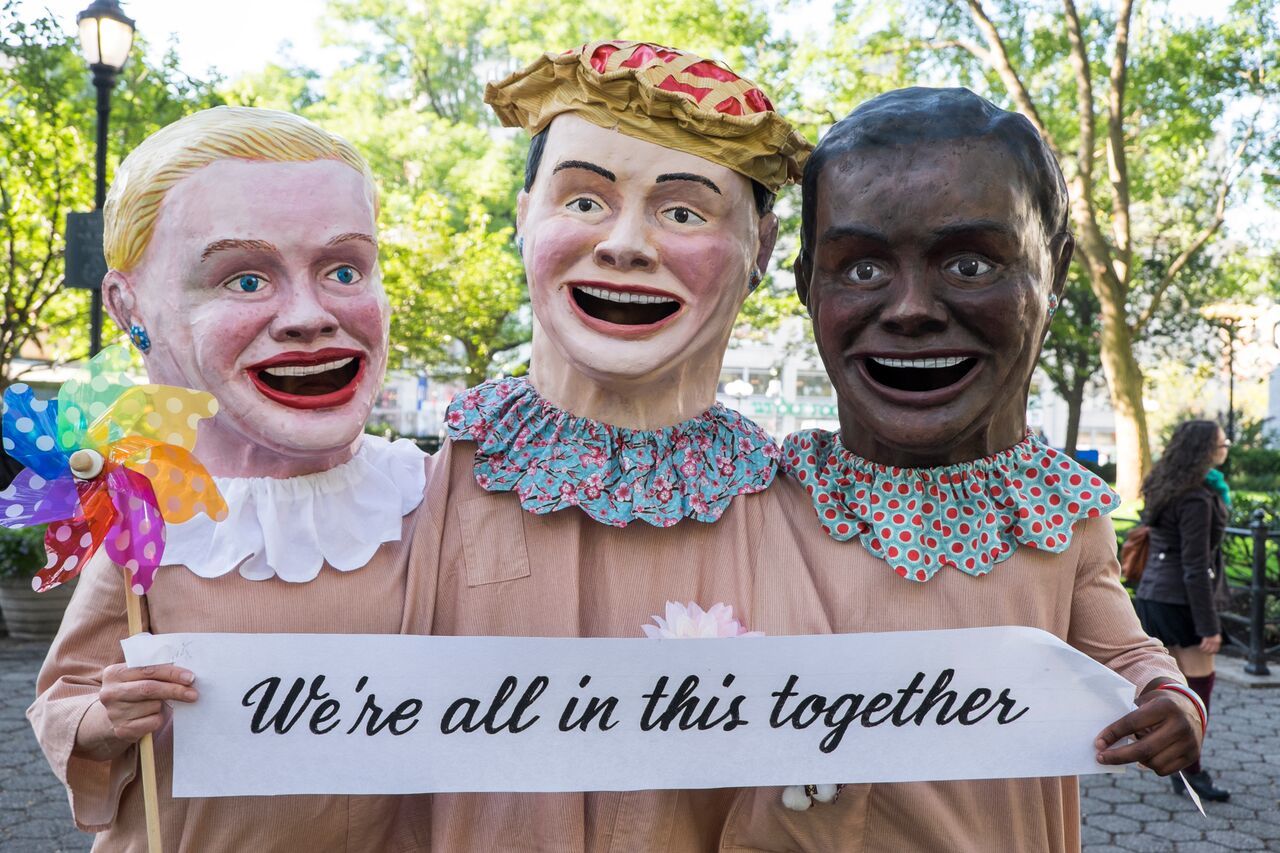 Megan Marlatt:Looking like large puppet heads, it was "anima", the root of "animation", that led me to the making of the big heads, (or "capgrossos" as they are called in Catalonia where I learned the craft.) Anima is the soul or what breathes life into a being and to animate an inanimate object, an artist must insert a little soul into it. However to bring attention to what is invisible, (the soul), I chose to mold its opposite in solid form: the persona, the ego, the big head, the mask. Nearly every culture across the globe has masks. They allow performers to climb into the skin of another being and witness the other's world from behind their eyes. While doing so, the mask erases all clues of the performer's age, gender, species or race. In this regard, I find them to be the most transformative and empathic of all human artifacts.