Katy Rawdon






Emergence



In September, I greet the corner of the year.
I slowly wind my scarf and venture out,
lay corn and pumpkins as talismans or prayers.

She died in March, eyes empty, everything
empty. House emptied. Trees empty of leaves,
winter having cleansed their arms bone clean.

We buried her in the full burst of May.
We buried her with birdsong and sunflowers,
the very air proclaiming a new day.

Now comes the ripe descent of fall.
All living things to seed, both blooming and dying—
to seed, blooming and dying, broken and whole.

The heat of summer clings to the moldering earth.
I wind my scarf. I hold a future memory—
the dark composting of summer's afterbirth.

From winter's skeleton to fall's concluding arc,
how far we have come, how long have we walked.
How beautiful: the ripeness, the emptiness, the dark.




Snow in April



Snow in April; unwelcome surprise.
I am writing my way out of winter,
longtime companion and bitter
lodger. I fill the page supplied

by memory, record what is lost:
About losing what was once mine.
about forever is a long, long time.
And in the budding garden frost

wraps its toes around the throat
of spring. I say that gardening
will not work in reverse; summoning
life from death is, like most

miracles, a non-starter.
But tomorrow the sun will fire
up nature's engine and every part of
creation will declare me a liar.




Yes



I said yes. Of course, when asked
if one wants kittens, the answer is always yes.
And to foster! It's to drink in babyness
and return the loan once kittenhood has passed.

What I did not foresee: It was as if I had
called the squirrels living in our attic
to join me in the living room. A manic
feral skirmish unfurled at their command.

The havoc was unstoppable, though I tried.
The cable man said send back, wrapped,
the cable box post-intestinal mishap.
So unwise of him, but I complied.

Bath time: teeth a curve of thorns on skin.
Cloth in hand I wipe away the fruits
of delinquency. Each pass dilutes
the grime; the sin of human negligence.

Once grown the kittens elsewhere gain
their sovereign seats. Again, the question.
A new batch every season: what lessons
I am offered here in mercy and in grace.




Birthday



When you were born
you didn't cry.
Tiny forlorn
chirping, why

is that? Somehow
you knew that cries
were futile. Now
eleven, what's inside

is held so tight,
so close. Please:
I know your fight
is not to breathe.




AUTHOR BIO
Katy Rawdon is an archivist and librarian at Temple University in Philadelphia. She lives in southern New Jersey with her son and numerous pets. Her work has appeared in The Lyric and will appear in an upcoming issue of Able Muse.
POETRY CONTRIBUTORS

Michelle Blake

Jane Blanchard

Barbara Lydecker Crane

Lee Ann Dalton

Susan de Sola

Michele Leavitt

Lynn Levin

Marjorie Maddox

Carolyn Martin

Bernadette McBride

Susan McLean

Kamilah Aisha Moon (Featured Poet)

Sally Nacker

Patrice Nolan

Katy Rawdon

Leslie Schultz

Myrna Stone

Gail Thomas

Nell Wilson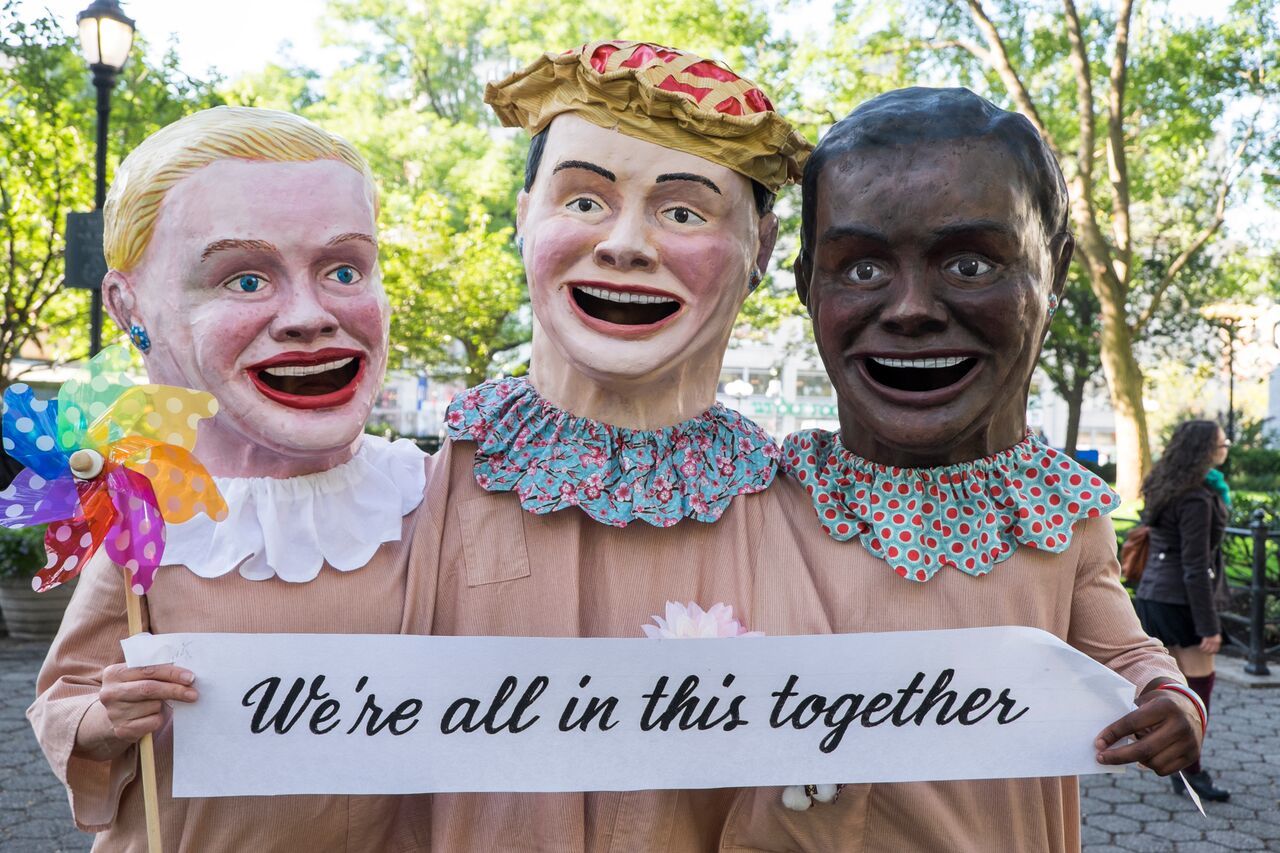 Megan Marlatt:Looking like large puppet heads, it was "anima", the root of "animation", that led me to the making of the big heads, (or "capgrossos" as they are called in Catalonia where I learned the craft.) Anima is the soul or what breathes life into a being and to animate an inanimate object, an artist must insert a little soul into it. However to bring attention to what is invisible, (the soul), I chose to mold its opposite in solid form: the persona, the ego, the big head, the mask. Nearly every culture across the globe has masks. They allow performers to climb into the skin of another being and witness the other's world from behind their eyes. While doing so, the mask erases all clues of the performer's age, gender, species or race. In this regard, I find them to be the most transformative and empathic of all human artifacts.