Bernadette McBride






After "Only until this cigarette is ended"



(Edna St. Vincent Millay)

Or just before its ash grows long and falls
as gin-soaked forms, bent to one another, grieve
across the sawdust floor where closing hour stalls
the spell that held them, and they leave.
Or morning's light crawls through the empty street,
where alcoves welcome nightly rubble spent
and you're once more in dream still incomplete,
not the substance of embrace, or tuned words lent
then taken back, but shadow and a song recalled,
a welling in the core still not subdued,
our season long asleep but still enthralled
by shed youth's optimistic amplitude.
And you may, too, before you, evening sprawled,
yield to this persistent muse, be wooed.




Idyll



Oh, for the gilded lush again of that summer's odyssey.
Our meeting on the ferry to Calais as we leaned on the rail,

backpacks at our feet; watched Dover's cliffs shrink
like tall orders shrugged off, the channel sinuous

in white-gold flicks of late-day light. Then
the overnight train to Paris; later, to the coast of Spain

—for awhile, losing our traveling pals. We splurged
on packs of Players, bottles of San Miguel when we hit Ibiza,

our languid island; shone in white halters and tees
under The Black Cat's black-lit grace; laughed with locals

till dawn; lolled long afternoons under vaulting palms
—our very own bodhis, cigarette smoke rings

our offered incense. Gazed while the Mediterranean
layered its diminishments on the island's edge

as though we might be finished here.




The Artist's Reply"



"…I could bear your beauty unshaded."
("The Artist," Amy Lowell)

But I will not purge my golds
and purples, swathing silks which mask
my curves—that they may quiver,

very cause for veiling.
Art my moor for purpose—if not
for this, death would be enough.

But life is rich with impulse;
it gushes on tides of beryl,
of ink pots, paper, hand, and eye,

and so myself I hide, lament
your vex at my excess
yet preserve my drape, its shade.

I am channel for more and so
I wear it.





AUTHOR BIO
Bernadette McBride, author of three poetry collections—most recently, Whatever Measure of Light (Kelsay Books, 2016), is poetry editor for the Schuylkill Valley Journal. She is a three-time Pushcart Prize nominee, a Pennsylvania county Poet Laureate, and poetry winner, second place, for the International Ray Bradbury Writing Award. Her poems have appeared in numerous journals and anthologies, including Cider Press Review, Philadelphia Stories, The Ekphrastic Review, and Ragged Sky Press, as well as in the UK, Canada, and on PRI's The Writer's Almanac with Garrison Keillor. She welcomes your visit at bernadette mcbrideblog.wordpress.com.
POETRY CONTRIBUTORS

Michelle Blake

Jane Blanchard

Barbara Lydecker Crane

Lee Ann Dalton

Susan de Sola

Michele Leavitt

Lynn Levin

Marjorie Maddox

Carolyn Martin

Bernadette McBride

Susan McLean

Kamilah Aisha Moon (Featured Poet)

Sally Nacker

Patrice Nolan

Katy Rawdon

Leslie Schultz

Myrna Stone

Gail Thomas

Nell Wilson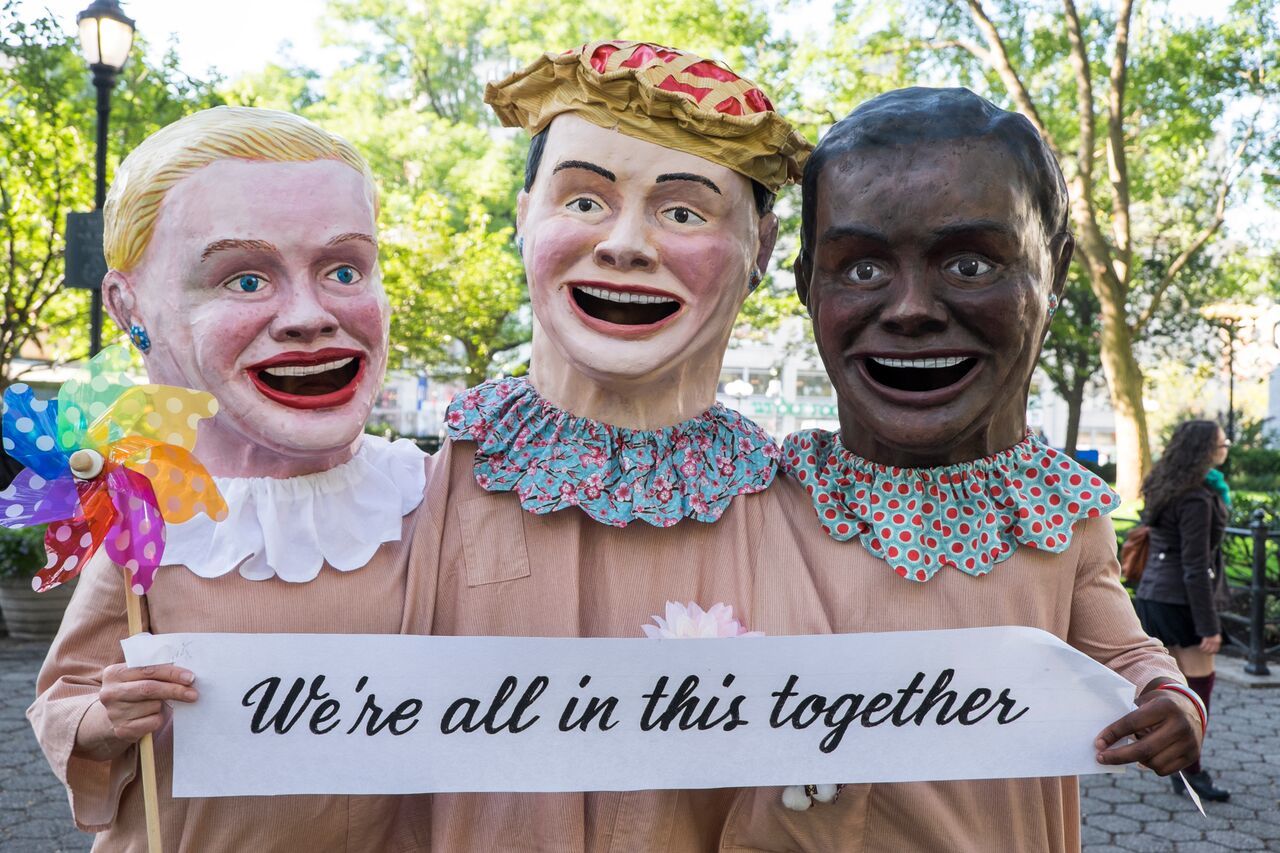 Megan Marlatt:Looking like large puppet heads, it was "anima", the root of "animation", that led me to the making of the big heads, (or "capgrossos" as they are called in Catalonia where I learned the craft.) Anima is the soul or what breathes life into a being and to animate an inanimate object, an artist must insert a little soul into it. However to bring attention to what is invisible, (the soul), I chose to mold its opposite in solid form: the persona, the ego, the big head, the mask. Nearly every culture across the globe has masks. They allow performers to climb into the skin of another being and witness the other's world from behind their eyes. While doing so, the mask erases all clues of the performer's age, gender, species or race. In this regard, I find them to be the most transformative and empathic of all human artifacts.