Marjorie Maddox






Lying in Wait to Deceive



Ephesians 4:14

To deceive, he lies in wait
in plain view upon the pews.
He watches sinners congregate,

then nods his head to validate
the pain of "penitents" who choose
deceit. He lies. He waits

while the priest exonerates
the un-felt list, the false excuse,
watching sinners congregate

to clear their conscience, obviate
their guilt. What tool to use?
Deceit. They lie. He waits.

They check their lists, accelerate
their sense of good, and yet refuse
to watch their own sins congregate.

In time, all sorrows propagate
and spread the falsehoods that he spews.
To deceive, he lies in wait.
He watches sinners congregate.




No Thanks



This year. Giving thanks. Impossible
to bury the carving knife in the white
or dark meat we argue over. Listen
to the hymns we can't sing together.

To bury the carving knife in the white
of absence is to begin off-key again
singing the hymns we can't sing together
around a burned-down tree

of absence. Off-key we begin again
un-merry in these seasons of making merry.
Gather with me around the burned-down tree
of belief, the ashen cross of palms

merry in these seasons of making un-merry,
our one hallelujah hope in a world of dark
unbelief. We cross ourselves, wave palms, ash
marking our brows in a cold cathedral. And yet

one hallelujah undarkens the world. Hope
unburies. Still, we carve our own hunger;
in cathedrals mark our brows with cold.
This year give thanks? Sing him. Sing possible.




Calling Hours: August 21, 2017



While the moon moved across sun, we moved
inside to your viewing, the face—yours
and not yours—eyes closed but looking up
at ceiling, the outside air starkly dark
or not (we couldn't see behind the heavy curtains
in that room of bereavement)—but there we were
with and without you, while the rest of the country
put on their protective glasses and stared
at what could harm them.

What can harm us lingered there
beneath the bright posthumous display
of the body and its accomplishments
of self, dressed-up grief stripping clean
in the lonely weeks after, bright bursts
of fear from looking directly or too long
into the face of the loved, while, as Auden knew,
the impersonal sun keeps diving into the sea, keeps rising
with or without the sorrow we think will drown us.

What will drown us steals your name—Harvey—
and, simultaneously, spins a different destruction,
the rain and wind inside us now on street and shore,
in bedroom and barn, sky a shadow of shroud
large enough for the land to collapse in
or sink under. Our eclipse and theirs:
what can harm us lingers there beneath the bright
faces of bereavement, no protective glasses
when we move with the moon across sun.





AUTHOR BIO
Marjorie Maddox, Sage Graduate Fellow of Cornell University (MFA) and Professor of English and Creative Writing at Lock Haven University of Pennsylvania, has published eleven collections of poetry—including True, False, None of the Above (Illumination Book Medalist); Local News from Someplace Else; Wives' Tales; Transplant, Transport, Transubstantiation (Yellowglen Prize) and Perpendicular As I (Sandstone Book Award)—the short story collection What She Was Saying (Fomite Press), and over 500 stories, essays, and poems in journals and anthologies. Co-editor of Common Wealth: Contemporary Poets on Pennsylvania (PSU), she also has published four children's books. She is an assistant editor for Presence. For more information, please see www.marjorie maddox.com
POETRY CONTRIBUTORS

Michelle Blake

Jane Blanchard

Barbara Lydecker Crane

Lee Ann Dalton

Susan de Sola

Michele Leavitt

Lynn Levin

Marjorie Maddox

Carolyn Martin

Bernadette McBride

Susan McLean

Kamilah Aisha Moon (Featured Poet)

Sally Nacker

Patrice Nolan

Katy Rawdon

Leslie Schultz

Myrna Stone

Gail Thomas

Nell Wilson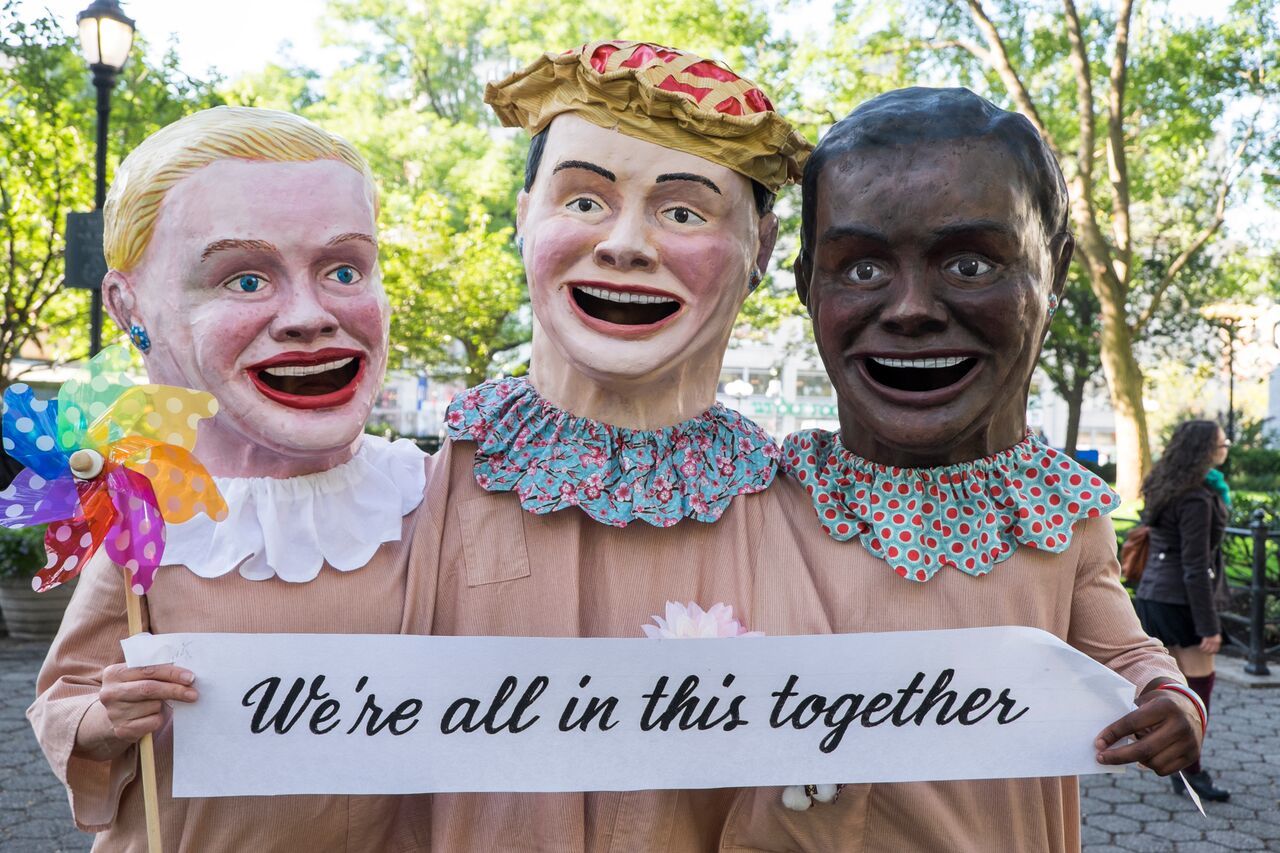 Megan Marlatt:Looking like large puppet heads, it was "anima", the root of "animation", that led me to the making of the big heads, (or "capgrossos" as they are called in Catalonia where I learned the craft.) Anima is the soul or what breathes life into a being and to animate an inanimate object, an artist must insert a little soul into it. However to bring attention to what is invisible, (the soul), I chose to mold its opposite in solid form: the persona, the ego, the big head, the mask. Nearly every culture across the globe has masks. They allow performers to climb into the skin of another being and witness the other's world from behind their eyes. While doing so, the mask erases all clues of the performer's age, gender, species or race. In this regard, I find them to be the most transformative and empathic of all human artifacts.