Lee Ann Dalton






Forgiven



I've waited for this day for thirty years,
to cross our borders, matching voice to face.
Still, nothing's sure until I see your eyes,
the gap in your teeth, and here, two beauty marks
on your right cheek, the side of you I watched
as you read Tolkien when we were ten.
The mouth you never let me kiss back then
brushes mine and lands against my ear,
a fumbled hug that morphs into relief,
the sting of tears. We hold each other up—
You mumble disbelief into my hair,
then offer me your shirt to wipe my nose,
surprising both of us with how we start
again so easily, from sleeve to heart.



Still Life with Bitten Tongue



Every meal you took began like this:
Aperitif, two pints and then three full
glasses of white I chose to make the sauce,
ruined bits smoothed out by alcohol

and floured butter, magic in the pan.
But first the knife was sharpened, board prepared
for onions, smashing garlic, weight of hand
and blade together. I don't know what scared

me more: the way I couldn't stop my tears
even when the air had cleared, or you
storming to your screen, your reddened ears,
sharp shoulders slicing through your shirt. The roux

thickened, redolent with thyme. The truth,
a taste of salt and copper in my mouth.




AUTHOR BIO
Lee Ann Dalton is a poet, fiction writer, fiber arts columnist, and LGBTQIA+ youth advocate with an MFA in Poetry from Vermont College of Fine Arts. Her poems have appeared in journals such as New Ohio Review, Faultline, and The Formalist, and her fiction won the 2014 Howard Frank Mosher Short Fiction Prize at Hunger Mountain. She is a Canadian/American dual citizen and she lives in southern NH with her husband and daughter.
POETRY CONTRIBUTORS

Michelle Blake

Jane Blanchard

Barbara Lydecker Crane

Lee Ann Dalton

Susan de Sola

Michele Leavitt

Lynn Levin

Marjorie Maddox

Carolyn Martin

Bernadette McBride

Susan McLean

Kamilah Aisha Moon (Featured Poet)

Sally Nacker

Patrice Nolan

Katy Rawdon

Leslie Schultz

Myrna Stone

Gail Thomas

Nell Wilson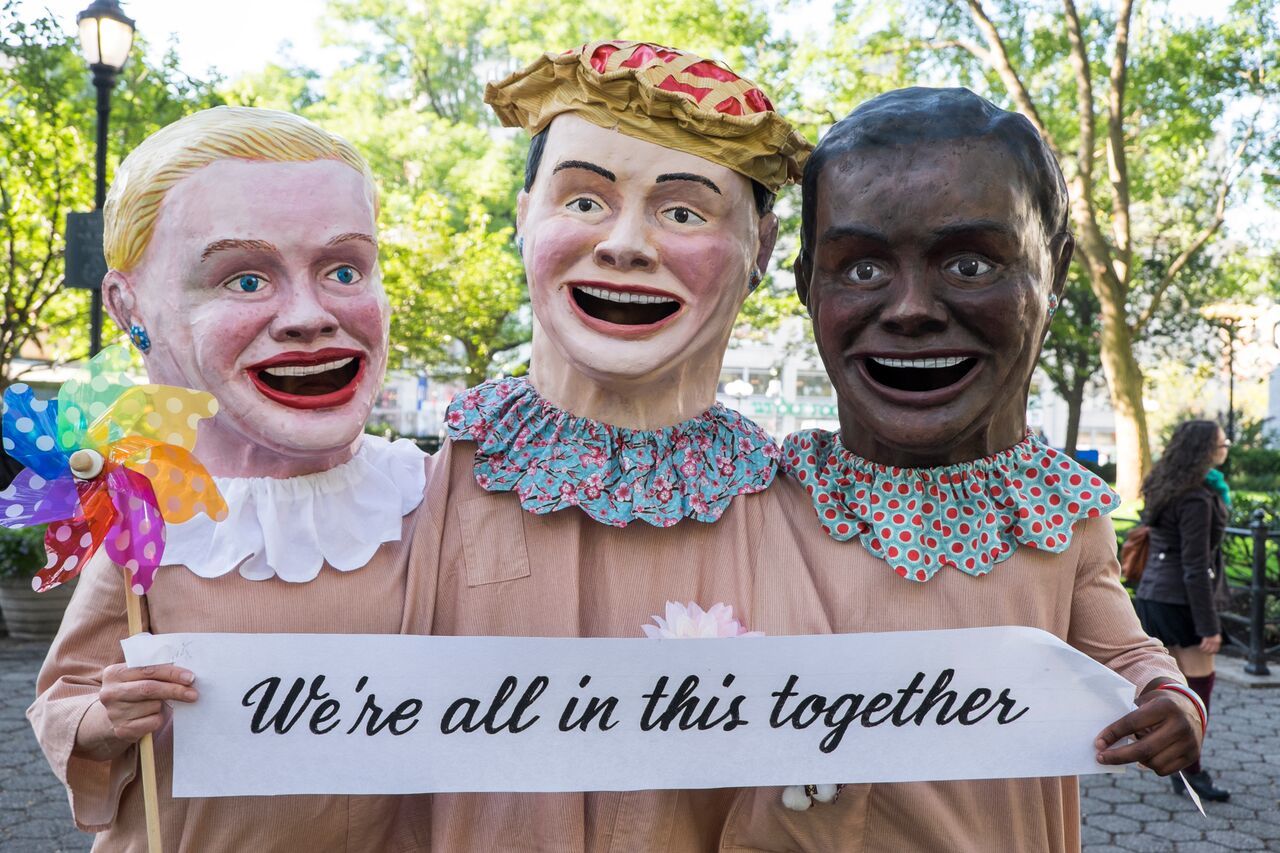 Megan Marlatt:Looking like large puppet heads, it was "anima", the root of "animation", that led me to the making of the big heads, (or "capgrossos" as they are called in Catalonia where I learned the craft.) Anima is the soul or what breathes life into a being and to animate an inanimate object, an artist must insert a little soul into it. However to bring attention to what is invisible, (the soul), I chose to mold its opposite in solid form: the persona, the ego, the big head, the mask. Nearly every culture across the globe has masks. They allow performers to climb into the skin of another being and witness the other's world from behind their eyes. While doing so, the mask erases all clues of the performer's age, gender, species or race. In this regard, I find them to be the most transformative and empathic of all human artifacts.