Kamilah Aisha Moon (Featured Poet)






New Address



A vatican of cardinals
in my driveway, college
of red wings
flitting the bushes.

Such unabashed robes!
Breathing a radiance
that can't be taught.

Before I lived here
I only saw one
at a time, bright sash
on naked branch
against startling blue—
stark, fleeting.

Through a row of windows,
I watch throngs of them
play among chrysanthemums.

The last time I felt spring
within is hazy,
that rouge rush
cloaked by a gray
nostalgia, failed
redemptions holding me
ransom.

But I see her & red
frolics my limbs,
this hollowed trunk
brimming with blossoms!

Brilliant ones, like you
may I blush bold
as fresh blood, devout
in my passions wherever
I land, alone or flying
en masse. May I learn
& learn & learn…




Middle-Aged Dating Sucks Sometimes



Hey beauty I'm relieved
is elsewhere, I think of you
on occasion, still. The ghost
of us on a bench surrounded
by birds that appear more exotic
than they really are, lips as wings,
a sweet, sanguine flight of fancy
not forgotten. Then,
we didn't know what was
missing, scraped or scarred
in each of us
would trigger & wound,
lead to swift, sure loss.

I didn't know the long litany of things
you don't like, don't believe in,
can't trust—more grit than glory
because how often is goodness
real? You didn't know where
I snag, what I keep
crypt-close, the parched
deep well I sing
from the bottom of.

I did know from day one
that you favor the truth
of what hurts & chastens
most, & you knew I was a poet
born to trust what I feel
as much as what I know—
insides flung to & fro,
hung up on hope. It's how
we've each survived. Meaning
fried & scrambled as silence
devoured us.

The rest can & will fade,
but that moment, at once filled
& held by you, suckled &
suspended in bliss, is a
Fabergé egg on velvet
under a single beam of light
on the mantle of memory.
& the perfect contours, colors of
a secluded shrine's
warm, wet salvation. & the marathon
of moans & laughter & heartfelt letters,
of kindness, &…

throttled under the escaping feet
of the fools we swear
we won't ever be

for anyone again.
for anyone again.




Wonder



What are they thinking,
our pirates in suits?
Their expressions always
strange sky we end up
weathering.

I wouldn't believe in sunlit
hailstorms in June
if I hadn't just seen one
with these failing eyes—
head, cheeks & shoulders
enduring what must be
a stoning
for smaller lives.

Seems like nothing is
as it should be, now
& a while ago. Ever? I wait

& wonder if crying
every damn day
is a futile attempt
to irrigate something
miraculous—like
a lush place for all.




Elegy During The Eclipse



for Heather Heyer protesting a white supremacy rally in Charlottesville, VA, 2017

Another sunrise reddens
the panes of my house.

I didn't sign up for this useless
bloodshot vigil. Millions of us

didn't. But how can we sleep
with all of the immortal

hatred daywalking,
refusing the underworld?

My 70-year-old mother
beams like a girl

as the brightest thing
we've known darkens

for a spell, cells
tidal in headlong

thrall—indirect gazing
to avoid ruin. Somehow

we do what we must inside
fragile, burnished skin.

The driver's soul devoid
of shine, Heather glared

at mouth-frothing evil
dead-on & just like that

she was over—plowed
through because she

insisted on loving others
she knew weren't others,

beautiful as her own smile—
her once in a lifetime moment

launching her among stars.




One Apology



By mistake, something
more precise is said:

"Sorry for your lost."

After the flustered English
professor in me
has a fit, the poet self nods,
bows my head
to (Write it!) down.

Not by mistake, hash-tagged
names & snuff clips breed
out in the open, obscene
ritual that makes us lose
words, balance, sense,
hope, mourn a peace
we can't keep.

Sorry for your lost
sleep, minds. Treasures
ghosted above & below
sea level, priceless compost.
Sorry for your lost
music unmade, options spent.
Sorry there's no shade
on any continent
from this terrible, terrible sun
that won't set.

Sorry for your lost
evidence to prove
intent, for pleas
to forgive & forget
while blood is still wet,
the lack of regret.
Sorry for your lost
auntie's wit, your brother's laugh,
your son's large hands reaching
for the clouds. Sorry for your lost
boyfriend shopping at Walmart,
the cafeteria worker
who knew your favorites,
the sweet woman on the block
who mothered everybody. Further, faster,

the day fighting for our lives
becomes a total lost cause,
beware. Sorry for your lost
ones, millions, sorry to lose
count. Sorry for your lost
legacies, for losing your breath
as you read this poem, these articles,
watch the hi-tech gallows
of timelines & newsfeeds—

feels like a thousand
Mt. Vesuviuses
in the chest, in the pit
where life is brought
to a boil. Looks like
what it is—disaster
that can't be contained
by metrics, form or conscience.

I wish I could write this off
as a slight gaffe, make fun
but it's deadly true.

Some say it this way
to each other—even when loss
happens naturally. Accustomed
to past tense living, remembering
love prematurely, any condolence
brittle & gesture trite in the face
of so much lost.

We are not errors to be scratched out.
We are works of art, masters
annealed by unfathomable loss,
propelled by a vaster faith.

How crazy to focus, even for a second,
on how you say what needs to be said
when what you meant is so clear.
Every syllable & letter, the t's
tough finality versus the soft s
slipping away. Not sure where
my head is, where their hearts went.
Please excuse my poor attempt to escape
this wretched boat without you.




Dying Star Blues



Littering every galaxy,
ancient lanterns
the size of worlds
eventually blow out
or implode.
Errant souls swirl
above the ashes.

To live knowing love
burns away
in the next room.
The utter truth of it
scorches, beads hard
in every pillow.

Empty pit growing,
the middle of her
aches so much. &
the whiplash of being
lovestruck while revealed
as so much less
underneath. Few things
withstand scrutiny.

Watching them watch
her neon waver, blink
like a decrepit jukejoint
sign, slight buzzing
muted
by a succession
of wailings
centerstage.

To keep arriving today
& years from now
despite the worst having
its way. So nacreous
she had been—
someone says who
looked skyward
in time.

Getting louder,
harmonicas beckon
what's left to lay down
in cool grass.
Flawless measures
swell brightly in lament
& celebration.



AUTHOR BIO
Kamilah Aisha Moon is a Pushcart Prize winner, Lambda Award finalist, and a 2015 New American Poet who has received fellowships to Vermont Studio Center, Rose O'Neill Literary House, Hedgebrook, and Cave Canem. The author of Starshine & Clay (2017) and She Has a Name (2013), both published by Four Way Books, her work has been featured widely, including the Harvard Review, Poem A Day, Prairie Schooner, and elsewhere. Moon holds an MFA from Sarah Lawrence College and is an Assistant Professor of Poetry and Creative Writing at Agnes Scott College in Decatur, Georgia.
POETRY CONTRIBUTORS

Michelle Blake

Jane Blanchard

Barbara Lydecker Crane

Lee Ann Dalton

Susan de Sola

Michele Leavitt

Lynn Levin

Marjorie Maddox

Carolyn Martin

Bernadette McBride

Susan McLean

Kamilah Aisha Moon (Featured Poet)

Sally Nacker

Patrice Nolan

Katy Rawdon

Leslie Schultz

Myrna Stone

Gail Thomas

Nell Wilson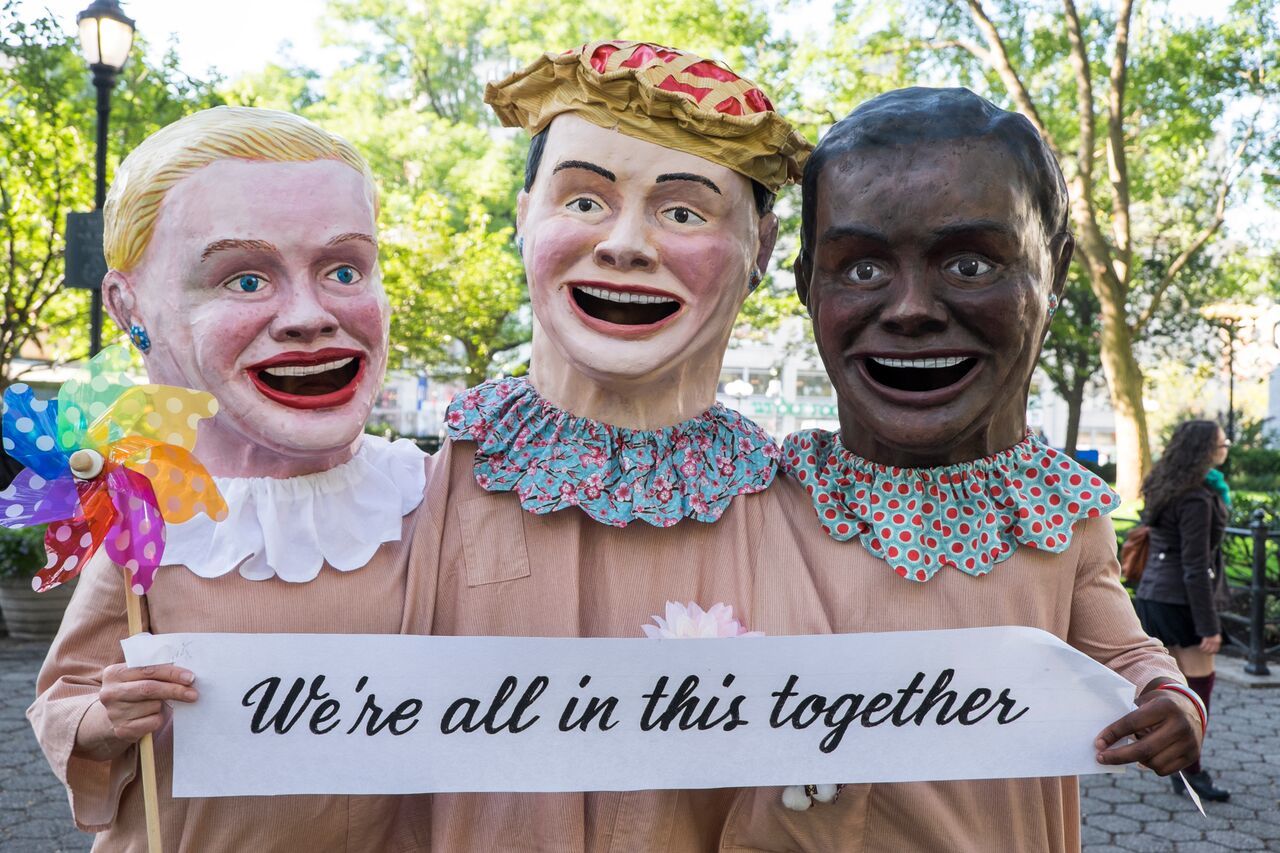 Megan Marlatt:Looking like large puppet heads, it was "anima", the root of "animation", that led me to the making of the big heads, (or "capgrossos" as they are called in Catalonia where I learned the craft.) Anima is the soul or what breathes life into a being and to animate an inanimate object, an artist must insert a little soul into it. However to bring attention to what is invisible, (the soul), I chose to mold its opposite in solid form: the persona, the ego, the big head, the mask. Nearly every culture across the globe has masks. They allow performers to climb into the skin of another being and witness the other's world from behind their eyes. While doing so, the mask erases all clues of the performer's age, gender, species or race. In this regard, I find them to be the most transformative and empathic of all human artifacts.