Sally Nacker






The Deer



Through a veil of fog,
I saw a deer
crossing the quiet road.
We were driving slow.

She moved as though
nothing could harm her, strode
softly as a whisper
or a prayer through the fog.

I felt a blessing in the fog,
a grace pure and clear,
as we paused on the quiet road.
The deer was passing slow.

And then the deer, as though
she were a dream, flowed
away like water into the near
wood, through a veil of fog.




Two Does in Snow



Snow blew sideways; the sound was shrill.
Through the white air to below the hill
on which a house stood, a window
looked on two does in snow.

The does had entered a cluster
of trees where they lay under
and out of wind's way.
As though in a nest they lay.

For hours, they lay still.
They observed the wind with a poet's will;
or to the poet it seemed so,
in the house at his window.





AUTHOR BIO
Sally Nacker (MFA 2013, Fairfield University) is the author of two poetry collections: Vireo (2015), and Night Snow (2017), both by Kelsay Books. Her poetry has been published in The Fourth River; Grey Sparrow Journal, and its anthology Snow Jewel; Mezzo Cammin: An Online Journal of Formalist Poetry by Women; The Orchards; Red Wheelbarrow Literary Magazine, the National Issue; and The Wayfarer. An article about her paper on poet Amy Lowell was published by Annie Finch on Poetry Foundation's Harriet Blog: "Wings and Windows: My Letter to Amy Lowell." An edited version of the paper appears on Winona Media: Poems and Stories from the Heart. She is an annual attendee and panelist at Poetry by the Sea: A Global Conference each May. Sally resides quietly in New England with her husband and their two cats, and works in flowers. Please visit her website at www.sallynacker.com
POETRY CONTRIBUTORS

Michelle Blake

Jane Blanchard

Barbara Lydecker Crane

Lee Ann Dalton

Susan de Sola

Michele Leavitt

Lynn Levin

Marjorie Maddox

Carolyn Martin

Bernadette McBride

Susan McLean

Kamilah Aisha Moon (Featured Poet)

Sally Nacker

Patrice Nolan

Katy Rawdon

Leslie Schultz

Myrna Stone

Gail Thomas

Nell Wilson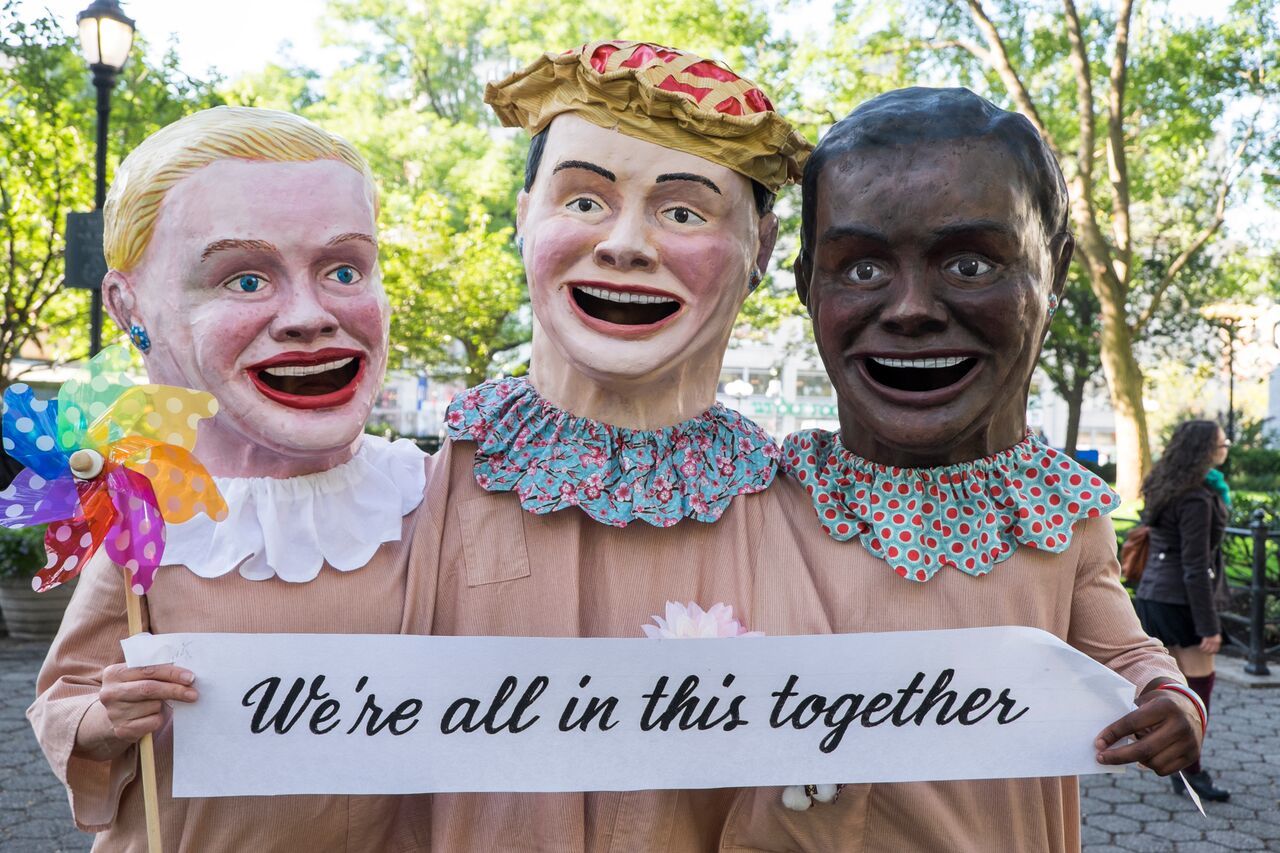 Megan Marlatt:Looking like large puppet heads, it was "anima", the root of "animation", that led me to the making of the big heads, (or "capgrossos" as they are called in Catalonia where I learned the craft.) Anima is the soul or what breathes life into a being and to animate an inanimate object, an artist must insert a little soul into it. However to bring attention to what is invisible, (the soul), I chose to mold its opposite in solid form: the persona, the ego, the big head, the mask. Nearly every culture across the globe has masks. They allow performers to climb into the skin of another being and witness the other's world from behind their eyes. While doing so, the mask erases all clues of the performer's age, gender, species or race. In this regard, I find them to be the most transformative and empathic of all human artifacts.