Susan McLean






Daylight Losing Time



O lente, lente currite, noctis equi!
—Dr. Faustus, Christopher Marlowe, quoting Ovid

The horses of the night run slowly, slowly,
on this, the darkest evening of the year,
as we're advancing toward the time deemed holy
because it's most conducive to despair.

I deck my halls with strings of small white lights,
but not for Christmas. Here in Minnesota,
the season of gray days and howling nights
holds snow and ice beyond the standard quota,

and I, swaddled in wool and down, won't bring
the lights down till late March, banking my embers
under the ashen clouds till tardy spring
returns the spark my starving heart remembers.




Twain



The bushy brows, mustache, and wild white hair,
white shirt, floppy bow tie, and long cigar,
the shrewd yet open-to-amusement stare—
I know whose famous attributes these are,
but whose are the slim, naked legs that show
below the shirt? What mythic mix of Mister
Twain and a teenage girl is this?
I know
this strange amalgam is my younger sister
dressed up to practice playing Twain before
her class next week. I bet he'd love to see
this hybrid, like the daughter he adored,
whose fire, intelligence, and energy
he borrowed to depict his Joan of Arc:
his two ideals, lost early to the dark.




Stage Four



I did it their way first: the surgery,
chemo, and radiation. They confessed
they couldn't get it all, but there might be
remission for some months, two years at best.

I gave up dairy, sugar—what the hell,
gluten!—anything to slow its course.
I'd starve it. But my shrinking borders tell
me that my life is drying at the source.

When Nancy picked me up in her Dodge Ram,
throned in that fortress high above the rest,
I felt the motor pound I am! I am!
and surge each time the gas pedal was pressed.

Today they said the cancer's gone too far.
I bought a pickup and a Snickers bar.




Edna St. Vincent's Malaise



sonnenizio on a line from A. E. Stallings's "Clean Break"

They promised nothing, and they told no lies.
Do poems count? Surely, no one assumes
sonnets are binding. And it's no surprise
that passion fades no sooner than it blooms.
A woman who's no longer young foresees
the no man's land in which she'll someday wilt,
cannot say no to kindling urgencies,
makes no defenses, and admits no guilt.

She knows he's not some noble Galahad,
but when was she afraid to be notorious?
Far worse to pass unnoticed: one more sad
footnote to fame, now blowsy and inglorious.
Better to perish in a nova's flares
than in a sodden nosedive down the stairs.



AUTHOR BIO
Susan McLean is recently retired from teaching English at Southwest Minnesota State University. She has two books of poetry, The Best Disguise and The Whetstone Misses the Knife, and one book of translations of Martial's Latin poems, Selected Epigrams. Her poems and translations have recently appeared in Measure, The Classical Outlook, Snakeskin, Light, and elsewhere.
POETRY CONTRIBUTORS

Michelle Blake

Jane Blanchard

Barbara Lydecker Crane

Lee Ann Dalton

Susan de Sola

Michele Leavitt

Lynn Levin

Marjorie Maddox

Carolyn Martin

Bernadette McBride

Susan McLean

Kamilah Aisha Moon (Featured Poet)

Sally Nacker

Patrice Nolan

Katy Rawdon

Leslie Schultz

Myrna Stone

Gail Thomas

Nell Wilson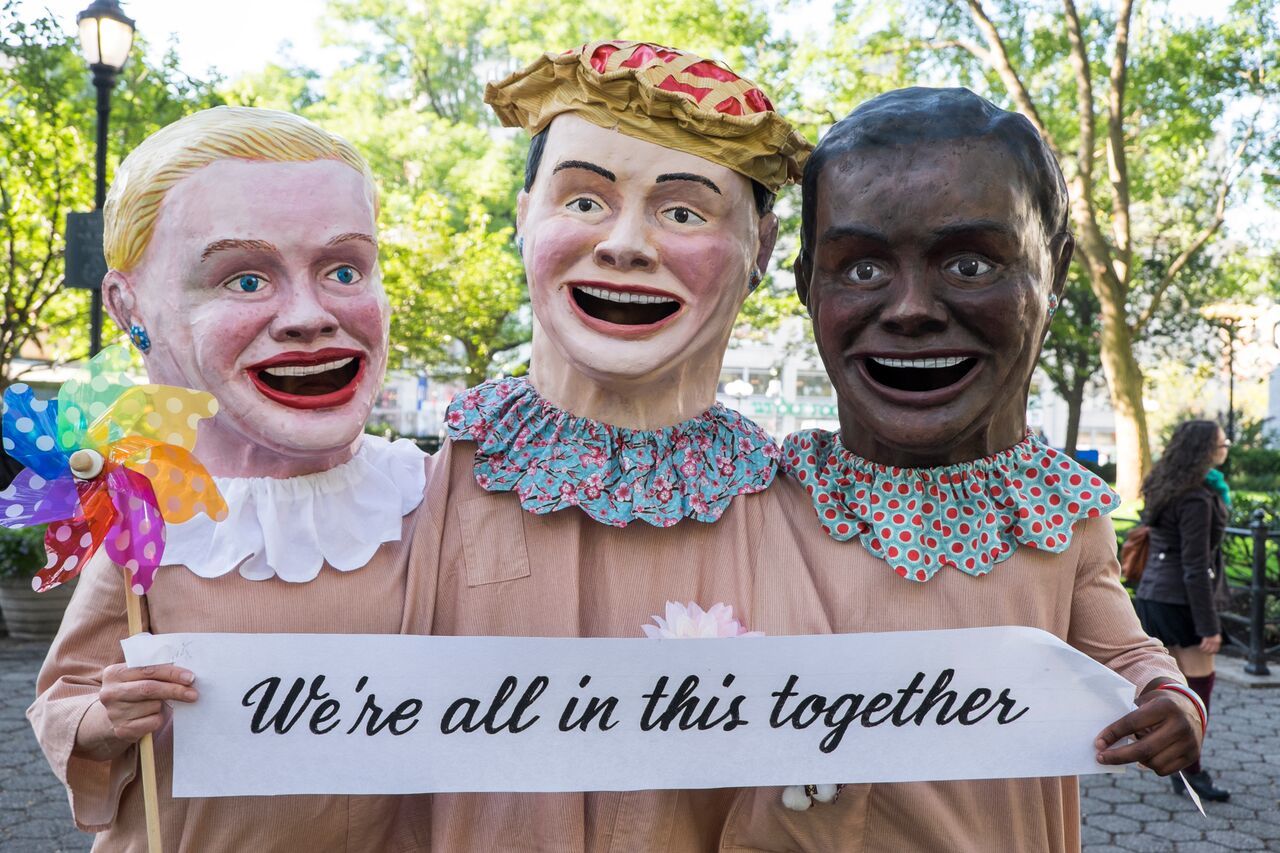 Megan Marlatt:Looking like large puppet heads, it was "anima", the root of "animation", that led me to the making of the big heads, (or "capgrossos" as they are called in Catalonia where I learned the craft.) Anima is the soul or what breathes life into a being and to animate an inanimate object, an artist must insert a little soul into it. However to bring attention to what is invisible, (the soul), I chose to mold its opposite in solid form: the persona, the ego, the big head, the mask. Nearly every culture across the globe has masks. They allow performers to climb into the skin of another being and witness the other's world from behind their eyes. While doing so, the mask erases all clues of the performer's age, gender, species or race. In this regard, I find them to be the most transformative and empathic of all human artifacts.