Nell Wilson






Dissociation



She walks back blank in streets of total white.
Her mind is walled against the world.
Cut off from sounds, from people, light.
The jammed road's a muffled, distant blaze.
The coldness of the air a dumbstruck note.

Before she'd seen ice thicken on still glass,
had noticed beauty in the cobbles' frosted glaze,
in leaves huddled, cornered by the wind,
in how the snow fell, fizzing under lamps,
the way her footprint sealed in winter grass.

Now she walks unseeing, unhearing, alone.
The sky is swaying. Cold flakes fall heavily.
Her step is muffled by the snow on stone.
The world she saw before retreats to memory.




Winter Candlelight



Snuffed scent of winter candlelight!
The little bitter acrid smoke
invents itself a place in air,
a deathly habitation, flight
the closing fingertips provoke,
seek somewhat its slim despair.

A greyish body visible
ascends. A curvature of forms.
There's limbs and torso, hair—
a slip of something readable,
a messenger the wick informs
who tells us of death's snare.

She flies. A briefest note
is passed to us. One thread
of breath—a signature
perhaps of doom—afloat
in air's endlessness. Is fled.
Disintegrates, secret, obscure.





AUTHOR BIO
Nell Wilson studied English at St Andrews, graduating in 2011. She was runner up in the Jane Martin Prize in 2016 and has had poems published in Measure, The Moth, and Acumen. She lives in Lincolnshire.
POETRY CONTRIBUTORS

Michelle Blake

Jane Blanchard

Barbara Lydecker Crane

Lee Ann Dalton

Susan de Sola

Michele Leavitt

Lynn Levin

Marjorie Maddox

Carolyn Martin

Bernadette McBride

Susan McLean

Kamilah Aisha Moon (Featured Poet)

Sally Nacker

Patrice Nolan

Katy Rawdon

Leslie Schultz

Myrna Stone

Gail Thomas

Nell Wilson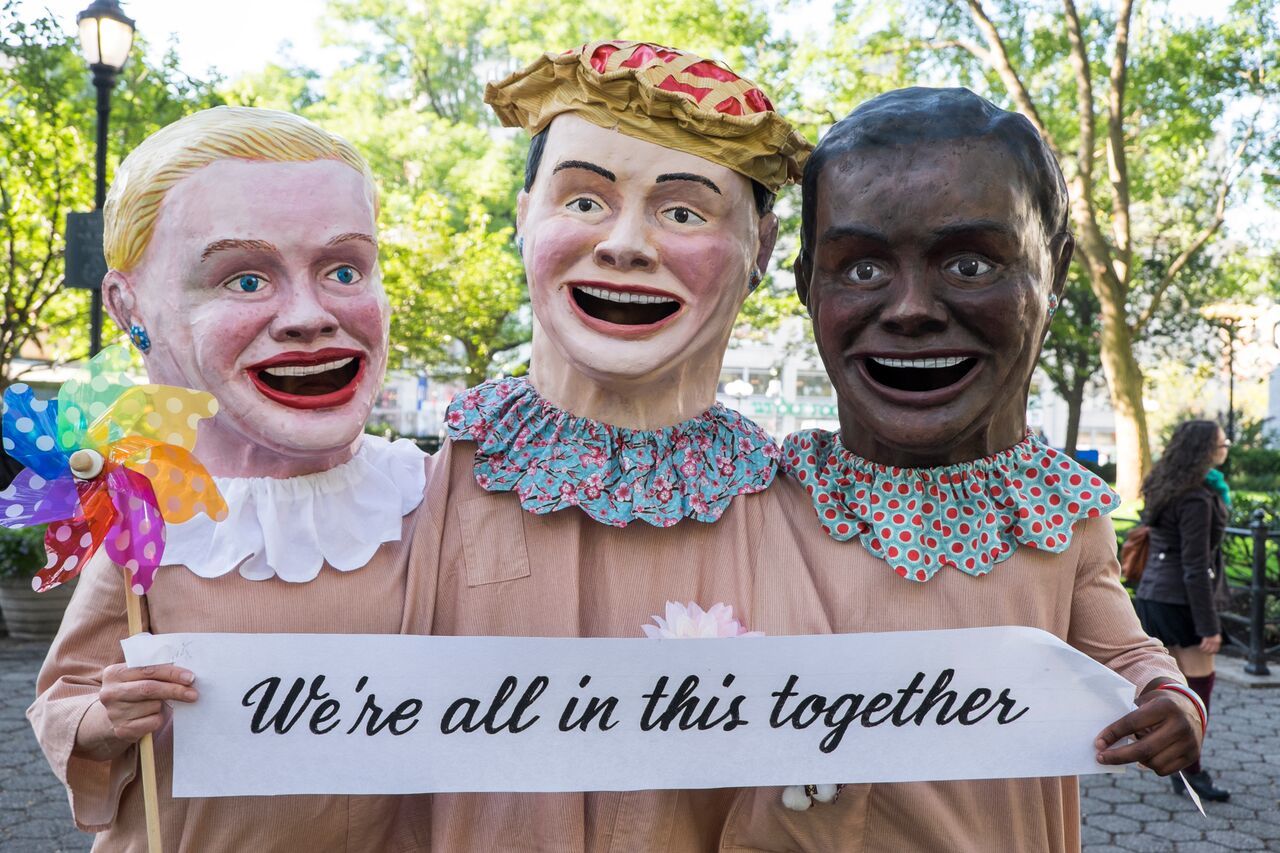 Megan Marlatt:Looking like large puppet heads, it was "anima", the root of "animation", that led me to the making of the big heads, (or "capgrossos" as they are called in Catalonia where I learned the craft.) Anima is the soul or what breathes life into a being and to animate an inanimate object, an artist must insert a little soul into it. However to bring attention to what is invisible, (the soul), I chose to mold its opposite in solid form: the persona, the ego, the big head, the mask. Nearly every culture across the globe has masks. They allow performers to climb into the skin of another being and witness the other's world from behind their eyes. While doing so, the mask erases all clues of the performer's age, gender, species or race. In this regard, I find them to be the most transformative and empathic of all human artifacts.