Gail White






The Prison



Childhood is wretched, even if you're not
abused and have no scars to show in court.
Children are powerless and moneyless
and worst of all, they're short.

You have no transportation. Taller gods
carry you where they will. You have to go
to schools, to doctors, other children's parties,
whether you will or no.

No one believes your heart can really break.
No one respects the thoughts you bring from school.
Be cute, believe in Santa Claus, they'll laugh
and hug their little fool.

Escape as best you can. Jump from a cliff,
swim through a river, scale the prison wall,
run through a forest fighting off wild beasts.
At any price, grow tall.







Memory Aids



This is the paper that gives the date.
This is the kettle to boil the water.
This is a china breakfast plate.
This is a note to call my daughter.

This is coffee, I drink it black.
This is toast, and I eat it plain.
These are the thoughts I keep on track
To hurry them through my daughter's brain.

These are the things I need to say
To sound as usual on the phone.
The longer I keep my child at bay,
The longer my life is still my own.



AUTHOR BIO

Gail White is the author of Easy Marks (David Robert Books), a finalist for the Poets' Prize in 2008. She coedited the anthology The Muse Strikes Back, which has been reissued by Story Line Press. She is also the subject of Julie Kane's essay "Getting Serious About Gail White's Light Verse," which appeared in an early issue of Mezzo Cammin. Gail writes her formalist poetry in Breaux Bridge, Louisiana, in the company of her husband and resident cats. Visit her website.
POETRY CONTRIBUTORS

Melissa Balmain

Janann Dawkins

Juleigh Howard Hobson

Anjie Kokan

Jean L. Kreiling

Luann Landon

Michele Leavitt

Mary Meriam

Gail White

Holly Woodward

Marly Youmans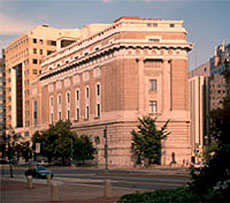 Mezzo Cammin
is proud to announce that The
Mezzo Cammin
Women Poets Timeline Project, which will eventually be the largest database of women poets in the world, was launched on Saturday, March 27, 2010, at 6:00 PM at the National Museum of Women in the Arts in Washington, D.C. (Photo by Tom Field)
Visit Timeline
.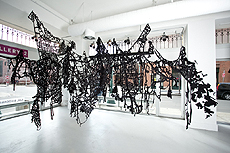 Gail Biederman: I use sewing as a form of drawing, as one way to alter a surface. Thread is my line, a physical presence that hovers in space in my installations. With both a cast shadow and an edge that catches the light, thread creates multiple realities, a jumbled mix of hard and soft, the solid and the ephemeral.