Luann Landon






After Sempé



Professor Peagram walked to class
waiting as ever for time to pass;
while birds and coeds flitted round,
he bowed his head, studied the ground.

A little man in a tweedy hat--
was he in truth no more than that?
His pedagogy, all unsung,
managed somehow to quiet the young.

He tried to stand against the floppy,
the sentimental and the sloppy;
hushed his opinions every day
but said sometimes that life is gray.

One April morning he was seen,
standing on tiptoe, rapt, to lean
into a lilac's wild perfume,
plunging his face in purple bloom.







Great-Aunt Augusta



Great-aunt Augusta was invited--
brass was polished, candles lighted.
Eyes like bluebirds, skin like milk,
antique dress of dove grey silk,
hair swept up in silver swirls,
round her neck, tight strands of pearls--
stunning sight meant to impart
to every child Good Taste in Art.
Great-aunt Augusta took her seat
and, blessing said, began to eat.
Knife flew to fork, quick to impale
each morsel of the roasted quail,
and she seemed pleased to patter, smile,
savor the vintage, all the while
her chair collapsing, gradually;
she kept on eating, daintily,
both chair and lady losing rank;
bosom, pearls, then coiffeur sank
below the table. Quite unseated,
she was floored, almost deleted.
A general cry, "Are you all right?"
she heard, and answered, ever polite:
"Southern ladies do not notice
any flaw in food or service."


AUTHOR BIO
Luann Landon was born in Georgia, grew up in Nashville, and studied at Radcliffe and the Sorbonne. She has recent poems in Measure. Her memoir-cookbook, Dinner at Miss Lady's (Algonquin, 1999), was published in 2009 as a Kindle Book by Amazon.com.
POETRY CONTRIBUTORS

Melissa Balmain

Janann Dawkins

Juleigh Howard Hobson

Anjie Kokan

Jean L. Kreiling

Luann Landon

Michele Leavitt

Mary Meriam

Gail White

Holly Woodward

Marly Youmans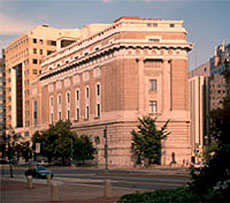 Mezzo Cammin
is proud to announce that The
Mezzo Cammin
Women Poets Timeline Project, which will eventually be the largest database of women poets in the world, was launched on Saturday, March 27, 2010, at 6:00 PM at the National Museum of Women in the Arts in Washington, D.C. (Photo by Tom Field)
Visit Timeline
.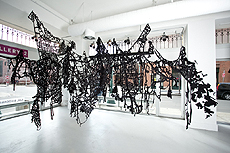 Gail Biederman: I use sewing as a form of drawing, as one way to alter a surface. Thread is my line, a physical presence that hovers in space in my installations. With both a cast shadow and an edge that catches the light, thread creates multiple realities, a jumbled mix of hard and soft, the solid and the ephemeral.