Juleigh Howard Hobson






The Sacred Spiral



I know little how a season turns, why
Cold winds slowly change to warm, when the rain
Will fall or else hang darkly in the sky
Waiting, waiting, within a counterpane
Of thick grey cloud. I cannot tell why leaves
Grow dull and thin and fall away, or what
Sleeping spirit lurks in the cold bare trees
That wakens and makes new greenery. Hot
Days and cold, and warm lazy afternoons--
Each holds a magic apart from what I
Will ever know. But does it matter? June
Will surely come and then become July,
And fade away into the fall and then
To winter...spring...and back to June again.







Both Yes and No



Both yes and no is all I have to say:
Yes, I love you. No, I don't. Yes and no,
Depending on the timing of the day.
Sorry, but there's nothing else to say, so
Don't ask me if you don't like what you get.
I love you. No, I don't. Again. Again.
The final yes or no has not come yet,
Until then all I do is re-explain
That "No, I don't." means no, I don't--right now.
"I love you." means I love you--more or less.
I know it doesn't help things anyhow
To say that yes or no is just a guess,
But, since I don't feel any other way,
Both yes and no is all I have to say.


AUTHOR BIO

Juleigh Howard Hobson is a formalist poet, essayist and short fiction writer. A former finalist for The Morton Marr Prize, she has had poems nominated for both the Pushcart and the Best of the Net. Her poetry has appeared or will appear in Able Muse, Mobius, The Lyric, The Raintown Review, Candelabrum, Soundzine, The Barefoot Muse, Poem Revised (Marion Street Press), Return of The Raven (HorrorBound) and scores of other venues.
POETRY CONTRIBUTORS

Melissa Balmain

Janann Dawkins

Juleigh Howard Hobson

Anjie Kokan

Jean L. Kreiling

Luann Landon

Michele Leavitt

Mary Meriam

Gail White

Holly Woodward

Marly Youmans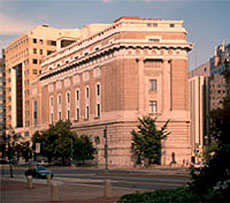 Mezzo Cammin
is proud to announce that The
Mezzo Cammin
Women Poets Timeline Project, which will eventually be the largest database of women poets in the world, was launched on Saturday, March 27, 2010, at 6:00 PM at the National Museum of Women in the Arts in Washington, D.C. (Photo by Tom Field)
Visit Timeline
.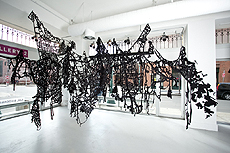 Gail Biederman: I use sewing as a form of drawing, as one way to alter a surface. Thread is my line, a physical presence that hovers in space in my installations. With both a cast shadow and an edge that catches the light, thread creates multiple realities, a jumbled mix of hard and soft, the solid and the ephemeral.