Melissa Balmain






Tune for the Prune



I wish they'd leave your name alone--
so spare and saturnine in tone,
the perfect word for kids to groan
each time that Grandma stews you.
But no: The grocers have to come
and change your label to "dried plum"
in hopes, I guess, they'll make some dumb
gourmets decide to choose you.

What's next? The raisin will be gone
once "dried grape" joins the lexicon--
and then the trend will carry on,
from house to street to diner,
as arbiters of taste and tact
get wind of this renaming act
and seize the moment to redact
some terms they wish were finer.

Although at first they'll stick with food,
rechristening to suit the mood
of those who find plain menus rude,
they'll soon march past the larder.
No word of any kind will be
exempt from faux gentility:
instead of death, we'll have "dried chi;"
instead of hate, "dried ardor."

Poor prune, of course you had no clue
they'd make a precedent of you,
but quickly now, before they do,
please grant me one small favor:
from wizened skin to rocky pit,
don't be the latest upscale hit.
A change of name can't change a bit
of your repulsive flavor.







How Unpleasant to Meet Mrs. Hughes



From the files of Sylvia Plath

How unpleasant to meet Mrs. Hughes,
Who's so thoroughly, willfully odd.
It's a wonder Ted happened to choose
Such a creature. (He's rather a god.)

Her lipstick is always a mess.
She'll go on for an hour or three
About Nazis or bees--as you'd guess,
This does not get her asked out to tea.

Her headbands aren't quite comme il faut.
(They're a match for her queer Yankee frocks.)
She knows more than a lady should know
Of low-voltage electrical shocks.

Come to think of it, lately she's been
More appalling than ever before.
She looks sullen and terribly thin;
If you knock, she won't answer the door.

Her complexion grows whiter and whiter.
She wears the most horrible shoes.
You can certainly tell she's a writer.
How unpleasant to meet Mrs. Hughes!



AUTHOR BIO

Melissa Balmain has been a featured poet in Light Quarterly; her poems have also appeared in The Spectator (UK), The Chimaera, The Formalist, Measure, and Bumbershoot. She is a two-time finalist for the Howard Nemerov Sonnet Award, and the proud winner of the 2009 Rubber Ducky Sonnet Award from the New England Shakespeare Festival. She's a director of the Foundation for Light Verse.
POETRY CONTRIBUTORS

Melissa Balmain

Janann Dawkins

Juleigh Howard Hobson

Anjie Kokan

Jean L. Kreiling

Luann Landon

Michele Leavitt

Mary Meriam

Gail White

Holly Woodward

Marly Youmans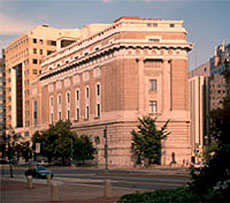 Mezzo Cammin
is proud to announce that The
Mezzo Cammin
Women Poets Timeline Project, which will eventually be the largest database of women poets in the world, was launched on Saturday, March 27, 2010, at 6:00 PM at the National Museum of Women in the Arts in Washington, D.C. (Photo by Tom Field)
Visit Timeline
.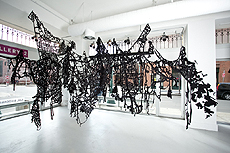 Gail Biederman: I use sewing as a form of drawing, as one way to alter a surface. Thread is my line, a physical presence that hovers in space in my installations. With both a cast shadow and an edge that catches the light, thread creates multiple realities, a jumbled mix of hard and soft, the solid and the ephemeral.