Doris Watts






Dear Mr. Stevenson



Days past and gone, they made a swing for me,
an old car tire that hung in pendant style
from a limb of one of the catalpa trees
that grew on either side of our front walk.
A swing was "pleasantest" of play. Supposed to be.
There was this poet claimed it so. Except…
except the center doughnut hole, the very place
where I would sit, swing back and forth, left welts—

the twist and burn of tire against my thighs.
And even though I tried my best, I never spied
the rivers or the trees or any countryside,
but realized, and somewhat early on,
my family had a streak of puritan,
fun's not always fun, and poets do tell lies.




Back of the Canvas



Yes, Mr. Wordsworth

We'd passed through sand hills and occasional
small towns, not much more than a blink and gone
along with signs that warned us that the legal
speed was twenty-five—radar enforced—
when suddenly sunflowers filled a field,
each the same height, each tipped face-up the same.
A congregation led to worship sun,
we laughed. "Ten thousand saw I at a glance…."

But then we couldn't keep from looking back,
and as the road curved round again, we found
the endless crowd of flowers that we'd seen
beside the road was really just four rows,
the faithful really few and far between,
sublime reduced to manageable and mean.




Fine White Linen



The storm that came last night has given up,
moved east, is gone, Behind it comes this throng
of clouds—daft washerwomen rushing out
to get the laundry done, dimpled elbows
deep in suds and steam, borax to make us
pure again, boiled starch to dip us in.

Blowsy dames, baskets on their mythy hips:
"Lye soap, lye soap," they sing. "Washday is
our holy day, laundry is our hymn."
And they will wrap us in their linen, fine
and clean and bright, and we will sleep all night
safe-folded in the air-sweet scent of light."




Cooking Eggs



All this time into widowhood, would she
know who he was if he came through that door
in out of sun, wanting his eggs, boiled no more
than three minutes and then broken carefully
into this same brown bowl—as she had done
on almost every day for forty years—
two slices of hot toast—yes, all familiar—
always cut diagonally—crusts on.

And now with her face and with her body
grown wizened, stiff, old-woman spare,
could she retrieve his face from memory:
shape of his mouth, just how he combed his hair?
Or would he, gone it seemed so long, unsure,
pause and puzzle, fail to recognize her?




Meep Meep



(Speed Bump Doing Eighty)

I am my own self-inflicted injury,
the one who stepped off the cliff,
Mrs. Wile E. Coyote
treading deep waters,
running with scissors.

Here, let me lift that lit
stick of dynamite for you. And I'll
stand gazing upward under the fall-
ing boulder. Go have lunch. Relax.
Don't apologize….Oh look,
railroad tracks.





AUTHOR BIO
Doris Watts lives in Temecula, California. She is a graduate of the University of Redlands and of San Diego State University where she completed a special major master's degree in technical communication. Her work has appeared in Mezzo Cammin, Able Muse, Autumn Sky Daily, and The Formalist, among other journals. One of her poems received an honorable mention in Passager's 2018 Poetry Contest
POETRY CONTRIBUTORS

Barbara Crooker

Alexandra Donovan

Jehanne Dubrow

Kathleen Goldbach

Colleen S. Harris

Brittany Hill

Katherine Hoerth

Lynne Knight

Jean L. Kreiling

Angie Macri

Carolyn Martin

Kathleen McClung (Featured Poet)

Mary Mercier

Ann Michael

Leslie Schultz

Myrna Stone

Jean Syed

Ann Christine Tabaka

Sally Thomas

Doris Watts

Joyce Wilson

Marly Youmans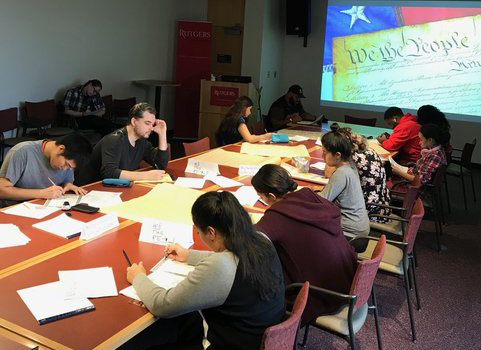 Morgan O'Hara:LIVE TRANSMISSIONS render visible normally invisible or fleeting movement patterns through seismograph-like drawing done in real time. The pursuit of vitality carefully observed through human activity is drawn simultaneously with both hands and transmitted to paper. Following closely the intensity of each segment of an activity, the direction of the line as well as the quality of its intensity is transmitted. If a person makes a gentle movement, a delicate line is drawn. If the action followed is forceful or violent, a correspondingly vigorous line is made. This is done simultaneously and as much as possible without "thinking." The dialectic between observer and participant, control versus relaxed participation coalesce to form the conceptual base for LIVE TRANSMISSIONS. Scale and physical limitations are determined by real-life expediency. In 2018 there exist approximately 4000 LIVE TRANSMISSION drawings done both privately and publicly on five continents. LIVE TRANSMISSIONS communicate beyond the specificity of language.

HANDWRITING THE CONSTITUTION is a social art practice which O'Hara began in January 2017. It is a process by which people come together for a specific time period to handwrite the Constitution. This practice encourages a quiet, introspective process, a form of activism for introverts. As people copy out texts which guarantee freedom and human rights, a strong sense of community is silently created. www.handwritingtheconstitution.com