Ann E. Michael






Desist/Resist



Dying takes work.
Intricate systems
connect cells
within our selves,
networks large
and small, co-
ordinate the shut
down with
the message:
cease.
Heart responds
with clenched-fist
punch; the rest
follows the leader.
Often, there's
resistance—
life being rugged
and persistent.
Cells and synapses
take their time
to diminish,
working hard
against the finish.




Mockingbord Joust



April, the maples have begun to bud
and there on the larch's bare branches that bird
goes copying every riff he's ever heard,
trying to impress.

Chirping, lilting, trilling, at times two tones
at once, his small heart beating rapidly
under the dull white feathers and nobody
listens, I guess.

Maybe one human stops to spy him, gray
on gray limbs under gray sky, no one's praising
the thrill of his irruption, mash-up phrasing,
juiced clatter of his jazz.

We who bypass his flash of white, rasp and song,
think his kind common as paper coffee cups
beside the road. Who's bothered to look up?
Only his rival has.



AUTHOR BIO
Ann E. Michael is the writing coordinator at DeSales University of Center Valley, PA, and the author of the poetry collection Water-Rites as well as four chapbooks. She's also a librettist, essayist, and long-time blogger (www.annemichael.wordpress.com). Her work has appeared in Prairie Schooner, 9th Letter, Natural Bridge, Painted Bride Quarterly, ISLE, and in many other journals, anthologies, podcasts, and websites.
POETRY CONTRIBUTORS

Barbara Crooker

Alexandra Donovan

Jehanne Dubrow

Kathleen Goldbach

Colleen S. Harris

Brittany Hill

Katherine Hoerth

Lynne Knight

Jean L. Kreiling

Angie Macri

Carolyn Martin

Kathleen McClung (Featured Poet)

Mary Mercier

Ann Michael

Leslie Schultz

Myrna Stone

Jean Syed

Ann Christine Tabaka

Sally Thomas

Doris Watts

Joyce Wilson

Marly Youmans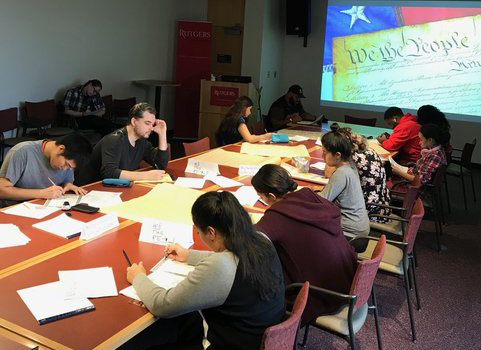 Morgan O'Hara:LIVE TRANSMISSIONS render visible normally invisible or fleeting movement patterns through seismograph-like drawing done in real time. The pursuit of vitality carefully observed through human activity is drawn simultaneously with both hands and transmitted to paper. Following closely the intensity of each segment of an activity, the direction of the line as well as the quality of its intensity is transmitted. If a person makes a gentle movement, a delicate line is drawn. If the action followed is forceful or violent, a correspondingly vigorous line is made. This is done simultaneously and as much as possible without "thinking." The dialectic between observer and participant, control versus relaxed participation coalesce to form the conceptual base for LIVE TRANSMISSIONS. Scale and physical limitations are determined by real-life expediency. In 2018 there exist approximately 4000 LIVE TRANSMISSION drawings done both privately and publicly on five continents. LIVE TRANSMISSIONS communicate beyond the specificity of language.

HANDWRITING THE CONSTITUTION is a social art practice which O'Hara began in January 2017. It is a process by which people come together for a specific time period to handwrite the Constitution. This practice encourages a quiet, introspective process, a form of activism for introverts. As people copy out texts which guarantee freedom and human rights, a strong sense of community is silently created. www.handwritingtheconstitution.com