Jean Syed






Displaced person



"We both want cod and chips with mushy peas,
A plate of bread of butter and two teas."
"Coming up, Love." At last my native town,
The accent of the waitress matched my own.

"Ma'am, if it ain't ice-tea, make mine a Coke."
She looked fair tickled when my teenager spoke.
"Your lad's like someone in an American movie!"
And with her kindred voice displaced me.




Bleak Heritage



At Jordan Pond House, the way-things-were dictates.
No dunk-your-teabag-in-a-cardboard-cup,
This is a choicelessness very genteel:
Where tea-pots rule on tables on the shaven

Lawn, with popovers, and memories
Of mustachioed men, women with ties,
Who were to ingest the wilderness
In the dainties of civilization.
Now, vacationers take tea, love the rite,
The whole a selfie for sampling, sipping,
Enjoy a good time—hating each minute
As some wear slickers as this is rainy Maine.
The treat denied, the sight not seen, my rite
Of missing the would-be experience.
I am lovingly conditioned for
Often, I have memories of father,
Hands on wallet, on Wakes weeks at Blackpool,
Denying me a Knickerbocker Glory
Annually, or lying it was windy
(Breezeless to me) to go up the Tower.

Thus, honoring tradition after he died
I didn't have the treat, stayed on the ground,
Curtsies to the phantoms he tricked for me
With his bleak heritage of doing without.



AUTHOR BIO
Jean Syed was English born and went to Birmingham University. After that she became a social worker, but for the past thirty-eight years she has been in the USA, first in Ohio and then in Washington State. She has been published in The Lyric, Raintown Review, and Calamaro Magazine as well as online by the Ghazal Page, Rotary Dial, and The Journal of Formal Poetry. Mostly she enters competitions. In a little while she willl have poems in an anthology by Rose Alley Press. She has chapbooks published by Kelsay Books and Dos Madres Press.
POETRY CONTRIBUTORS

Barbara Crooker

Alexandra Donovan

Jehanne Dubrow

Kathleen Goldbach

Colleen S. Harris

Brittany Hill

Katherine Hoerth

Lynne Knight

Jean L. Kreiling

Angie Macri

Carolyn Martin

Kathleen McClung (Featured Poet)

Mary Mercier

Ann Michael

Leslie Schultz

Myrna Stone

Jean Syed

Ann Christine Tabaka

Sally Thomas

Doris Watts

Joyce Wilson

Marly Youmans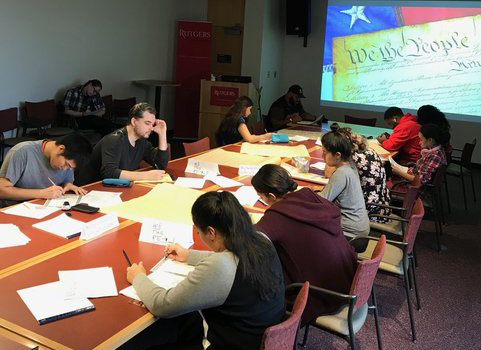 Morgan O'Hara:LIVE TRANSMISSIONS render visible normally invisible or fleeting movement patterns through seismograph-like drawing done in real time. The pursuit of vitality carefully observed through human activity is drawn simultaneously with both hands and transmitted to paper. Following closely the intensity of each segment of an activity, the direction of the line as well as the quality of its intensity is transmitted. If a person makes a gentle movement, a delicate line is drawn. If the action followed is forceful or violent, a correspondingly vigorous line is made. This is done simultaneously and as much as possible without "thinking." The dialectic between observer and participant, control versus relaxed participation coalesce to form the conceptual base for LIVE TRANSMISSIONS. Scale and physical limitations are determined by real-life expediency. In 2018 there exist approximately 4000 LIVE TRANSMISSION drawings done both privately and publicly on five continents. LIVE TRANSMISSIONS communicate beyond the specificity of language.

HANDWRITING THE CONSTITUTION is a social art practice which O'Hara began in January 2017. It is a process by which people come together for a specific time period to handwrite the Constitution. This practice encourages a quiet, introspective process, a form of activism for introverts. As people copy out texts which guarantee freedom and human rights, a strong sense of community is silently created. www.handwritingtheconstitution.com