Ann Christine Tabaka






Nonsense Rhyme



Or/ Dementia Creeps In

Blue sequins
On the floor
Counting pennies
Like before
Someone knocking
At the door
Seeking answers
They implore

Day one
Is now day two
I cannot
Find my shoe
What am
I to do
The sequins
Are still blue

Time passes
Lives change
Memories
Rearrange
Everything
Seems strange
Counting pennies
For change

Silly verse
Crazy rhyme
Makes sense
In time
Pennies now
Are a dime
The sequins
Are still mine




October Dying



Green to brown to dust.
Iron to rust.
Summer songs to dirge.
Colors all purge.



AUTHOR BIO
Ann Christine Tabaka was nominated for the 2017 Pushcart Prize in Poetry, has been internationally published, and won poetry awards from numerous publications. She lives in Delaware, USA. She loves gardening and cooking. Chris lives with her husband and three cats. Her most recent credits are: Ethos Literary Journal, North of Oxford, Pomona Valley Review, Page & Spine, West Texas Literary Review, The Hungry Chimera, Sheila-Na-Gig, Synchronized Chaos, Pangolin Review, Foliate Oak Review, Better Than Starbucks!, The Write Launch, The Stray Branch, The McKinley Review, Fourth & Sycamore.
POETRY CONTRIBUTORS

Barbara Crooker

Alexandra Donovan

Jehanne Dubrow

Kathleen Goldbach

Colleen S. Harris

Brittany Hill

Katherine Hoerth

Lynne Knight

Jean L. Kreiling

Angie Macri

Carolyn Martin

Kathleen McClung (Featured Poet)

Mary Mercier

Ann Michael

Leslie Schultz

Myrna Stone

Jean Syed

Ann Christine Tabaka

Sally Thomas

Doris Watts

Joyce Wilson

Marly Youmans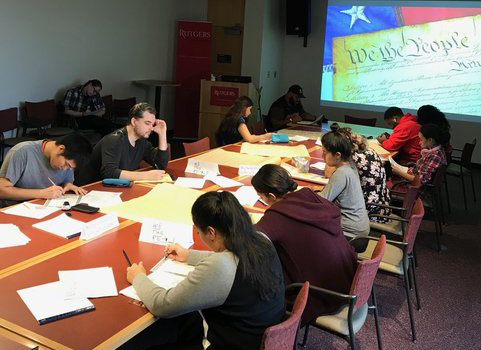 Morgan O'Hara:LIVE TRANSMISSIONS render visible normally invisible or fleeting movement patterns through seismograph-like drawing done in real time. The pursuit of vitality carefully observed through human activity is drawn simultaneously with both hands and transmitted to paper. Following closely the intensity of each segment of an activity, the direction of the line as well as the quality of its intensity is transmitted. If a person makes a gentle movement, a delicate line is drawn. If the action followed is forceful or violent, a correspondingly vigorous line is made. This is done simultaneously and as much as possible without "thinking." The dialectic between observer and participant, control versus relaxed participation coalesce to form the conceptual base for LIVE TRANSMISSIONS. Scale and physical limitations are determined by real-life expediency. In 2018 there exist approximately 4000 LIVE TRANSMISSION drawings done both privately and publicly on five continents. LIVE TRANSMISSIONS communicate beyond the specificity of language.

HANDWRITING THE CONSTITUTION is a social art practice which O'Hara began in January 2017. It is a process by which people come together for a specific time period to handwrite the Constitution. This practice encourages a quiet, introspective process, a form of activism for introverts. As people copy out texts which guarantee freedom and human rights, a strong sense of community is silently created. www.handwritingtheconstitution.com