Carolyn Martin






Shall I?



Shall I compare you to a summer's day?
I better not. You'd boil at the trope.
Maybe early spring when squirrels and stellar jays
strut around our yard and ferals tightrope
along the backyard fence? You could burst free
from thaw like crocuses and daffodils
or like the white star-burst magnolia tree
that blooms before cherry and plum. You'd thrill
at arriving first. (I know firsthand,
my dear, that second place does not appeal.)
Of course, if garden images don't stand
a chance of pleasing you, I will repeal
my strategy: you could be the first glow
light years away; you, the first star's echo.




For Bob, an Express Parking Lot Bus Driver on the Early Morning Shift at Portland International



Something endeared. His breathy hello
as the sun pondered a rise. Corny jokes
when we're half-awake and stressed. (Forecasts claim
snow threatens O'Hare. Expected delays.)
Did you hear the one about…? What happens when…?
Diversions earn our groans. He pockets them
like lost coins or scraps of notes left behind.
Every stop: If you boarded here, please write
the station (number) in the (color) zone.
Parental: no lost cars when we come home.
After a week of lonely hotel rooms,
non-stop meetings with mediocre food—
we're back. It's night. No Bob. But station three,
blue zone is scribbled on a sales receipt.





AUTHOR BIO
From associate professor of English to management trainer to retiree, Carolyn Martin has journeyed from New Jersey through California to Oregon to discover Douglas firs, months of rain, and dry summers. Her poems and book reviews have appeared in publications throughout North America and the UK, and her fourth collection, A Penchant for Masquerades, is scheduled for an early 2019 release from Unsolicited Press. She is currently the poetry editor of Kosmos Quarterly: journal of global transformation. Find out more about Carolyn at www.carolynmartinpoet.com.
POETRY CONTRIBUTORS

Barbara Crooker

Alexandra Donovan

Jehanne Dubrow

Kathleen Goldbach

Colleen S. Harris

Brittany Hill

Katherine Hoerth

Lynne Knight

Jean L. Kreiling

Angie Macri

Carolyn Martin

Kathleen McClung (Featured Poet)

Mary Mercier

Ann Michael

Leslie Schultz

Myrna Stone

Jean Syed

Ann Christine Tabaka

Sally Thomas

Doris Watts

Joyce Wilson

Marly Youmans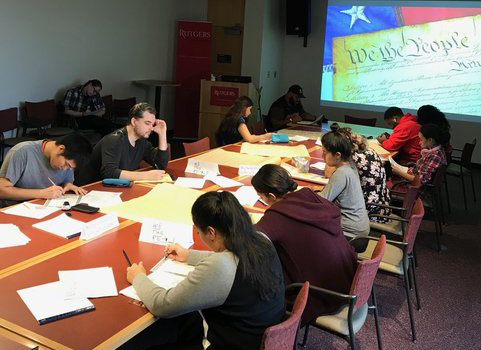 Morgan O'Hara:LIVE TRANSMISSIONS render visible normally invisible or fleeting movement patterns through seismograph-like drawing done in real time. The pursuit of vitality carefully observed through human activity is drawn simultaneously with both hands and transmitted to paper. Following closely the intensity of each segment of an activity, the direction of the line as well as the quality of its intensity is transmitted. If a person makes a gentle movement, a delicate line is drawn. If the action followed is forceful or violent, a correspondingly vigorous line is made. This is done simultaneously and as much as possible without "thinking." The dialectic between observer and participant, control versus relaxed participation coalesce to form the conceptual base for LIVE TRANSMISSIONS. Scale and physical limitations are determined by real-life expediency. In 2018 there exist approximately 4000 LIVE TRANSMISSION drawings done both privately and publicly on five continents. LIVE TRANSMISSIONS communicate beyond the specificity of language.

HANDWRITING THE CONSTITUTION is a social art practice which O'Hara began in January 2017. It is a process by which people come together for a specific time period to handwrite the Constitution. This practice encourages a quiet, introspective process, a form of activism for introverts. As people copy out texts which guarantee freedom and human rights, a strong sense of community is silently created. www.handwritingtheconstitution.com